HostGator has been one of the longest and most popular web hosting providers in the world wide web hosting market. One of the perks of being in HostGator is their undying offer deals which can take up to 90% discount, depending on different occasions. Not all the web hosting providers give as much discount as the HostGator. This time, HostGator is doing it again by offering 75% OFF New Hosting HostGator Coupon + $2.99 on Selected Domains!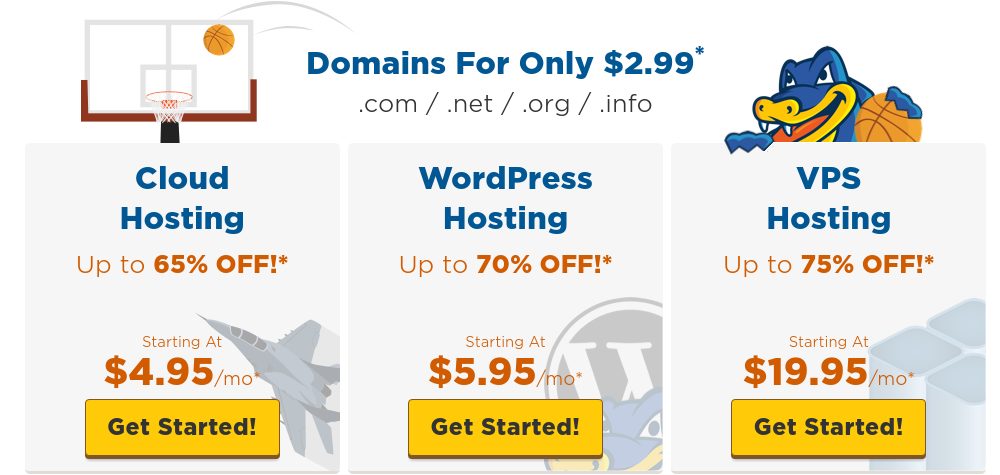 The 75% off is offered for the VPS hosting plans of HostGator. However, aside from that, the other hosting package deals of Hostgator is also having off sales! The Cloud Hosting comes with up to 65% off starting at $4.95 per monthly only. Aside from that, the WordPress Hosting plans are also being offered at 70% Off starting at $5.95 per month! This makes HostGator client-friendly and as well as one of the most generous providers for offering coupons from time to time.
75% OFF NEW Hosting HostGator Coupon Details
This offer is being offered in a 3-day sale period! This is a  MAD offer by HostGator exclusively only offered from affiliated web pages. Starting from 14th day of March 2017 at 12am CST to 16th day of March 2-17 11:59pm CST, you can avail the offer of 75% OFF NEW Hosting Hostgator coupon!
What are the Perks of the offer?
The latest offer of HostGator is good for 3-days only. It is actually an offer for VPS plans of Hostgator. The VPS hosting is being offered with three plans: Snappy 2000, Snappy 4000, and as well as Snappy 8000 Plan.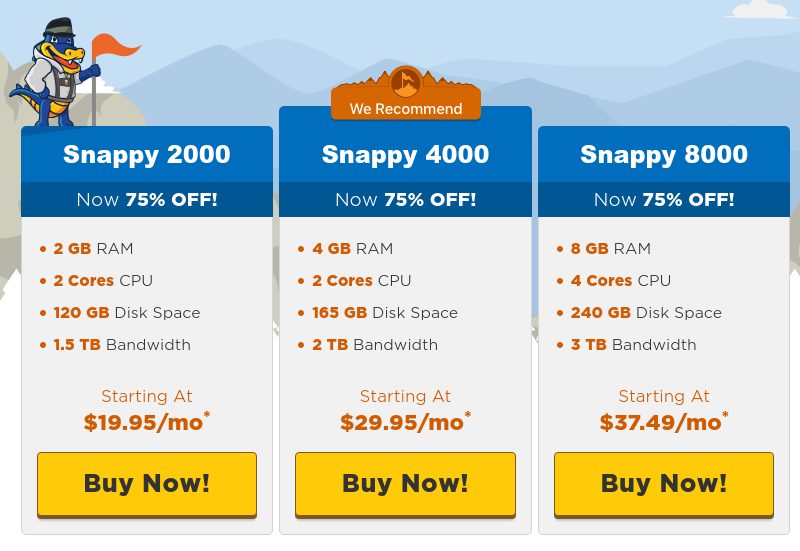 Snappy 2000
With the Snappy 2000 Plan under the HostGator VPS hosting, you will get to have 2GB of RAM. Not just that, 2 Cores CPU is also included. If you have high-sized data, you will not have a problem if you avail this offer as it comes with 120 GB Disk Space as well and a 1.5 TB Bandwidth. Isn't it a full pack feature for offer price? Coming with now at 75% off, you will only have to pay a starting price of $19.95 per price. Not satisfied with the features? You might want to try the other two VPS Hosting Plans. Know more below for further details.
Snappy 4000
Out of the three VPS hosting plans, the Snappy 4000 is the most recommended plan. Compared to the first Snappy 2000 plan offer, this one has a doubled feature. It comes with a 4 GB RAM instead of just 2 GB. Just like the predecessor, it also has 2 Cores CPU. Aside from that, it has an added 45 GB into its Disk Space making it 165 GB in total. The bandwidth is also now at 2 TB. This plan is being offered at $29.95 per month with the 75% off offer! If you are still hesitant of what plan to take, you might want to consider the last VPS HostGator plan which is the Snappy 8000.
Snappy 8000
If you want to avail the most feature-filled plan, then try the HostGators Snappy 8000 VPS hosting plan. What comes with this plan? Aside from the 8 GB RAM, you will get to have 4 Cores of CPU as well. Other than that, the disk space is almost doubled for having 240 GB. An additional 1 TB bandwidth is also with this offer, making it 3 TB in total. You will get to avail this plan at $37.49 per month rate coming with 75% off.
Those are the three VPS Hosting plans of the HostGator that you can avail at a discounted rate of up to 75%! Furthermore, avail this offer now and be sure to be the first one to get the features of the VPS hosting plans at a very low price!
How to avail?
Be sure to click on the link below to avail this MAD amazing sale! It will directly lead you to the promo offer page of HostGator. With this deal, one would really want to start availing the web hosting plans of HostGator. By availing the offer, you will get to have discounted rate to the selected HostGator plans. Isn't it exciting? In addition, you will not only have the best features of HostGator plans, but you will also get to avail it at a very discounted cost.
This is such a MAD 3-day sale offer that only the HostGator offers! The VPS hosting plans are the one highlighted in this promo. In addition, the VPS features are ones that you would really want to have. Aside from having Flexible Software Options, it also has advanced functionality, powerful hardware, award-winning support, full suit of tools, and as well and as well as weekly off-site backups.
So, what are you waiting for? Do not be the last one to avail the offer! Do not lose the chance to get the whole 75% discount now. Click the button and avail the promo!