InMotion – This name has become quite popular among bloggers and internet marketers lately. The main reason for this popularity is the fact that InMotion hosting has been providing top-notch web hosting service for quite some time. InMotion hosting boasts a number of features like scripts for quick installation of CMS, free backup tools, enhanced server performance with Solid State Drives, different web hosting plans, and affordable pricing plans. The are a great choice for your web hosting needs. However, let's explore some other alternatives for InMotion web hosting.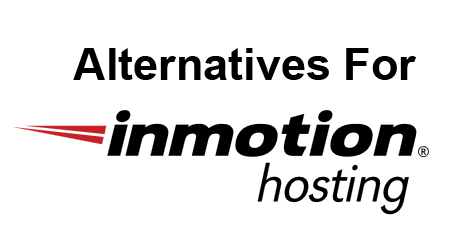 Alternatives for InMotion Hosting
Although, you might not have an apparent reason to find alternatives for InMotion, you may want to know what your else is available to you. Therefore, we have come up with a few alternatives for InMotion hosting that would give you superb web hosting services. Just as InMotion hosting, the following web-hosting providers will also provide superb features, and top-notch performance.
Bluehost Web Hosting
Just like in the case of InMotion hosting, Bluehost does not require an introduction! The provider, which is now part of Endurance International Group, they started their long journey back in 1996. They have managed to serve bloggers and other web-based professionals with their industry leading web hosting services. Such a long period of service not only ensures great web hosting reliability, but also provides confidence for new customers looking to have Bluehost server their web hosting needs. There are a number of reasons to prefer Bluehost. However, most notably are these aspects and features of Bluehost:
In conducted speed tests, Bluehost proved to be having the shortest page loading time, despite the fact that it had the biggest page size.
Though some users might complain that customer support of Bluehost can be a bit slow, the quality & effectiveness of their support is the best you can get.
Keeping the standard trend, at the same time helping those who are moving from other hosting services, the company has used cPanel as the control panel software. cPanel also consists of installation scripts, which will help you install CMS in seconds.
Another addition of Bluehost shared web hosting is availability of a free domain name. Thus, you will be able to save up to $10 while purchasing Bluehost, as you can cut down that extra task of buying a domain name.
Instant setup, free offers worth $200, anytime money-back guarantee, etc are notable features of Bluehost.
Also read: Bluehost Review
Yet, as a matter of fact, Bluehost has some disadvantages as well. For instance, you may have to pay an amount of $99.99 if you need help from Bluehost to migrate your website from former web host. However, you can definitely use our Bluehost discount coupon to help save you some extra money.
HostGator Hosting Services
HostGator also comes from the same family of Bluehost, Endurance International Group. It started its' journey in 2002 and had added a large number of web-based professionals to the list of their satisfied customers. They do this by providing superb service at an affordable price. HostGator also offers a number of different hosting services such as shared web hosting, Virtual Private Servers, reseller hosting, dedicated web servers, and WordPress web hosting. In addition, they offer some great features we love such as:
HostGator coupons help you to grab discount while purchasing web-hosting services from HostGator. Even though their hosting services are already affordable for most internet professionals.
High performance servers of HostGator offers uptime of 99.99%, which means you can be confident your website will virtually always be available to your visitor to your blog or website.
They have a cPanel-based control panel that includes Quick Install scripts which will be helpful for those who want to install web platforms in seconds.
They also have a great reputation for their customer service. You have have to wait a bit if you call into their toll-free 800 phone number. However, they are very knowledgeable, and can assist you with any questions or issues you may have for your website or blog.
Read: Hostgator Review
While considering these factors, HostGator has proven itself to be an effective alternative to InMotion web hosting.
DreamHost Hosting
DreamHost, currently owned by a private company, can be the best option for your website or blog! It offers a number of services such as shared web hosting, VPS, cloud hosting, dedicated web servers, and another dedicated hosting plan called DreamPress! Shared web hosting of DreamHost is available at a rate of $8.95, and the plan offers unlimited features such as unlimited bandwidth, unlimited domain hosting and disk storage. Plus, it offers some advanced features including Adwords credits worth $100, which will help you in promotion of your blog, product or website. A different aspect of DreamHost is the fact that DreamHost is using a custom-made control panel that is equally intuitive and effective. Here are also some features that are worth mentioning:
DreamPress is a wonderful hosting package offered by DreamHost! Despite the fact that DreamPress will cost you more, servers used for DreamPress have been optimized for the smooth functioning of your WordPress-based blogs and websites.
You will also find effective installation scripts in DreamHost control panel, which supports most CMSs, including WordPress, Joomla.
The best part about DreamHost is their nearly 100% uptime guarantee, and their money-back guarantee within 97 days.
Read: DreamHost Review
These are not to say that DreamHost is a perfect hosting provider. Despite the fact that DreamHost offers an uptime of nearly 100%, the company had to face some serious issues regarding security. In addition, DreamHost offers some nice features as well. DreamHost is a great alternative to InMotion, indeed.
In Summary
As you can see, there are many alternatives for InMotion hosting. The web hosting providers discussed here all offer great features and performance for your web hosting needs. You will have to decide which web hosting company would be best for your web hosting needs.