World of Affiliate Marketing is so big that one would usually end up in confusion when it comes to selecting products to promote using his/her blogs or sites. You can promote books and MacBook at the same time! Nevertheless, there is an affiliate-marketing niche every blog owner can promote – Web Hosting. It is so, because a website cannot exist in World Wide Web without a reliable web hosting service, and there will be no offence in preferring the web host to your readers. In addition, you can promote other prominent web hosting providers as well, as the web host you use need not to be necessarily best. Thus, even if you are not using a specific web hosting service, you can promote it via your affiliate marketing campaign, and DreamHost is such an awesome web hosting service you can depend upon! In this article, we will tell you about the process of becoming a DreamHost affiliate and hence earning money from your site or blog.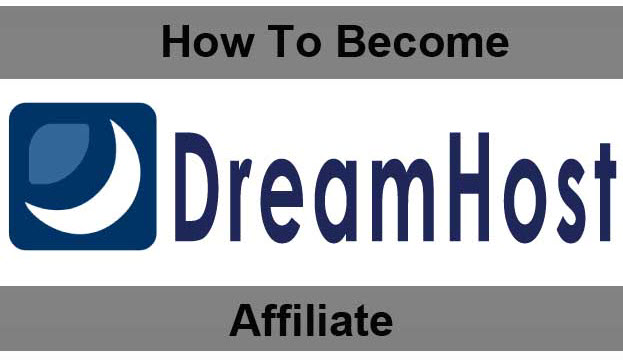 Just as other web-hosting providers, DreamHost also offers an interesting affiliate program! When compared with other affiliate programs, DreamHost affiliate is well known for its reliability, relatively high commission rates, and simple procedure. Therefore, if you are work with a dedicated mind, DreamHost is the best way to earn from hosting affiliate-marketing campaigns. And, as you know, it is not necessary to be a customer of DreamHost if you would like to earn money through affiliate program. Now, we will check different aspects of being a DreamHost affiliate.
Commissions that DreamHost Offer
We know you are interested in knowing more about commission rates of DreamHost than other aspects! We bet you will be awestruck when hearing basic commissions offered by DreamHost; for each hosting purchase you refer, it will pay you $97!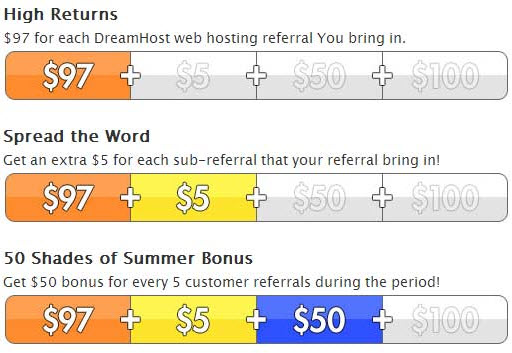 Thus, if you are persuasive enough to make 10 affiliate sales, $1000 will be a matter of a few days. Also, you will earn $5 for each hosting purchase made through sub-referrals. Similarly, DreamHost is best when we take its case of payment modes. Three payment modes are available in DreamHost.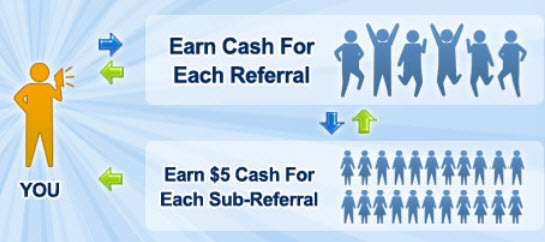 Via Cheque (If you are from India, it is the only method)
PayPal (To use PayPal, the minimum required balance is $20, plus you have to pay a fee of 5%)
Hosting Credit (If you have any balance due on DreamHost account, reward amount will be used to fix it)
Becoming a Part of Affiliate Program
Well, becoming a DreamHost affiliate is an easy task, because the sign up process is so simple! You have to visit the official page of DreamHost affiliates program, where you can have an overview of the program. You will have to provide your name, email ID and a password to sign up for DreamHost affiliate program, and in seconds, you'll become a DreamHost affiliate, who can make up to $97 for each DreamHost hosting purchase he/she refers.
Recommended Reading:
Ways to Promote
Of course, there are a number of ways to promote DreamHost hosting services using your blog or website. You'll be able to do so by persuading your readers in such a way that they will go for DreamHost when it comes to choosing a web hosting service for their upcoming blog, website or web-based application. Some of proven ways of promotion are as follows.
Promotion Links
It is the traditional method of affiliate marketing by means of your unique affiliate ID. You can add your affiliate ID to the link and head that link to front page of DreamHost, sign up page, promotional page or affiliate program page of DreamHost! In the fourth option, however, when one joins the affiliate programs under your name and refers a purchase, you will get $3. You can know about placing of affiliate IDs in the official affiliate page of DreamHost.
Banners
Because images can attract more attention from users, it is advised to use banners to promote DreamHost using the blog you own. You may place the banner in sidebars or posts and we are sure you will at least get some hits!
Promo Code
It is an innovative and effective way to force your readers use your affiliate link by offering them a specific amount of discount. So, here is the plan. You will get $97 for each purchase you refer. You can offer your reader a discount of $50 when he/she uses your discount coupon. Thus, when one person purchases DreamHost hosting using the promo code, you will get earnings of $47. You can change the discount amount as you wish. Checkout our Dreamhost Promo Codes.
If you have done these, you have become a DreamHost affiliate. Now, do your best to make more purchases! All the best.