BigRock is among the leading providers of domain services today. They offer an opportunity for you in line with hosting services and domain registration. One of their programs is the BigRock Affiliate in which it lets you propose web hosting products and as well as domain registration, even without you having to make any investment. They go for their mantra, "BIG returns on ZERO investment".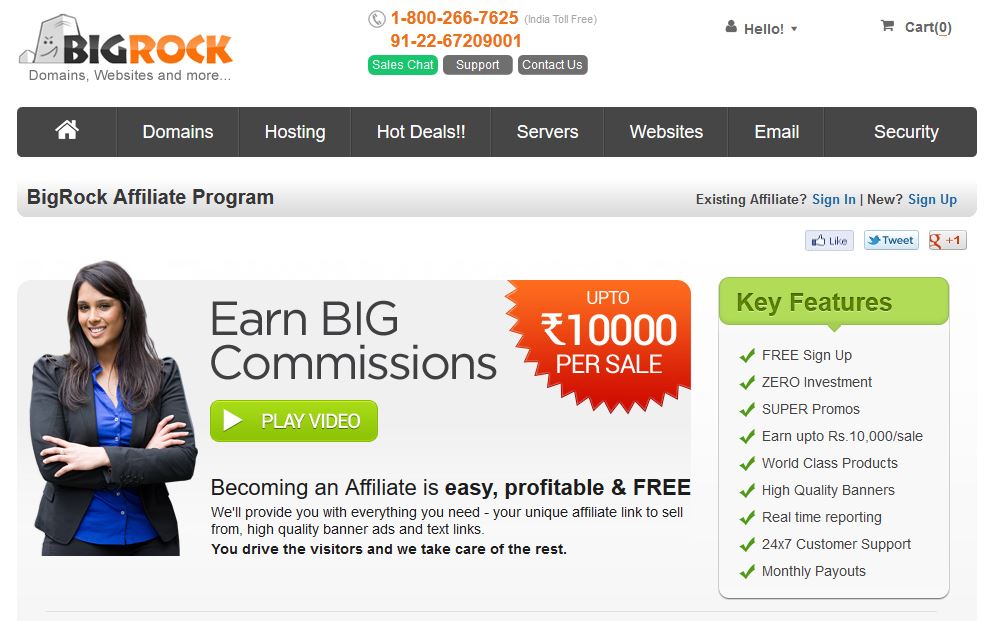 BigRock Affiliate Program
This is a marketing program of BigRock through online where affiliates can promote or present BigRock products to other people and get commissions in every successful purchase.
How does it work?

After you have sign-up, a URL will be sent to you from BigRock. The URL that will be sent to you will be your website. Your website will be your medium from where you can start earning commissions and as well as selling BigRock products.
Basically, if you sign up for their domain affiliate, you can make big money if you refer clients to BigRock. The more clients you get, the bigger the money you will receive. In addition, you do not have to pay just to join the BigRock affiliate program for it is free.
If ever you already have a live website, you just need to place BigRock's text links or banners that will be provided for your website, Twitter/Facebook page, and blog. This way, you will be able to lure visitors to your unique website's URL and be able to earn more commissions. However, you need to note that only the sales that are made through the provided unique URL will make earn commission.

Here are the BigRock products that you can sell as an affiliate:
Website Hosting
Domain Name Registration
Do-it-Yourself Website Builder Tool
Digital Certificates
Email  Hosting
If there will be any additional products that BigRock will launch in the future, it will automatically be added to your list of products.
You do to need to possess technical skills in order for you to become their Affiliate. All will be available to you, from the ready-made websites down to the banners. They will even help you in putting up links/banners for your existing website if needed.
Tracking & Commissions
In line with tracking the sales that your affiliate URL have made, the program uses cookie tracking in order for them to track and as well as award sales. This cookie will be valid for 90 days and commissions will be paid within this period. Though they use cookie tracking to track, BigRock does not use it to track any information from their customers.
As a BigRock affiliate, you will be able to view your current account status as well as the activity of the sales, your commissions and a lot more. And if ever a discount coupon is used to do purchase,  you will not get the same commission but you can still earn. You can request for your unique coupon under the Request a coupon section in the navigation pane of your account. The activation of the coupon is not effective immediately. You will have to wait for a maximum of 5 days before you can get the approval.
In addition, the commissions are released every 55 days and all payouts are made through Bank/Wire Transfer.
Program Information
The affiliate will receive all the text links and also the banners after registering an account. If you happen to experience having your unique affiliate being declared, you need to consider the following:
You may have added or you have used an unavailable term
Your unique URL may do not have the format: youraffiliateterm.bigrock.in
Promote BigRock Products
Being a BigRock affiliate, you will be able to receive BigRocks marketing collateral which includes the banners and such from time to time. They will help you sell the BigRock products all throughout.
In order for your advertisement of BigRock products to be successful for you, you should try placing the ads in sections from where you get a high amount of traffic. You can even use other social media platform such as Facebook & Twitter. Or you can even print flyers/brochures and put them in your home or store.
Support
If you are wondering about the benefits of becoming a BigRock Affiliate, here they are:
Free Sign up
Earn up to Rs 10000 per sale
BigRock will provide you with all marketing collateral
Monthly Payouts
World Class Products
Customer services and support
In addition, customers can pay in with multiple forms of payments, such as a credit card, debit card, PayPal, and more.
Summary
So, if you are ever interested in becoming a BigRock Affiliate, it is a fairly simple process. Of course, you will need a website and web hosting. So, you might want to check out the web hosting that is offered by BigRock. That way you will be able to learn about their web hosting and then you will be able to speak about your experiences as a BigRock customer and BigRock Affiliate.