Here, we've laid out the 5 advantages of dedicated web hosting over shared hosting. Well, we hope you are quite familiar with web servers and their different categories that are available for basic customers. Such are shared hosting, VPS and dedicated web servers. In this article, you will also find out what are the disadvantages of a dedicated server.
Among these hosting categories have been listed according to their affordability when it comes to the newbie bloggers' point of view. Yet, as you move on in the path of blogging. However, you will be clever enough to omit your thoughts or affordability and thus shift to an upgraded plan. Of course, it is a dedicated web server rather than sharing resources with others.
In some situations, it becomes inevitable to shift to dedicated servers. For instance, if you have such a huge amount of traffic in your blog or want to host multiple websites (when we say multiple, we meant tens or hundreds) in a single server. Apart from this advantage of traffic handling capacity, there are a number of advantages that you should care when you purchase a dedicated web server. In this post, we shall discuss some of those advantages that you can know why you should purchase dedicated server instead of a VPS or reseller hosting.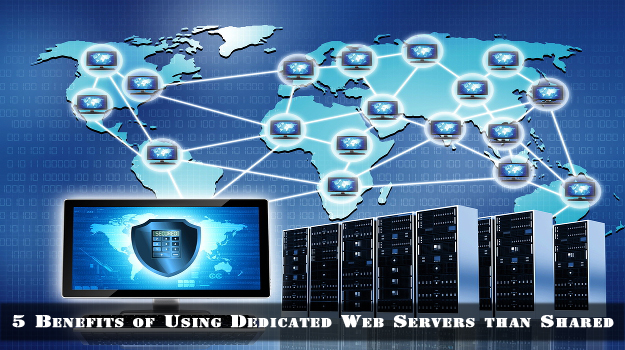 Note: When you purchase a web server, you do actually lease it for specific period. Instead of having virtual account, you can own a server that is situated in some part of world and you will be the only one to host websites in it. With limitations in resource conception and performance, of course. In a way, advantages we're about to mention are due to exclusive ownership of web server. Now, we will move on to advantages of dedicated web hosting.
# 1 Real, Unlimited and Complete Use of Server Resources
You might have noticed that 90% of all web-hosting services offer unlimited server resources, including disk space as well as bandwidth, in their shared hosting plans. However, once you start using shared server and make your site an impressive one, with a lot of traffic, you will start facing insufficiency of resources. It is because of the fact that every bit of server resource is shared with other users.
For instance, even if you have used 99.99GB of your allotted 100GB, there will be no insufficiency of performance. When you are on shared hosting plan, however, you should always be afraid of the fact that overuse of resources by other users will cause problems. Therefore, complete use of resources is a noticeable advantage of dedicated servers when we prefer it to shared hosting and other lower plans.
This factor takes the first spot  for our list of advantages of dedicated web hosting because it's also the best one. Ain't it? Guess what's the next one. Well, of course, the benefits of dedicated servers for gamers!
#2 Benefits of Dedicated Servers Gaming
Aside from gaming organizations, the dedicated servers are additionally favored by the genuine gamers. That is if they don't have the dedicated server close to their geographical area yet need to experience best gaming.
Here are 2 benefits of dedicated servers gaming for gamers:
Numerous serious gamers additionally want to purchase their own dedicated servers so as to appreciate the ideal experience.
Countless clients can modify the speed and furthermore result in the undesirable intrusions. Dedicated server is an ideal answer for this issue.
#3 Extended Security
Third in our list of advantages of dedicated web hosting is the extended security it offers. Albeit, the fact that your hosting provider will be trying its best to keep your website and account safe from a number of threats in World Wide Web. Vulnerabilities are quite high in shared hosting category. Nevertheless, when it comes to dedicated server, you don't have to worry about online threats that might affect your site. Despite having to set up a server administrator if you are purchasing an unmanaged server, security level of a dedicated server is very high. As there is no one else who uses the server.
Furthermore, as you are a 'premium' customer of that hosting provider, you'll have all sorts of security updates and patches. In addition to these, there will be a dedicated IP address with each dedicated web server. Although it might not be useful for basic users, dedicated IP address will be a necessity when you want to implement SSL to your website. Particularly during sign-up or payout processes. It is unlikely that you will get dedicated IP address with shared hosting. Considering all these factors, your dedicated server will be finest, when it comes to the case of security.
#4 Reliability (Not the Usual One)
Almost every web-hosting provider says it is the most reliable web host when it comes to shared hosting. However, if we take a look into dedicated web servers, we can understand that there is nothing much to be afraid of seeing your site facing downtime.
One of the main reasons for extra reliability is the non-sharing behavior of dedicated servers. Unlike shared ones, your server resources are exclusively for you, let it be bandwidth or disk space. If you think that you would make some mistakes, it is advised to prefer a managed web server than unmanaged. Because in former, your web host itself will manage your server and provide a number of services such as updates.
#5 Customize It as You Wish
When compared to other forms of web servers, dedicated web servers are the most customizable and flexible ones. When it comes to dedicated server, you have access to every part of its features, and your host will be able to do as you wish. That is because you are the only one who uses the web server. In other words, you have full control over server. And it is possible to make changes to the server to suit convenience and requirement of yours.
Disadvantages of Dedicated server
The most perturbing element of the Dedicated Hosting is the cost. Yet, there are other disadvantages of dedicated server, for example, the web hosting provider. Some charges hefty month to month cost as you're paying for the physical hosting. As well as for the hardware on which the webpage lives. In the short run this is less expensive than the huge capital cost required to get co-area up and running. However, after some time this model is substantially more costly.
There are a couple of disadvantages of dedicated server.
The first is the weighty month to month charge that you should place with in return for your exclusive hosting. What's more, this is regardless of whether you deal with this. You should have great specialized abilities to have the capacity to run the server and take care of all the specialized issues as they happen. This may turn out to be exceptionally tedious now and again. In the event that you contract some person to do it for you, you should pay them. This implies that you will likewise cause certain support costs that you would not customarily acquire with shared hosting.
As we see it, if you have the adequate and proficient skills, you could turn these disadvantages of dedicated server  into an advantage. Most likely, it's worth the cash in the long haul.
Final Thoughts: Advantages of Dedicated Web Hosting
So, there are a number of advantages of dedicated web hosting that await you. Dedicated servers, despite being an expensive choice, can do very well in improving quality and stability of your website in terms of its performance. Did we miss any of advantages? We are waiting for your comments.