There are a lot of factors that you need to consider whenever you are trying to start something new. Before you start launching your new website, there are certain decisions you need to make, like deciding what platform. Of course, picking up your own domain name is also one to be considered before deciding on a specific Bluehost hosting package. The good thing about today's web hosting service market is the existence of several hosting packages. Among the hosting packages of web service providers, the most popular one is the Bluehost hosting package. The most common Bluehost hosting package are the Shared Hosting, Dedicated Hosting, VPS Hosting and as well as the Cloud Hosting.
So, which one would be best for you? Let us get into details with the Bluehost hosting package:
Shared Hosting
Among all the other Bluehost hosting package today, the shared hosting is the most commonly used web hosting service. With this hosting, there are a lot of clients who will share one server. This kind of set up may seem like you would not have control anymore, however, you actually get to have control over your website. With shared hosting, you will always get to have unlimited network bandwidth. In this Bluehost hosting package, there are three (3) plans: Basic, Plus and the Prime Plans.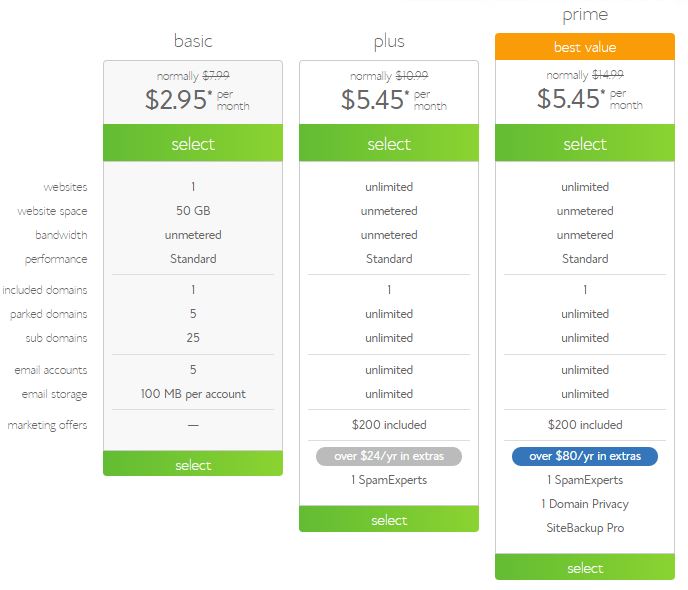 Basic Service Plan comes with one free domain registration in every year, just like the Plus and Prime plans. The common features among all these three service levels are the database tables, MySWL databases and as well as the site back up. The rate of each plan varies depending on the length of the service contract that you would like to apply.
Dedicated Hosting
If you go through the detail of the other shared hosting services from which there will be a lot of clients that shares one service, the dedicated web hosting service ensures a one is to one resource allocation. If every you have a business that has a very high-volume website traffic or something that needs to support more than one and as well as complicated cloud-based applications, this is the best Bluehost hosting package, not just for you, but as well as your customers.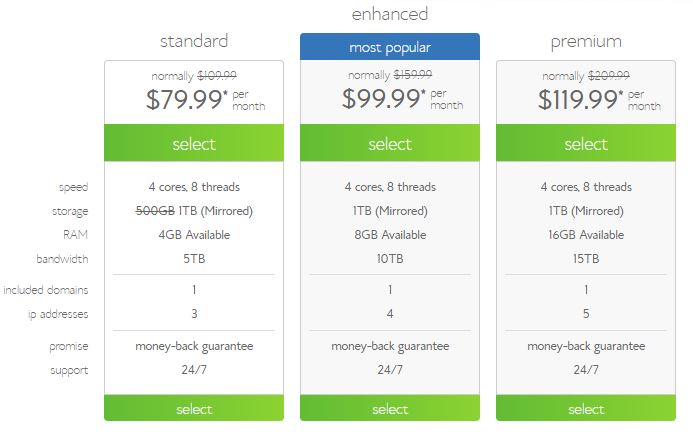 In this package, there will be three plans as well, the same as the Shared Bluehost hosting package: Standard, Enhanced and as well as Premium. Among the three, the most popular one is the Enhanced Plan. Well, the common features of the three plans being offered are the 4 GB RAM, a vast list of server resources, 1 TB of disk space and as well as 3 IP addresses. In addition, for those customers who want the freedom to configure the server will have a full root access permission to CentOS.
There are more than one custom-built dedicated servers which are built on performance equipment. It includes the KVM, OpenStack, Intel Xeon and a whole lot more. If you worry too much about getting trapped in a long-term contract, in this hosting package, you do not have to. You will have the freedom to cancel your service. If you decide, you will get a full refund of your payment within the first thirty days if ever the package does not meet your expectations. However, be reminded that the refund for cancellations after the first month will be on a prorated basis.
VPS Hosting
All the features of a dedicated server are provided by the Virtual Private Server (VPS) Bluehost hosting package at the price point of the shared packages. In Bluehost, there is a managed WordPress hosting which is an example of a virtual dedicated server offering. The VPS hosting is built on cPanel. With this, all the services will come with a custom interface which supports hassle-less management. There will also be additional functionalities and as well as tools. Other than that, you will also get to have one-clock installs for Magento, Drupal and also WordPress.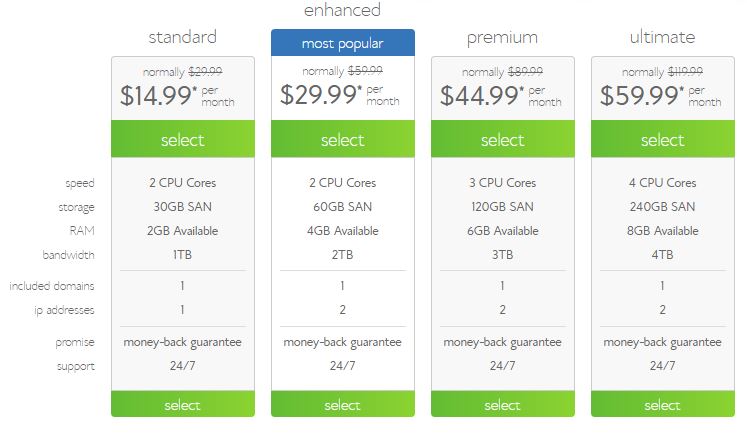 In the VPS Bluehost hosting package, it will come in four (4) service plans: Standard, Enhanced, Premium and as well as the Ultimate plan. With this VPS hosting package, the monthly network bandwidth would range from Standard's 1 TB to Ultimates' 4 TB. All the individual plans include a single domain name and 24/7 technical support and customer care. The SAN storage is also doubled in every level of plans starting from Standards having 30 GB SAN. Other than that, there are also add-ons which are included in each plan — the extra IP addresses and as well as SAN storage of up to 1000 GB. It gives you the flexibility to expand the tier of services quickly.
Additional Feature
The features of VPS Bluehost hosting package does not just end there. It also includes upgrades to the backend. This will provide a no-clutter and as well as a clean interface which makes it easy for novice users to navigate the site dashboard. There are also self-service educational tools and aslo help desk staffers which will provide necessary help for the users. It ensures that the clients using the VPS Bluehost hosting package will never have to worry on understanding and finding help in online forums just to get tools and as well as tips.
Cloud Hosting
Cloud Hosting package is highly recommended for those who want fast, reliable, and simple service. It offers both the flexibility and scalability as well. In this Bluehost hosting package, you will never have to worry about downtime. It will automatically mirror your website across three unique devices. If ever your hardware fails or would develop a problem during runtime, the other copy will continue functioning. In case it happens, the other two copies will continue to work as well while correcting the issues.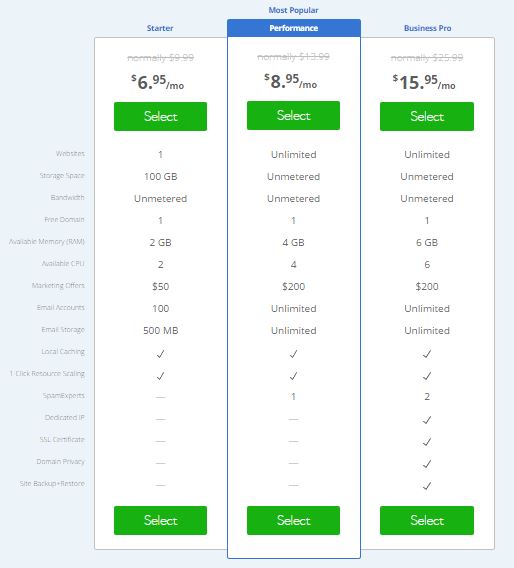 This hosting package comes in three plans as well: Starter, Performance and as well as Business Pro. With the Starter service plan, it comes with a storage space of 100 GB, 2GB RAM and 2 CPUs which is for $6. Among the three plans, performance is the most popular among the clients. Business and Performance both offers unmetered storage and a 6GB or 4GB RAM, respectively. As your business grows, you may upgrade your cloud space in just a single click and enjoy the seamless and as well as automated migration just from the shared hosting transferring to the cloud in just a matter of minutes.
When it comes to the interface, users will experience a user-friendly navigation system which lets them add RAM and as well as CPU as they need it. This way, they will never have to pay for whatever power that are they will not be using. Other than those mentioned features, the Business Pro plan actually has a lot more to offer but with a higher value as well. If you think this package fits you, then we suggest to take, if not the popular plan, then the Business Pro.
Final Verdict for Bluehost Hosting Package
In Bluehost, every account can host multiple websites but you will have cover the domain names' cost. Not many know how a domain name can actually offer the highest long-term return on investment (ROI) from your website. The ROI is actually more than the first-year sales and profit margins. Though the traffic of a website is what most business owners take as a primary goal, it is very significant to think of the future as well.
The Bluehost Hosting packages mentioned above have services of a standard performance features that lets the user take control of their website. Not just that, you can also control your budget. Each of the Bluehost hosting packages have each feature and unique tools, you just have to see if it fits your business model. You also have to consider your financial constraints when you choose a service hosting package. If your website as a high-traffic, then we recommend to avail for a dedicated server. The good thing is, you can always just upgrade your package later. If ever you want to get started with a VPS, you can just do so.
If you are tired of long load times and would like to avoid it, then try the cloud hosting package. It is built low-density servers and as well as premium hardware which will make you confident. Your resources are precisely focused on wherever you need it to be. Other than that, you will have the power to manage your website's content more efficiently than ever before.
More of Bluehost
Of course, those four mentioned hosting service packages are just the common hosting. There are also WordPress hosting and WooCommerce hosting. If you have further questions, the Bluehost technicians will help you compare each of the service packages in depth. Bluehost's upholds that their success is whenever their clients succeed. They have the best web hosting plans that will definitely fit your business model. Their service packages will empower you with the advanced technology of today's generation. Your resources will surely grow on your terms.
The price range of the hosting service packages being offered changes from time to time. There will be times where these services will be offered at a very low price, so keep posted. If you get lucky, you will be able to find discount coupons. The vouchers will let you get the services at a discounted rate.