With the growing number of web platform enthusiasts today, a lot of web hosting providers have also popped-out in the industry. One of the good option for web hosting, nowadays, is the JustHost. The good thing about this particular web hosting provider is the variety package offers. Those offers are very useful for entrepreneurs, bloggers, and as well as small business who are looking for affordable web hosting plans. Just like most of the web hosting providers, the JustHost also has three plans for web hosting. So, among the three plans, which is the best JustHost hosting package for you?
Best JustHost Hosting Package
With JustHost, they are offering more than just one great product for their customers. They put into consideration not just individuals but business owners as well that wants to avail full service even with a small budget. One of the best feature of JustHost is being accessible and has an easy-to-navigate interface. As mentioned it offers three hosting, the shared, dedicated and as well as the virtual private serer (VPS). However, JustHost have lacking features that are offered by HostGator or by Dreamhost. But even so, JostHost still have some great features at an affordable price.
Shared Web Hosting
Most of the web hosting providers offers three plans for each of their packages. In particular, the JustHost have three shared web hosting plans: Basic, Plus, Prime and Pro. It is no secret how the JustHost also lets you have savings with their hosting services for its affordability. They offer $15.99 Domain Registration coupon for your first 12 months registration. Isn't it great? Now what could the Shared Web Hosting plans offer for the users? Let us go into details: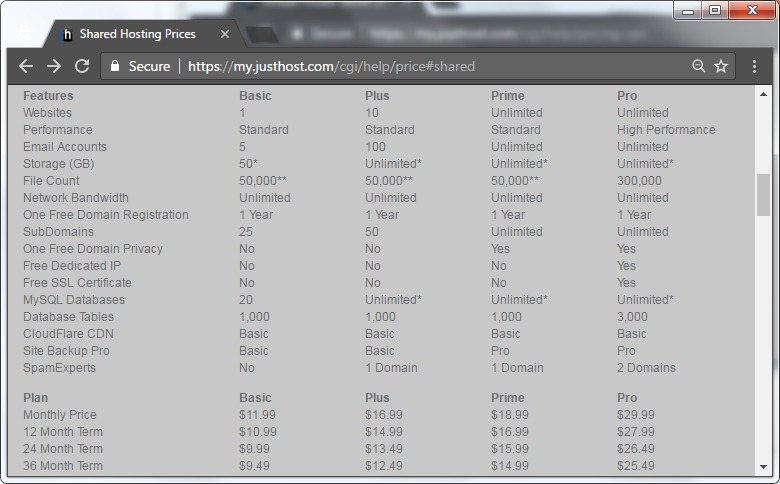 Basic
When it comes to the Basic Shared Web Hosting plan, you will be able to have one, single domain. It comes with a standard performance. Aside from that, you will be able to have 5 email counts, 50 GB storage, file count of up to 50,000, unlimited network bandwidth and a year free of one domain registration. Does it have subdomains as well? Yes, in fact, you are entitled with 25. As for the database, it makes use of MySQL with 20. You can make database tables as far as 1,000. The CloudFlare CDN is basic, the same with the Site Backup Pro. For this particular plan, you will just have to pay $11.99 per month!
Plus
Now, with the Plus shared web hosting plan. If basic allows you one website, this particular plan gives you 10. Other than that, 100 email accounts is also included. Instead of 50GB, you will get to have an unlimited storage, 50 subdomains, unlimited MySQL databases, and 1 domain SpamExpert. You can avail this plan for $16.99 a month. If it does not seem to fit your needs, then try the Prime plan.
Prime
The third plan offers unlimited websites for $18.99 a month. Aside from that, you will have an unlimited email accounts as well and subdomains. It also has a one free domain privacy which is not included in both the Basic and Plus plans. The Site BackUp Pro for this plan is also a Pro.
Pro
If the features of the Prime plan does not still appeal to you, then try the Pro shared web hosting plan. Out of the four shared web hosting plans, the most recommended plan is Pro. It could be the best JustHost hosting package for you. What features that it have that makes it different from others? You could definitely expect a high performance instead of just settling for the standard. The file count could get up to 300,000. It also have a free SSL Certificate and Dedicated IP as well. Aside from that, instead of 1 domain, you will get two SpamExperts domains. All of these great features for $29.99 a month.
VPS Hosting
With the JustHost, they made use of powerful cloud technology VPS solutions. They use enhanced cPanel environment as well and lets you have a full root access to CentOS. Though not all the plans have this feature, they are still the best JustHost hosting package. Aside from that, they also have KVM hypervisor virtualization that guarantees that your resources will be always be available at any time.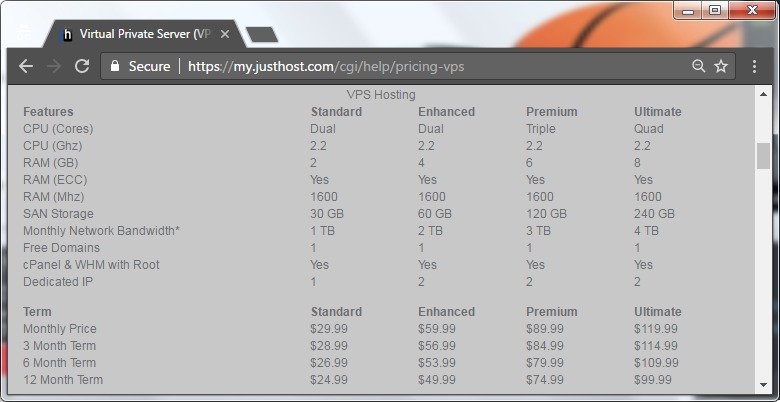 Standard
All of the plans under the VPS hosting package has almost the same features, but they differ with the numbers. As for the Standard plan, it has Dual CPU cores and 2.2 CPU Ghz. It offers 2Gb RAM as well. You will be able to save a lot of files for their 30 GB SAN storage. When it comes to monthly network bandwidth, it can go up to 1 TB. Does it have a free domain? Well, yes, you are allowed to own 1 domain. It also has 1 dedicated IP as well just for $29.99 a month.
Enhanced
Now, if you think those features from Standard are not enough for you, you might want to try the next plan, the Enhanced plan. It is currently offered at $59.99 a month. It inherits all the features from the first plan. However, instead of just 2 RAM, it is now offered for 4 GB. The SAN storage is at 60 GB and an additional monthly network bandwidth. If you are still adamant for this kind of plan, you should try the next plan, Premium.
Premium
With the Premium plan being offered at $89.99 a month, instead of dual CPU, it comes with triple. The RAM is now being offered as 6 GB, 120GB SAN Storage and an additional terabyte for the monthly network bandwidth, which means it is now at 3TB.
Ultimate
If you really want to have the best features that there is, then you should definitely try the Ultimate VPS hosting package plan of JustHost. It might just be the best JustHost hosting package for you. It comes with quad CPU cores, 8 GB RAM, 240 SAN storage, 4 TB monthly network bandwidth. All for $119.99 monthly.
Dedicated Hosting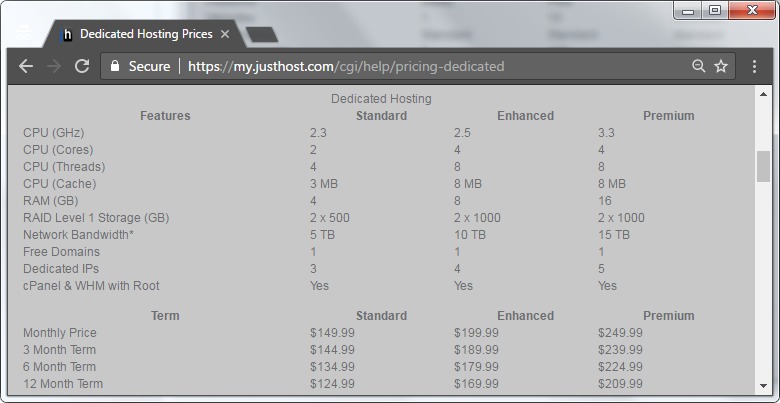 The good thing about JustHost is how they have numerous amount of offers for the clients. They offer variety of products to make sure that they get to serve their customers a lot more better. Now, with their dedicated hosting platform, they make use of OpenStack for its development. It is a scalable cloud operating system. That is why all the configurations are guaranteed to start running in just under 5 minutes. It is already fully automated and with instant provisioning as well. This might be the right and best JustHost hosting package for you. JustHost will also provide you their own installation of WHM which is an enhanced installation of the known cPanel for managing their Domain Manager, resources, and as well as the Server Management tools. With this package, it is being offered with three plans:
Standard
Just like the Shared Hosting package, Dedicated also has a Standard plan that has 2.3 CPU GHz, 3 MB CPU Cache and 4GB RAM. Aside from that, it has a RAID Level 1 Storage of 2 x 500 and a network bandwidth of 5 TB. This particular plan also allows to avail a free domain, three dedicated IPs and have a cPanel and as well as a WHM with root. All of these features can be availed for $149.99 per month. If this does not seem to fit your needs, then try the next plan.
Enhanced
With the Enhanced dedicated hosting plan, instead of having a 2.3 CPU GHz, it has 2.5. The CPU cache can get up to 8 MB and an 8 GB RAM. For the RAID Level 1 storage, it offers 2 x 1000 GB. Instead of Standards 5 TB network bandwidth, the Enhanced have 10 TB. The same with the standard, this also offers a free domain to the user, an additional dedicated IPs and it also has a cPanel and WHM with root as well at $199.99.
Premium
Now down to the third plan under the dedicated hosting, it comes with 3.3 CPU GHz. This particular plan, which is the highest and most equipped among the other plan, inherits all the features that are under the Standard and Enhanced plans. However, they only differ with the value of quantity. As the plan increases, you can expect an additional value for a certain value. For instance, the RAM is even doubled which makes 16GB storage. As for the network bandwidth, you will be able to own 15TB, align with the free domain, 5 dedicated IPS and a cPanel with the WHM as well. You can be able to avail this particular plan for 249.99 a month.
Final Verdict
That's it! Have you finally lead to a decision as to the best JustHost hosting package that is just right for you? You can choose among the three packages from the shared hosting, dedicated or the VPS hosting plans. For you to effectively make use of their services, be sure to consider the plans that have all the features that you would need. You do not need to avail the plan that have the best features but is not really usable for you. Instead, choose those that have the only features that are necessary for you. Aside from the features, you should also consider the price of the plan/s that you plan to take. All of the packages can be payed monthly or quarterly, depending on your preference.
As we have introduced, there are a lot of plans in every hosting packaging, so be sure to choose the best JustHost hosting package for you possibly wasting unused features.