It's natural for a beginner in the web developing world to rush onto different web pages in search of a perfect web host company for his website. Many of them often end up getting a good one, but most of them realize that it's preferable to go through numerous web hosts reviews rather than selecting from just two or three. Our review of the 10 best web hosting companies should increase the probability of choosing a much better option.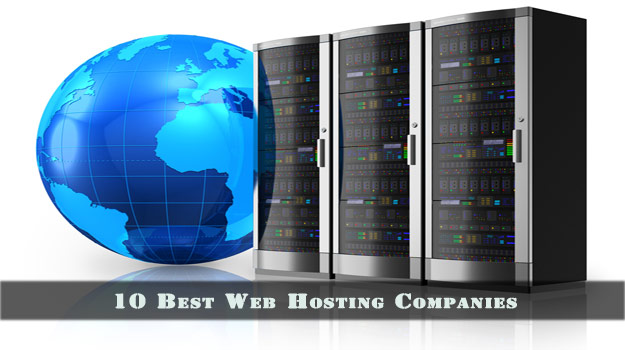 10 Best Web Hosting Companies
The basic idea behind hosting a website is that in order to make it visible online you are supposed to store it on a web server. A web host company provides you the web hosting services that enables general public accessibility to your website through the WWW (World Wide Web). You can host your site on the space provided by the web host on its server. Once you buy required space on the host's web server to store your web pages on, your site gets hosted on the internet by the host company. Technically, when an internet user types in your site's domain name in the address bar, the World Wide Web connects to the web server where your site files are stored. This server transfers all the data to that particular computer and thus, your website is visible on it.
However, this is not the only job of a web host. Different web hosts have various kinds of features and provisions to their clients, such as the bandwidth, safety and security, scalability, control panel, customer care services, disk space, user-friendly tools, etc. In brief, a web host manages and facilitates all these together. Additionally, many such companies offer Shared, Virtual Private Server (VPS) and Dedicated hosting packages. Below we have provided our top 10 best web hosting companies along with their pros and cons.
1. Bluehost
Foundation: In the year 1996 by Matt Heaton.

At the top of our list of the best web hosting companies is Bluehost. In addition to their huge quantity of clients, which includes hosting millions of domains around the globe, they have great feature, customer service, and performance. They also provide a simple procedure to follow in order to buy its host package. You can review all of the useful features, web hosting plans, and Bluehost coupons in our complete review of Bluehost hosting.
Pros
It provides many beneficial features such as One-click installs, free domain with WhoIsGuard, 99.9% uptime guarantee, plenty of offers and coupons, all-time customer support and guarantee of refund. WordPress strongly recommends Bluehost web host.
Cons
It has only one set of DNS (Domain Name System) and has high migration charges. Many of its clients also complained about its security issues. Even though, the advantage of buying Bluehost package is more than enough to compensate its limitations, thus making it the best hosting company on our list.
2. HostGator
Foundation: In the year 2002 by Brent Oxley.

Number 2 on our list of the best web hosting companies is HostGator. Even through Bluehost and HostGator are owned by the same parent company, Endurance International Group, HostGator is definitely a competitor to the Bluehost. However, like Bluehost, it offers some very cheap hosting plans, especially for the beginners. They have grown extensively and presently hosts around 9 millions domains globally. Starting from just a 5GB at launch, it increased the storage capacity to 100GB later as they became more popular. Read a complete review of HostGator hosting.
Pros
It offers different hosting plans for its various clients such as Hatching plan, Baby plan and Business plan. A smooth and effective site builder is provided which is beneficial for the new web developers. Other advantages are: 45 days refund guarantee, discount coupons, free advertising credits, 4500 free templates, etc.
Cons
Due to too many domains hosting, it is assumed that the other site performance gets affected. It offers only Google AdWords credits.
3. DreamHost
Foundation: In the year 1996 by Sage Weil and his colleagues.

Coming in at number 3 on our list of the best web hosting companies, is DreamHost. The DreamHost web service is known to be user-friendly with its shared hosting being super-fast. It offers affordable hosting plans with high rate usability and also, supports various new programming scripts: PHP5, Ruby, Python, CGI and Perl. Read a complete review of DreamHost hosting.
Pros
Unlike other hosting companies, it guarantees refund after 97 days of the plan purchase (valid only for credit card payment). The uptime and response time is quite convenient. It provides 50GB free backup space. Along with provision of unlimited disk space and bandwidth, it also offers unlimited FTP accounts services.
Cons
The biggest drawback of this host is its customer care service. The client cannot contact the DreamHost support team directly via telephone line for free; one has to pay extra charge. Moreover, the online support is slow and technical support is not much reliable. It has some negative security issues and its custom control panel may not impress all the users.
4. JustHost
Foundation: In the year 2008 by Chris Phillips.

Number 4 on our list of the best web hosting companies is JustHost. They are best suited for the personal or small scale business websites. Although it has not got much of the experience in the web market as it was established few years back, it has attracted many of the webmasters to its affordable hosting plans and easy cPanel account services. Read a complete review of JustHost hosting.
Pros
It owns a full-time highly supportive team for the clients and a reliable web mail interface. The overall simplicity is its fundamental strength. A newbie web developer must surely go with this option. It offers anytime refund guarantee and free domain transfer which are remarkable features. Being a rich-featured host it not only provides Google AdWords credits, but also Facebook Ad and Bing credits. JustHost also offers discount coupons, use HostingD coupon to avail the discount.
Cons
It has no Windows servers and provides only Linux hosting, which actually doesn't make a difference to most of the users. Also, there are some backup issues and CPU usage limitations, that's why it is recommended mainly for personal/small business sites.
5. Arvixe
Foundation: In the year 2003 by Arvand Sabetian.

The fifth web hosting provider on our list of the best web hosting companies, is Arvixe. Like the other web hosting companies, Arvixe is also inclusive of all the necessary features required by any client for the web services. It has free site builder and online store too. Their web services supports both Linux and ASP.NET on Windows servers for small-scale websites. Although its functionality is not straightforward, the overall package it offers compensates its limitations. Read a complete review of Arvixe hosting.
Pros
Your virtual hosting account gets automatically setup as soon as your billing procedure is completed. The website hosting is quick and offers script library. In case, you wish to transfer from any other web host to Arvixe, it's carried out with ease and free of cost. It offers returning customer discount service and 60 days refund guarantee. Use HostingDMaxOFF to get discount on Arvixe hosting plans.
Cons
It is not a much huge company and this is the reason why users are not comfortable switching to it. But this definitely doesn't matter; it's undoubtedly a better one! You are allowed to add only six domain names under one account with basic plan. In order to have more freedom regarding domain names addition, you need to upgrade to pro plans.
6. iPage
Foundation: In the year 1998 by Thomas Gorny.

Number 6 on our list of the best web hosting companies is iPage. It is known for its speed and affordability. It hosts over a million domains and is well known among personal website owners since its relaunch in late 2009. Read a complete review of iPage hosting.
Pros
It provides quick and effective technical support. The interface is way easier and simple to navigate through its functions. Marketing tools provision is its excellent additional feature. Discounts are offered in considerable amount.
Cons
It is not recommended for the advanced webmasters as it falls off some advanced features. Usually, clients are used to cPanel as control panel whereas iPage provides vDeck as control panel. This cannot be considered as a drawback, but the intermediate clients may not feel comfortable and may drop the idea of choosing this host.
7. Namecheap
Foundation: In the year 2000 by Richard Kirkendall.

The next one on our list of the best web hosting companies is Namecheap. Being awarded as the Reader's Choice in HostReview the previous year, Namecheap has quality performance, services, uptime and security. As the name suggests its plans are cheap and reasonable that gains attention of most of the users. It's a well known domain registrar, that also offers web hosting services. This is the reason why clients choose Namecheap for domains and some other web host company for hosting services.
Pros
It's a reliable domain registrar with a manageable level of upselling. It carries much of simplicity in its DNS Manager interface. It provides free email and WhoIsGuard privacy services. In brief, it's a straightforward web service; easy and non-complex in its own way.
Cons
Its technical support team doesn't seem to be well responsive and well qualified. Many clients complain about its live chat and phone support; it's frustrating and annoying at some level. Unlike other hosts, it offers short period refund guarantee.
8. Site5 Hosting
Foundation: In the year 1999 by Matt Lightner and Rod Armstrong.

Number 8 on our list of the best web hosting companies is Site5 Hosting. It is a well experienced and high-rated innovative web service provider in the web industry. After Bluehost, Site5 is strongly recommended for WordPress Shared Hosting. It is considered one of the greenest web hosting companies. The peculiarity behind this is its entire staff that works from home, thus preventing any kind of harmful effects on the environment.
Pros
It possesses an In-house technical support team and a 45 days refund guarantee. There is wide choice of server location given to its customers. It does not charge for account migration. It offers valuable services to host multiple websites with their respective control panels.
Cons
If you are using its cheapest plans, then it charges you extra for add-on domains. It has some severe issues with the shared resources on server. Hardly discounts or any special offers are provided by this host. No doubt, it has high reputation, but these shortcomings have disappointed many users all around.
9. InMotion
Foundation: In the year 2001.

Number 9 on our list of the best web hosting companies is InMotion. Their hosting service is particularly known for its Business Hosting packages inclusive of SSD (Solid State Drives). The SSDs included in almost every plan fastens the read/write speed, thus enabling fast delivery of your site content. It minimizes its clients stress by providing free data backup option. Like some other web hosts, even InMotion offers free advertisement credits.
Pros
Its customer care service is outstanding with a complete knowledge-based support team. It has high quality performance and relishing flexibility and scalability offered by its cPanel and upgrade options, respectively. The refund guarantee offer lasts for 90 days.
Cons
This host is relatively a bit high at its package cost. However, you may also get some very affordable plans too. It restricts more amounts of databases from running on your single hosting account i.e. limited add-on domains are possible.
10. ResellerClub
Foundation: In the year 1998 by Bhavin Turakhia and Divyank Turakhia.

Rounding out our final web hosting provider on our list of the best web hosting companies is ResellerClub. It is another web hosting company and domain registrar. As the name suggests, it specializes on reseller hosting. Although developed in India, it has successfully run its programs internationally too. It offers four types of hosting at different prices and sets of options.
Pros
It supports both Windows and Linux server hosting. It also provides powerful support to extensive software with reliable management solutions. This host can be recommended for normal-scale business websites.
Cons
This company deserves to be at the bottom position in our list since it has serious server uptime issues as per experienced by its clients and neither is its support team as responsive as required. It charges high rates for domain purchasing. The technical staff seems to lack proper knowledge about the web services and is incapable to solve their clients' problems.
Top 10 Best Web Hosting Companies: Conclusion
So, there is our review of the top 10 best web hosting companies. One must carefully note that not a single web hosting company is best and outstanding. It can be claimed perfect in regard to the fulfillment of the demands by the customers. A web host is best when it satisfies all the requirements of its customers and provides a healthy service environment. Therefore, it's a strong advice to do a lot of research on every web hosting company. You can then make the decision which one will be best for your web hosting needs.