WordPress is, undoubtedly, the best CMS cum Blogging Platform an internet marketer or blogger can find. It offers a multitude of impressive features. That includes stability, security, and customizability. Although the technical requirements of this popular web software are relatively low. Nevertheless, when you want to ensure the best performance of a WordPress website or blog, you have to find the best WordPress hosting services to host your WordPress sites or blogs. Since there are different providers offering a variety of WordPress hosting services, a process of selection seems to be very tough.
Despite toughness, after considering a number of aspects of web hosting providers, we have come up with an article on the best WordPress hosting services you should choose. Among those factors, we have given less emphasis on the affordability of plans. As we think the functionality of your site or blog is extraordinarily important. List of such factors is customer support, security of servers, user interface, and additional features offered by the web host, etc. So, shall we start exploring the best WordPress hosting services? Before that, if you are interested, we will give you an introduction to different categories of WordPress hosting. As it will help you recognize the best one for you.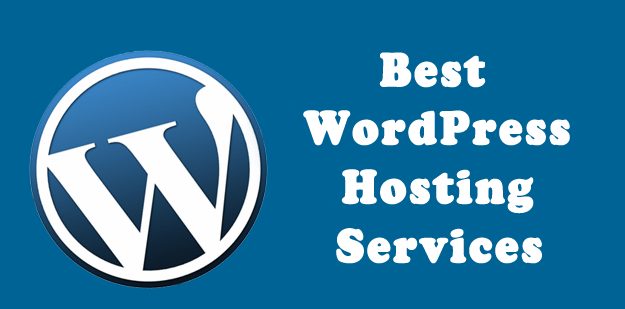 Shared WordPress Hosting: In this, your WordPress blog or site will be hosted in a shared web server. In spite of the insufficiency of resources in some situations, shared WordPress hosting is best for newbies.
VPS WordPress Hosting: If you need an upgrade from shared hosting, VPS WordPress hosting will be the nice choice you can opt. It is suitable for blogs or websites having high traffic.
Dedicated WordPress Hosting: You can host your WordPress site in a dedicated server. It is only for HUGE!
Managed WordPress Hosting – In managed WordPress hosting, the support team will help you. Moreover, the team will optimize the server for a smooth functioning of WordPress site or blog.
Now, we will check out those best hosting services for your upcoming or existing WordPress site or blog.
#1 Bluehost WordPress Hosting
Bluehost is similar to WordPress! Well, not in the CMS industry, but in the web hosting industry! In all these years, Bluehost has been the first choice of a huge number of web-based professional. In fact, that includes famous ones. Apart from scripts for installing WordPress in the majority of web hosting services, Bluehost offers a special, optimized, and powerful WordPress hosting service. It is called Optimized Hosting for WordPress and ensures fastness, security, and simplicity in its every aspect. Actually, when you purchase this hosting plan, you purchase a powerful Virtual Private Server. It has been optimized for smooth functioning of WordPress site or sites. Since Bluehost offers different plans in this category like 'Blogger', 'Professional', 'Business', and 'Enterprise', you can choose from them according to your requirements. Each of these plans has impressive features.
For instance, basic plan – Blogger – that costs $17.50 in the first month provides a VPS with 2GB RAM and 60GB Storage Space. It also provides single IP address, SiteLock Pro, SiteLock CDN, a free domain, and expert support all the time. In addition, MOJO Marketplace, WordPress-centric controls and automatic backups are notable features of Bluehost WordPress hosting. Obviously, Bluehost WordPress hosting is something nice for those who are looking for reliable web servers to power WordPress-based sites or blogs. Moreover, Bluehost is one of the web hosting services recommended by WordPress.org. Click here to read Bluehost review.
#2 DreamPress – WordPress hosting from DreamHost
Well, most of you would not need an introduction to DreamHost. It is one of the famous providers of different categories of web hosting services. Just like what we mentioned above, DreamPress runs on an optimized VPS with deep-rooted support for WordPress-based websites and blogs. The cost of DreamPress servers is $24.95 per month for each WordPress site/blog you host. However, you can grab it for $19.95 as an introductory offer. You can find a huge number of impressive features in DreamPress service. It lets you install WordPress through a single click. Also, it migrates your WordPress site with the help of a robot. It has any time support from WordPress experts of team and data backup to DreamObjects Cloud.
In order to power all these features, DreamHost has stuffed enhanced performance into those VPSs used to create DreamPress accounts. Apart from all these, DreamPress has a 97-day money-back guarantee. It means you can get your money back if you do not like DreamPress. Not to mention, they have a 100% uptime guarantee. One issue we found in DreamPress is that it does not let you customize features according to your requirements. However, you will have to pay according to the number of websites you host in an account. Sometimes, this may become not affordable for some professionals or enterprises. Like Bluehost, DreamHost hosting is also recommended by WordPress.org. Click here to read DreamHost review.
#3 InMotion Hosting
InMotion hosting has become quite popular among professionals nowadays! Likewise, WordPress hosting service of InMotion hosting is worth praising, indeed. When we compare InMotion WordPress hosting with other WordPress hosting services, including those we mentioned earlier in this article, it seems be the most affordable solution, when you are seeking an effective WordPress hosting service for your WordPress blog or website. A noticeable feature we found in InMotion host is support for suPHP, one of the options to optimize security of your site/blog running on WordPress recommended by WordPress.org itself.
InMotion has included 1-click installation of WordPress by means of Softaculous and high-grade hardware and Max Speed Zones in order to enhance speed of your website. In this feature list, Max Speed Zones, a special feature of InMotion is worth praising. Using this feature, as InMotion hosting has datacenters in different regions, you will be able to decrease loading speed of your site by enabling the peering feature between datacenters. InMotion WordPress hosting offers three different plans – Launch, Power and Pro. The first one costs 3.49 per month, whereas Pro plan costs $13.99. In the first plan, you will be able to host two WordPress sites, whereas the Pro plan lets you host up to 25 websites. However, all these plans offer unlimited disk space and bandwidth. While taking all these factors into account, InMotion is the best-shared WordPress hosting you can grab.
#4 WPEngine
While the aforementioned companies offer WordPress hosting along with other services, WPEngine is quite different, as it offers WordPress hosting only. Of course, WPEngine is offering managed WordPress hosting that is powerful to let you have no doubts regarding the performance or functionality of your WordPress site or blog. WPEngine's portfolio is impressive enough to attract any professionals, as their clients include Soundcloud, AMD, and HTC etc. WPEngine offers four different WordPress hosting plans, which costs $29 to $249 and a premium option, where you've to talk with the company!
The basic plan that costs $29 allows you to host only one WordPress site and supports up to 25000 visits per month, unlimited bandwidth and 10GB of storage. Despite being a bit expensive than other hosting firms, WPEngine has a number of features such as Git Version Control, EverCache technology, data centers spread over the globe, Firewall and Malware scanning to ensure security, daily data backups without even letting you know, support from expert team regardless time, CDN & SSL Certificate (only in further plans, not in basic), LargeFS Storage. Indeed, these features make WPEngine something extraordinary when it comes to hosting WordPress sites & blogs without worrying about functionality or security.
What do you think about these WordPress hosting solutions? Have you had any experience with those? We are very eager to know your opinion.