Using the BigRock coupons provided below, you can receive discounts from 18% to 30%, which is a big deal, as long as you prefer short budget for starting a blog. So, if you are ready to make use of these coupons, 24% of discount is awaiting you in the long run.
History and Overview
BigRock is actually owned by a firm named Directi! Directi has been serving web-based professionals since 1998 and it is still a perfect choice of people when they need various services such as web hosting/domain registration. It has to be noted that Directi comes from Endurance International Limited, which can be used as a synonym for Web Hosting conglomerate, at any case. The company is the same one behind Bluehost, HostGator, Arvixe, JustHost, iPage, A Small Orange and many other web-hosting providers around the globe. However, BigRock is an Indian company, which is headquartered at Mumbai, Maharashtra, India. So, that is the history part of this all-in-one web-hosting provider and now we will have an overview of the services.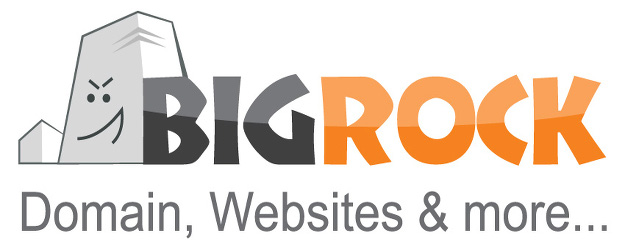 It is a matter of notable addition that several popular brands are using BigRock to power their websites and the list includes Adidas, Z Network, Hindustan Petroleum, FIAT etc. And, there is a countless number of the upcoming firms that use BigRock as their web hosting provider. For all these customers, equally excellent web hosting services are being provided by BigRock at any case. And, it seems that the services offered by BigRock are way too impressive that most of the customers happen to be positive about it when we take the case of reviews. Different plans of BigRock hosting include basic web hosting, reseller hosting, VPS and dedicated web servers. All these plans come with some stunning features that are really attractive as well.
Features of BigRock
One of the most noticeable features of BigRock is the affordable pricing plan it has for almost every hosting plan it offers! For instance, if we are to consider the case of Linux web hosting, the basic plan of Linux web hosting is available for a monthly rate of $1.59 (₹ 59). Similarly, in case of VPS hosting, the basic plan starts at $18.19 (₹ 599), which is cheap according to the standard rates. And, when you use coupon codes from BigRock, the price becomes lower.
It is worth noting that all the web servers of BigRock web hosting come with the support for eCommerce systems and Content Management Systems out there. In addition, when it comes to the case of the UI and related stuff, it has support for top-notch add-ons, so that you will not be having any trouble in the long run.
Despite being an Indian-headquartered company, web servers offered by BigRock have their data centers set in United States and it would be useful when you want to focus on US customers as a blogger/internet marketer. This fact is applicable for the cheapest hosting plan of BigRock — the one available for a monthly rate of $1.59 (₹ 59) per month.
There is also a domain registration section of BigRock, which offers some newly-brought TLDs as well! You can also get some superb discount when you purchase domain names from BigRock, given that you would use the BigRock domain coupon codes available.
Pros of BigRock
BigRock has an excellent level of experience in providing various kinds of web hosting services.
Plans of BigRock are very affordable.
Being Indian headquartered company, BigRock offers enhanced support for Indian customers and suitable payment methods.
Availability of BigRock coupon codes.
Cons of BigRock
Like all Shared Hosting Plans, the Unlimited plans are not unlimited! However, I could not find any major problems with the services of BigRock Hosting.
Summing Up
BigRock is indeed an awesome web-hosting firm that you can trust when you need impressive web servers, at an affordable rate when we use BigRock coupon codes! So, regardless level of the purpose, you can depend upon BigRock for your purposes.
Related Readings : Bigrock Coupon Codes