Bigrock Shared Hosting Plans in India is one of the leading web hosting service providers. Especially,with its headquarter located in Mumbai. It has been into the web hosting industry for a decade and has built a good reputation. BigRock greatly offers wide range of services that involves web hosting, domains, internet, web CMS and as well as email. Among the accounts that the offers of BigRock could be applied, shared hosting is the most  popular and affordable. Currently, BigRock offers three (3) shared hosting plans for those interested clients: BigRock Starter, Advanced and Business.
BigRock Shared Hosting Plans is one of the best shared web hosting companies because of having competitive rates. BigRock have 80% lesser rate that other hosting service providers. If you want to know what each shared hosting plans of BigRock has to offer, check out the following to go on detail:
BigRock Starter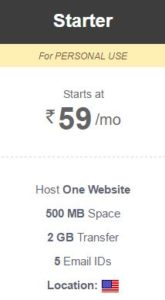 BigRock Shared Hosting Plans is known for its competitive rate yet provides quality service. Out of the three shared hosting plans of BigRock's, BigRock Starter Plan is the cheapest. You get to try this plan at 59 INR per month. In this plan, you will be able to host only one website. BigRock Starter has a limited space of 500 MB. For the transfer size, it allots 2GB maximum size. You will also be able to have 5 Email  IDs. The good thing about BigRock is you will get to choose the years of duration you plan to consume the plan.
This kind of plan, however, is not really recommended for those who are web enthusiasts because of its limited features and it is really intended for personal use. However, if you only have one website that you plan to host and is not really a heavy website, then you could take this plan. If not, you can check out the next plan.
BigRock Advanced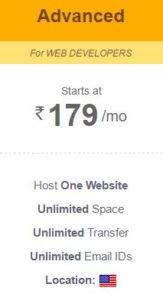 All the offers in the starter plan is part in the BigRock Advanced shared hosting plan. However, unlike the starter plan, client will have unlimited space, transfer and as well as unlimited Email IDs. It can also host just one website. This kind of plan stars at 179 INR/month. It is considered good for web developers who are into developing websites for their clients. No matter how big their site is, web developers will never face storage related problems with this plan. They can actually also use this plan as their demo hosting.
Though this is for web developers, but given only one website to be hosted for this plan, this might not be ideal if web developers plans to have more than one website. They can try the next plan but it has higher cost.
BigRock Business
For those who are in business and would like to try the shared hosting, then BigRock Business is the best choice. It is offered at 319 INR/month. Though it cost higher than the other plans, it is perfect for all kind of businesses. With this plan, you will be able to host three websites, unlike the two other plans. The same with the others, it also have unlimited space, email IDs and as well as transfer.
Aside from that, all the hosting plans of BigRock as CPanel and Plesk ready. Similar with other service providers as well, BigRock supprts DNS management and domain forwarding. In addition, BigRock also allows path forwarding and as well as domain masking.
If you are into business, through Bigrocks, you will be able to make launch poll and e-commerce sites. With the BigRock Business plan, you will not have to worry about the storage as well. If you want to start an online forum, you can install other frameworks on BigRock's servers.
The users can also check the bandwidth reports for them to optimize their websites for further changes. If they like, they could create as many FTP accounts as they want. BigRock hosting also comes with support for custom error pages. Users are given PHPMyAdmin module access. With this, they well be able to manage their databases efficiently.
Bigrock Shared Hosting Plans Final Thoughts
Those are the three shared hosting plans of BigRock. All of those hosting plans offer the following as well:
Money back guarantee
Unlimited domains, email and space
24 x 7 support
30 day money back guarantee
User friendly control panel
DIY website builder
The good thing about BigRock is it ensures maximum protection to your website because of its latest security projects. So, whatever plan you choose in the end, you will have nothing to worry with your websites safety.
Final Words
If you already have decided which one is for you, remember that we have BIGROCK DISCOUNT COUPONS. So don't miss them as you will save A LOT rather than buying it directly on their website. That's it! Did this article somehow satisfy you? Let us know and comment down below.