With the variety of web hosting providers today, it makes it even harder for you to choose the most appropriate one that would suit you. There are already a lot of deals that are being offered with different approach. There are those providers that are equipped with the most number of features. Depending on the users' needs, there are variety of plans with different features. In this particular article, we sought to give you a comparison of BigRock vs Arvixe. These two are not really on the top of the industry, but they are competitive enough with their deals. They also have actually a lot to offer. They are loaded with different promising features.
Features and Reliability
Unlike what the top performing web hosting providers can offer, BigRock and Arvixe both do not have the best features, but they offer a great deal. If you want the best features, you should go for the top performing web hosting providers: HostGator or Bluehost. Their plans are affordable with the features that you will be able to acquire. Here are the individual offers of BigRock and Arvixe.
BigRock
As known, BigRock has been offering different kind of hostings, the reseller, VPS and shared hosting as well both on Windows and Linux servers. If you are looking for the basic features at an affordable price, BigRock's plans are ideal. The communication address of the BigRock is in the United Arab Emirates but is based in India.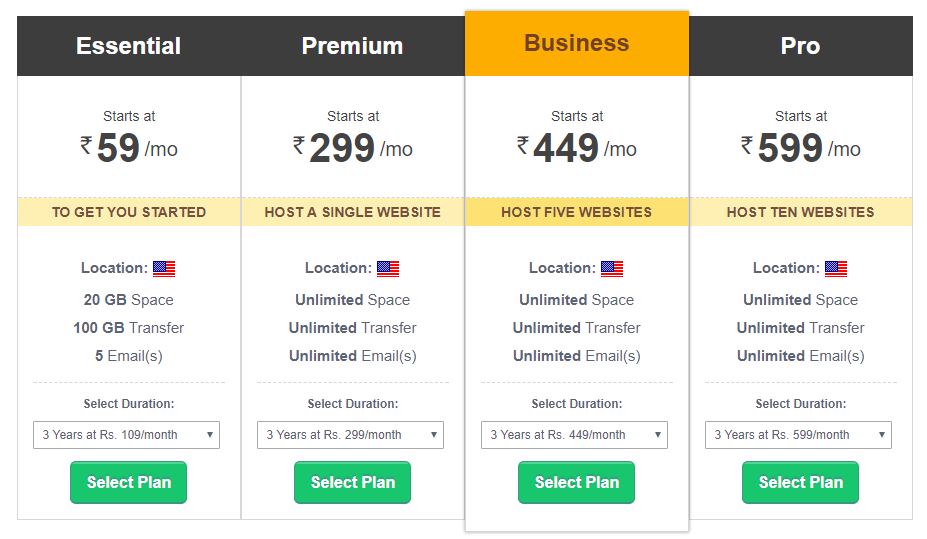 So, what's with BigRock? What do you have to expect with their hosting services? Well first, this particular web hosting provider offers four plans from which it differs with the features and price as well. It starts with their essential plan up to their pro plan. Basically, these four plans guarantees you with an unlimited email, domains and as well as space. Though the space is different in each of the four plans. All of those four plans offers a very easy to navigate control panels. Their facilities are supported with modern infrastructures. Aside from that, they offer power tool, Softaculous installer, domain and as well as email services. The good thing about BigRock is how they offer plans that are not only good for Windows OS but Linux as well. It makes it easier for the users to choose.
Plans
With all these four plans of BigRock, a user will be able to all the features included in the packages. For essential, you will be able to get a 20GB space, 100 GB transfer and 5 emails. If you are only using a minimal website for viewing, then you can settle with this plan. However, if you are looking for a much bigger feature allocation, then try the next plan: Premium. This particular plan promises an unlimited space, transfer and email as well. The same with the Premium, both Business and Pro the same features as well. Among the four plans, Business is the most recommended and popular.
Arvixe
Among the other web hosting providers available in the market today, Arvixe may not be the most known but they are one competitive company. They have been in the industry since 2003 which is based in San Luis Obispo, California. Since then, they have gradually been improving from their employee to their services. With the Arvixe's hosting services, there are already a lot of individual entrepreneurs small business and as well as enterprise websites that have been relying on Arvixe, It has actually been dubbed by a lot of hosting authorities as one of those fast growing companies in the whole world. Aside from that, to prove their great performance, they have already received a lot of awards and as well as positive feedbacks from their users.

The same with BigRock, Arvixe offers variety of plans as well making it a flexible web host provider for different kind of clients. They offer shared web hosting plans, VPS, and as well as Dedicated server plans. The good thing about Arvixe is having starter plans which has every tools that one would need. Even those features that are being offered by other hosting services in a pricey package is offered by Arvixe. Just like the BigRock plans, the Arvixe offer deals with both Windows and Linux users as well. This makes both the BigRock and Arvixe web hosting providers great for user flexibility.
Plans
For Arvixe's Personal Class offer, a client will be able to avail an unmetered disk space. Other than that, monthly data transfer is also unmetered for this plan. If you are to use one domain or website only, then you can totally go for the Personal Class. You will also be promised with a free domain name and as well as dedicated application pools. As for the pricing, you will be able to avail the whole feature at $8 per month. If that does not entice you, then go for their Personal Class Pro, a step higher kind-of-plan. Same with the latter, it also has unmetered disk space and monthly data transfer as well. However, both differs with the number of domains it can host. Personal Class Pro allows you to have 5 domains or websites for $11 a month.
So, with BigRock vs Arvixe in terms of plans, both gains the same point. Both offers basic plans for more personal bloggers or individuals who desires a static website. If you are planning to have a website with too much graphics, you should go for a higher plan with bigger space allocation. Too much media will consume the space disk, so you need to consider this one.
Performance
When it comes to performance, between BigRock vs Arvixe, it is actually hard to point out which web hosting provider excels. Both of them could actually deliver the same performance.
With BigRock, it assures you with an uptime of 99.9%. It guarantees a downtime with less than 5.26 minutes within a year. Just like the most reliable web hosting providers, BigRock also uses advanced technology and servers as well at its data centers. With this, they can guarantee a more secure and reliable hosting services to their users.
Arvixe guarantees a 99.9% uptime which makes it a very effective web hosting provider. If the site fails to deliver the said guaranteed uptime, users can actually ask for pay-back if such instance occurs. The company actually employs quite a number of SAS 70 Type II certified data centers that are situated in the heart of New Jersey, Dallas, and as well as Chicago. With the uninterrupted power supply (UPS), the integrity of those mentioned data centers are sustained. With this, they can really assure high class security and as well as redundant power generators. They also assure that other utilities that would need operations such as ventilation, lighting, and as well as air conditioning system are frequently maintained and monitored as well.
Technical Support
There are no perfect rendering service company. There would always be troubles along the way. Now, if you happen to avail one of the BigRock and Arvixe, you would want to ask help. There will be issues that would need troubleshooting which would lead you to contacting the company for assistance.
The good thing with both the BigRock and Arvixe is how both of them have good group of customer service providers. If you happen to face a problem, you can just reach for them through different mediums. You can chat with their technical support team to immediately be assisted. You can email them or call them directly to save time. Unlike other web hosting providers which offers limited technical support. So, if you are not really familiar with a certain issue that would arise, contact the team. In this area, it is safe to say the between BigRock vs Arvixe, both receives a good point.
Final Verdict: BigRock vs Arvixe
So, that's it! This comparison of BigRock vs Arvixe clearly gives you details on each of these web hosting providers. Clearly, when it comes to features, Arvixe is one to venture for. Though both the BigRock vs Arvixe are actually competitive enough in the industry with what they can offer. Both have enticing features that makes it even harder for you to differentiate the difference between the two. But if you are really looking for a wholesome hosting package deals, we recommend that you get Bluehost or Hostgator. These two are among the top web hosting providers in the industry today.