Here at Hosting Decisions, we have shared various articles to help you understand how BigRock hosting works. Also, how to get things done. Today, we will be comparing BigRock and Bluehost. Among beginners, these two have always been looked at as one of the best options for shared hosting. By the end of this BigRock vs Bluehost review, you will be able to know, and decide, which hosting you should opt to use.

BigRock vs Bluehost Review
In order to achieve the success of a business on the web, it should consider the best choice for a web hosting company. A web hosting company that will best suit to your needs in setting up your website. Although there are a lot of web hosting companies out there, you should be wise and smart enough to choose the best web hosting company for your business. It seems that a lot of them have been known to be in the top list of most reliable web hosting companies. So in order to help you out, let us discuss to you the comparison of BigRock and Bluehost.
To start with, we would like to discuss an interesting thing about these two hosting services. BigRock is an ICANN accredited registrar. As well as a web host which is currently based in India. It is owned by DirectI. A well known hosting solution provider and private label domain. It is the company behind ResellerClub. BigRock has over 30 thousand hosted websites since it was founded in the year 2010.
Bluehost is one of the top 15 web hosting companies in the web hosting industry. Bluehost has over a 2 million hosted websites today since it was started in year 1996. With these, it seems that Bluehost is more popular than BigRock. Bluehost is part of EIG group. Endurance International Group is a web hosting provider who owns 65+ web hosting companies all over the world.
In terms of reliability, good service and full customer support, both Bluehost and BigRock are the best choice for web hosting service. These two are one of the best hosting services and most widely used for WordPress users. It has been really good in terms of what services they offer.
Anyways, this was just a little background for BigRock vs Bluehost review. Now, let's move on to the current scenario. Let's see how these two hosting companies can be compared with each other in terms of values and quality.
Features Comparison
There are a lot of web hosting companies out there offer best features. Now let us start in comparing the general features of the BigRock and Bluehost web hosting companies: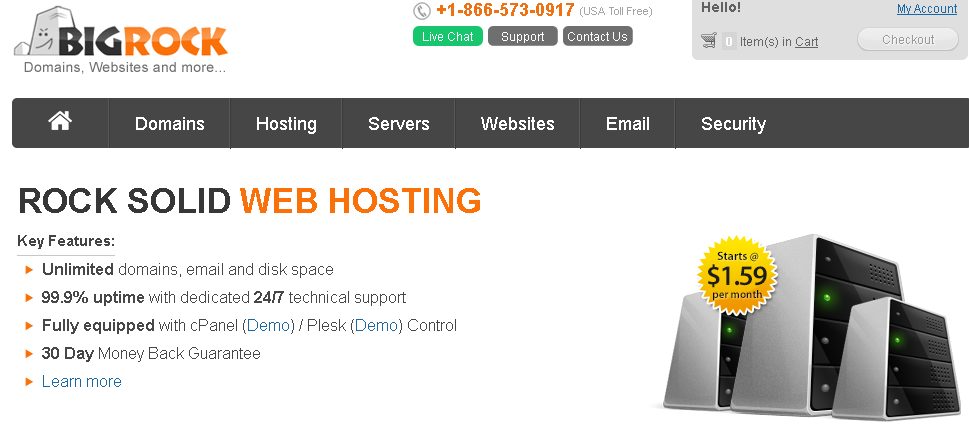 BigRock
Space: 100 MB, starter plan
Bandwidth: 1 GB
Domains Allowed : 1
Control Panel: custom
Customer Support : 24/7 phone support, chat and tickets.
Bluehost
Space: unlimited
Bandwidth: unlimited
Domains Allowed : unlimited
Control Panel: cPanel (the best)
Customer Support : 24/7 phone, chat and tickets / email.
Winner: Bluehost
Hosting Packages and Pricing
One factor that the customers should look for in choosing the right web hosting provider is the hosting packages and pricing. Obviously, it is an advantage if one is cheaper than the other. However, customers must also need to keep in their mind that it doesn't matter if it cost a lot as long as it satisfies the needs and it offers good service. It is still considered as an important aspect.
Both BigRock and Bluehost web hosting services have similar hosting packages and offers cheaper prices. These two are both offer the same type of web hosting which is the Shared Hosting. This web hosting type is the least expensive. They also both have reseller, VPS, and dedicated hosting.
BigRock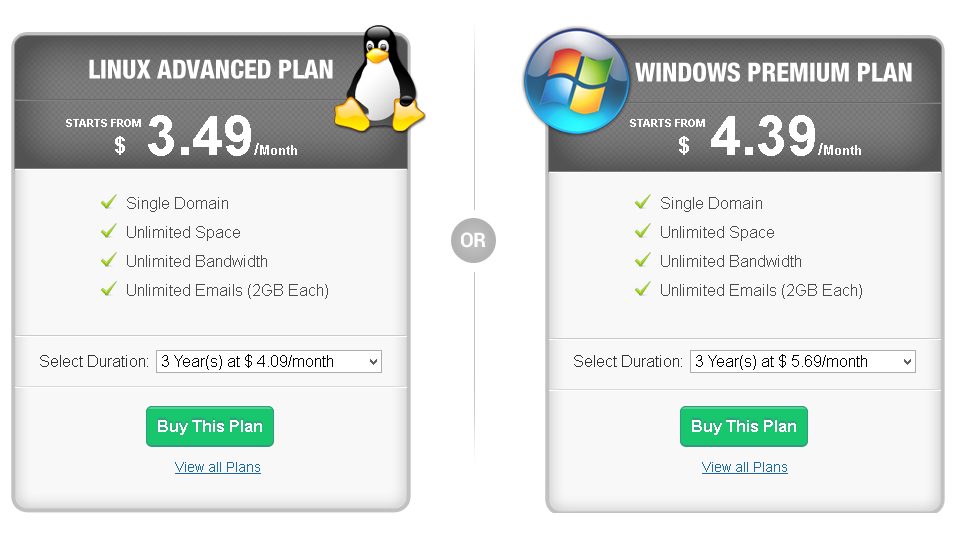 Bluehost
So in the hosting packages and pricing, there is not much comparison since both of them offers the same web hosting type. For BigRock, it only costs $3.49 per month which includes a 1gb bandwidth. While for Bluehost, it costs $3.95 per month including unlimited bandwidth 100 gb of disk space. Check out our Bluehost coupon pricing to get discounted Bluehost web hosting for as low as $3.49/month.
Without any Bluehost discounts, the winner for this hosting packages and pricing comparison is the BigRock. The base price for BigRock is a bit cheaper than Bluehost, but if you use one of our Bluehost coupons, you can get the Bluehost hosting as low as the BigRock pricing.  Therefore, we will call the pricing for Bluehost and BigRock web hosting a tie.
Conclusion
Both BigRock and Bluehost are two of the top web hosting companies in the world. If you have to choose between the two, we would recommend Bluehost. One major advantage of choosing Bluehost, is that they are up to date with latest technology. The difference between BigRock and Bluehost is the features that they offer. We hope this BigRock vs Bluehost review helps you to choose the right web hosting company for your website.
Related Readings : Bigrock Vs Wp Engine Review