Web hosting services can be a tough business, especially if you are working your way up to the ladder of the industry. You are encountering a lot of competition since you're not the only one that offers certain services. That is why you need to step up to the plate in order for you to stand out. This is done through implementing promos, package deals, and additional perks that does not just improve the customer's website or revenue due to you services, but also to improve the customer experience. Check out our latest review of BigRock vs HostGator to see which one is better suited for your web hosting needs.
BigRock vs HostGator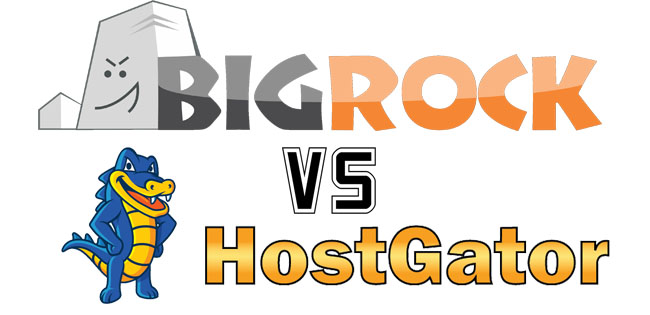 Bigrock and Hostgator Compared
This is why we have come here to compare two heavyweights in the web hosting industry. Through they offer almost the same services, these two companies have something to prove to everyone and each other who's the better one. This will be a comparison between BigRock vs HostGator.
Both of them have claimed that they offer the same services, just like any other web hosting company. However, they also differ in different aspects which we will be comparing on later. Let us see what these companies have in store that makes them stand out from each other.
Options
In order for us to know if the company has the right program or offer to meet our needs, we need to check on all the options available. This is why there are different packages to choose from. First, let's start off with HostGator. They have three plans to choose from: The Hatchling, Baby, and Business Plans. While BigRock offers four plans: The Starter, Advanced, Business, and Pro. As you can see, Big Rock offers more options than HostGator, which means that your options are further narrowed down for your preferences. In this section, we believe BigRock has a slight advantage.
Pricing
The price of the service is also a factor in choosing the right plan for you. We know that most of the time, a good service does not come cheap. However, there are times where you can actually find one that is affordable and yet offer high quality service.
For small and medium-sized business, BigRock offers the Starter and Advanced plan for as low as Rs. 59 per month and Rs. 79 per month respectively. As for Hostgator, they offer the lowest plan for Rs. 178 per month. Money is the issue in this section so if you are looking for plans with the lower price in premiums, we suggest you go with Big Rock.
Services
The services a web hosting company offers serve as the bread and butter of their business. So, if you have great service, then the rest will follow through. For both of its starter plans, HostGator seems to take the victor in this spot. Though they offer their starter service for Rs. 178 per month, you get to enjoy unlimited disk space, unlimited bandwidth, and other features.
As for BigRock, their Starter plan offers only 500 MB worth of space and only 2GB of transfer which is a big no if you're planning to increase the expanse of your business. However, BigRock also offers the Advanced Plan that also offers unlimited services for only Rs. 79 per month. Both of these websites offer almost the same services. Though with BigRock, you get to save a lot of money and at the same time, you get to take advantage of its quality.
Numbers
In every business, numbers matter for it indicates growth and strength. If you have a lot of customers, it means your business is thriving and increasing by the moment. The same goes in a web hosting company, the more websites you host, the more revenue you get and you also earn the respect of other people due to the quality of service you provide.
BigRock serves almost 100,000 sites as of today which is a great number we suppose. Imagine serving a hundred and thousand clients with your product. Now that is a good sign that business is indeed booming. HostGator, however, caters to almost 8 million customers, making it a formidable competition. They have been one of the prominent web hosting companies for years now and they show no signs of stopping or giving up.
In this category, HostGator takes the victor as the bigger company than BigRock.
Overall
In our honest opinion, we would prefer to choose a company with a wider scope and customer base. This is because our website would be more secure and would gain more and more traffic in a short period of time. In our BigRock vs HostGator review, we would still consider HostGator as the better one. Aside from great reviews from other clients, they have the strength in number to prove it.
Related Readings : Bigrock Vs Wp Engine Reviews