In the world wide web, cloud solution is now considered a very powerful resource.  With its numerous benefits, Bluehost is now offering Bluehost Cloud Hosting Plans. With the constant change in technology today, it is now no wonder how virtual inventions are able to expand even beyond the limit. In line with web hosting, cloud storage is being incorporated. If you are wondering what this cloud is, it is actually a metaphor for the Internet or refers to the technology which runs on the internet rather than the computer. Since cloud seems intimidating and as well as complex, Bluehost have reinvented it — making it effortless.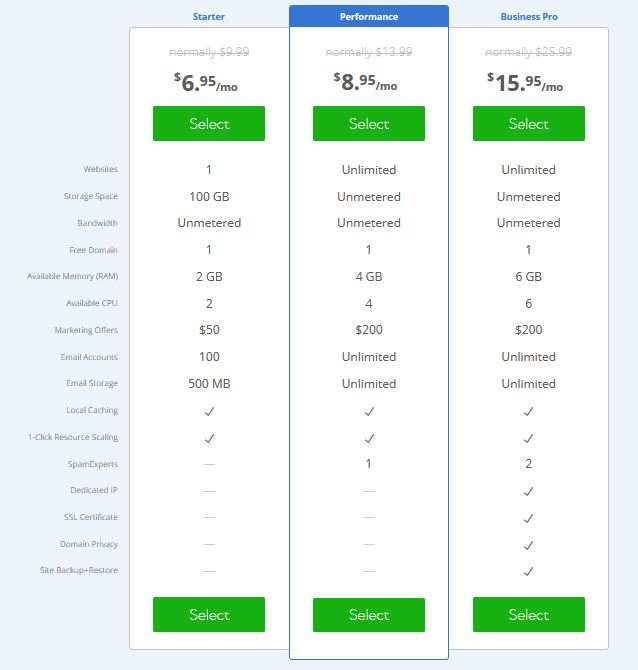 New Bluehost Cloud Hosting Plans
At Bluehost, they utilize the Cloud technology in hosting your data on numerous servers. As a web hosting provider, Bluehost specializes in giving the tools that you need to achieve a successful presence on the world wide web. Having an online store or even a blog, the key part is to have a storage of data that other people from different places can access. This is what Bluehost have considered as to why they are now offering Bluehost Cloud Hosting Plans. They have powerful servers and as well as knowledgeable tech support agents that can help you manage your account.
What does the Bluehost cloud hosting plans have that other web service providers do not have? Well, it can be simplified to four (4) words: safer, faster, simpler and bigger. Why do we say so? Let us lead you to the Bluehost Cloud Hosting Plans' details below.
Starter Plan
At only $6.95 per month from $9.99, you get to avail the starter plan. In this plan, you will be able to update 1 website. With Bluehost Cloud, your website is more reliable. The data that you have will automatically be mirrored across three (3) different devices. With this, having a hardware issue at one, their failover technology will take over and designate another copy of your website to keep functioning and have the other copies work for a rebuild.
With the storage allocation of 100gb, you can already set up a website that has attractive photos without having to worry about the storage. The bandwidth is also unmetered unlike other web hosting providers' offer for a starter. Bluehost Cloud Starter Plan also has a free domain for you, 2gb ram and 2 available CPU. It does not end there, Bluehost is also giving $50 worth of marketing offers. The email accounts that you can own will be up to 100 in which you can storage emails of up to 500mb. Lastly, they have local caching and as well as 1 click resource scaling.
Performance Plan
The most popular among the Bluehost Cloud Hosting Plans is the performance. You will only have to pay $8.95 per month to avail this plan. It is equipped with what starter plan offers but with slightly higher offered number than the former. There will be an additional 2gb worth of memory. Aside from that, instead of 2, you will be able to have 4 available CPUs all in all. With the marketing offers, Bluehost will have $200. Unlike the Starter Plan, Performance Plan has SpamExperts and as well as an unmetered storage space. If this plan does not suit your needs still, you still have another option from the Bluehost Cloud Hosting Plans, the Business Pro.
Business Pro Plan
If you are into a business which needed a lot more features from your web hosting provider, then the Business Pro Plan is the right one for you. What do you get with this plan? From $25.99, now, you will only have to pay $15.95 per month to avail the feature loaded Business Pro Plan. It has all the features being offered in the Performance and as well as Starter Plans, but with additional awesome features. With this plan, you will be given a 6GB available memory and 6 CPUs. There will also be an additional SpamExperts, making you have 2 SpamExperts. Aside from that, Business Pro Plan has dedicated IP, SSL Certificate, domain privacy and as well as site backup and restore.
Final Thoughts

Overall, the Bluehost Cloud Hosting Plans have really great features. You will only have to pay lesser and yet, you get to have great features which are good for your website. You just need to choose the plan that you think will still be what you wanted to have in the future. Consider the future in your choices for what hosting plan you choose.
Bluehost is backed by experts and they exist to help you harness the web. Their Cloud Sites is also equipped with their renowned 24/7 support. This ensures that you will always get the help you needed to immediately be responded.
Would you like to read other Bluehost related articles?