It has been a while since professionals have started preferring Bluehost to other web-hosting solutions in the industry. This is to take advantage of the premium quality and sustainable support! This global and trusted web-hosting provider has been successful for more than a decade. They provide top-notch, quality web hosting for all kinds of web professionals that include bloggers, webmasters and a huge number of Internet Marketers. In this Bluehost.com vs Bluehost India review, we will outline some of the differences between the two web hosting options.
Nevertheless, as far as customers from India are concerned, there is a new choice to ponder… Bluehost.com vs Bluehost India.  Bluehost now has a dedicated version for Indian users.  They can choose between the Indian version and the global version.  In this post, we will provide a comparison between Bluehost.com vs Bluehost India.  First, we will start with an overview of both.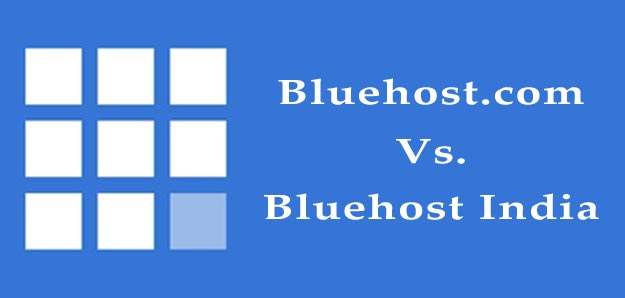 First Things First – Things to Know
As you may know, Endurance International Group is the firm that owns Bluehost along with several other web-hosting providers in the industry, including the brand names like HostGator, Arvixe, JustHost, iPage and the ResellerClub (Mumbai-based hosting reseller).  So, when you hear that it is the Indian version of Bluehost that you're accessing, you can be confident your getting a high-quality product and service you would expect from Endurance International Group.
Note: You can switch to Bluehost.com by clicking on the link in the bottom left corner.
Now, we will have a look at the noticeable changes that exist between Bluehost India and Bluehost.com.
Differences that Matter
The first thing you have to consider when you choose Bluehost India instead of Bluehost.com is that you will receive hosting from ResellerClub. This is yet another product from Endurance International Group.  Even though Bluehost has not taken a dedicated effort to set up a data center for establishing Bluehost India, you will be satisfied with the server performance and related stuff of ResellerClub.  So, when you go with Bluehost India, the service should be transparent to the Indian user.  In addition, the Indian users will have a better customer care experience with the native speaking staff at Bluehost India.  However, if you are outside of India, you will probably want to consider the global Bluehost version.
One of the additional advantages of going with Bluehost India is that it comes with support for methods that Indians can use for payment. Therefore, if you do not have an option to pay internationally, you can go with Bluehost India.  That way, you will have the convenience of paying with (INR) currency.  So, this is a benefit to those users in India.
Additionally, both Bluehost India and Bluehost.com users will have the same dashboard (cPanel).  Bluehost US Hosting is known for simple approach it takes when it comes to organizing things in an accessible manner.  They use the same developer, LogicBoxes, so the user experience will be the same regardless of which option you choose.
Summing Up: Bluehost.com vs Bluehost India — Which One to Choose?
In summary, the good news is that you will get the same quality service expected from Bluehost.  However, if you are an Indian user, you may want to consider the Bluehost India option.  That way you can take advantage of a local, native customer service, and the convenience of the local payment options.  However, you still have the option of using the global Bluehost.com service if that is better suited to your needs.
For those users outside of India, you will probably still want to go with Bluehost.com.  You will still get the great service, products, and customer service you can always expect from Bluehost.  All of this at a great value and price.
Speaking of which, there is not much difference in terms of pricing between Bluehost India and Bluehost.com (also, don't forget to use Bluehost coupon codes).  Therefore, either option you choose, you will be happy to know you are getting a great product and service at a great price!
Related Readings : Bluehost Com Vs Bluehost India