Among the shared hosting control panels existing today, Bluehost cPanel is the most widely used. A lot have been opting for this cPanel because it gives smooth and easy experience to webmasters — novice or experienced. It became the standard for most of the hosting companies. This is one of the integrated control panel for Bluehost. Bluehost has been providing shared web hosting for small businesses. It has been in the industry for the longest time and currently services over 2 million domains.
Other than Bluehost, there are other similar products that uses cPanel — Dreamhost and Siteground to name a few. Aside from that, there are also hosts that have built-in web panel like the DreamHost. But is there a difference between the cPanel used in different hosts and with built-in web panels? Honestly, there isn't much of a difference but you can observe light differences. You might want to check the following for that matter:
Bluehost cPanel Appearance VS Other cPanels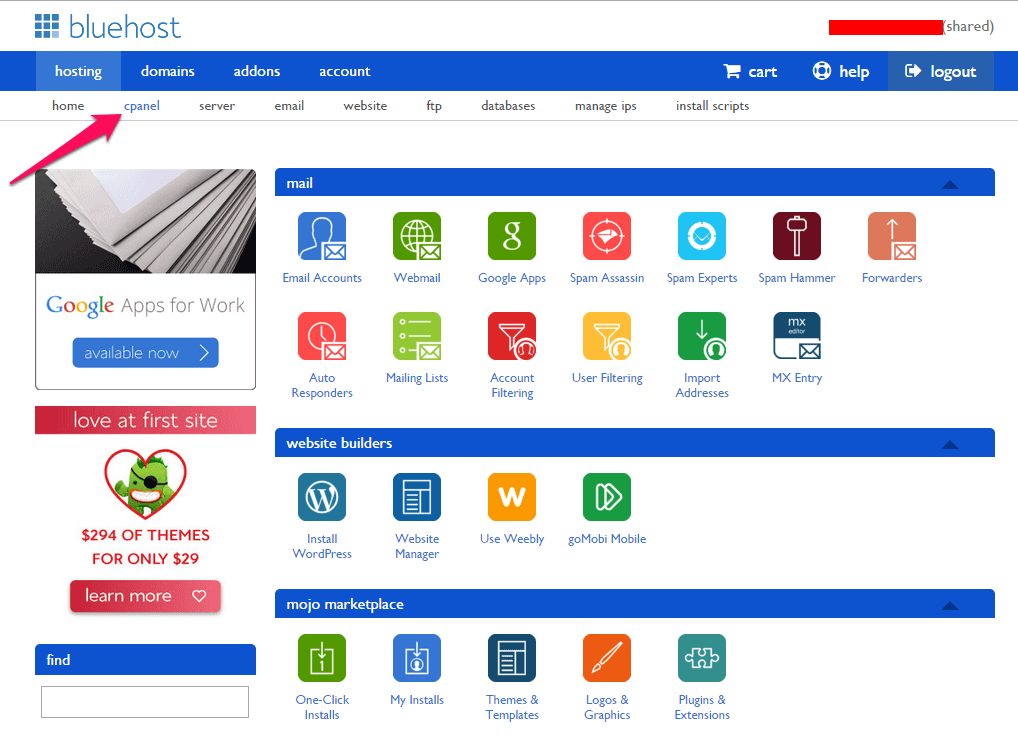 VS Hostgator cPanel Appearance
Hostgator looks good too though. Some people say it looks better. I like Bluehost's minimalism more anyway. So it's up to you.
VS SiteGround cPanel Appearance
Siteground is one of our Top 3 performing hosting services but Cpanel's a little old.
VS Arvixe cPanel Appearance
Eh… old. But it's actually in our Top 10 performing hosting sites.
VS Dreamhost cPanel Appearance
A little confusing but said to be one of the fastest ping hosting server too.
When it comes to appearance, Bluehost cPanel excels among others. Others are just a little bit confusing. The good thing about Bluehost cPanel is it uses minimal design, unlike other hosts. Having a minimal design means having more with less. It makes use of whitespace. Usage of minimal design makes it convenient for the users to navigate the system.  From the icons down to the entire interface of the panel. The color theme it uses is pleasing to the eyes. Minimal design is very trendy nowadays. A lot prefers this design because you can actually have a complicated website and still make it look simpler. This makes Bluehost cPanel preferable when it comes to its interface because:
It has simple user interaction and functionality;
Icons are in-lined with flat design;
Has a lot of open space;
It has little or simple color;
It uses one typeface that has clean strokes;
Simplified content.
Unlike cPanel though, some built-in web panels can't be skinned or themed. You only get to use a default color scheme. Since cPanel can be customized, it makes it more appealing to hosting resellers. If you're using Bluehost cPanel, you'll find built-in web panel kind of awkward. When you log in with cPanel, you'll directly see the features and tools being laid out already for you. Navigating the page comes easily just by taking a glance. Some built-in panels have interface that aren't very intuitive.
Bluehost cPanel Features
As for the features, the hosts that uses cPanel basically have the same the function. When we compare cPanel and the built-in web panels for some hosts, there isn't much of a difference either. If you haven't use cPanel and don't want to learn using another control panel, then you don't have to use the host's built-in web panel. But, if you're a novice and you haven't used any other control panel before, then learning the latter won't be a problem.
In addition, the features from custom control panels are lacking compared to cPanel. But then again, there are others that prefers the alternative to some of the common hosting control panels. Also, the good thing about some web panels is they let users access billing and as well as support features from just the same dashboard.
Overall, some custom control panels may be very functional and even are well designed, but Bluehost cPanel gives a very simple graphical interface yet has satisfying performance. With cPanel, you get to spend more time on your website rather than the admin behind it.