If you are an Indian internet user, you might have noticed that you get redirected to a different sub-domain when you visit the homepage of Bluehost Hosting Services. This is an international service provider of various kinds of hosting plans. However, due to various complications, Bluehost has started an exclusive version of their services for Indian users. Of course, it is natural to be a bit curious about choosing between Bluehost India and Bluehost US version. That is why we have decided to provide a Bluehost India Review. This will provide more information about the newer Bluehost India web service and features.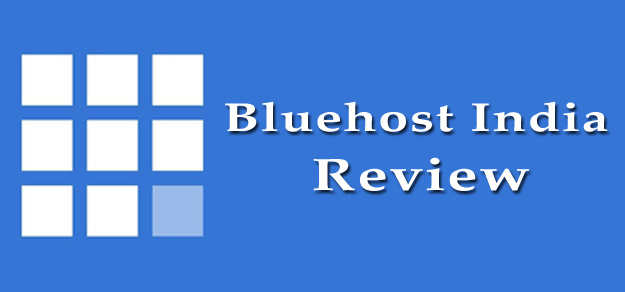 Bluehost India Discount Coupon Pricing
Pricing plans of Bluehost India are quite reasonable. Even when you are not using Bluehost India coupons, you would think that Bluehost India is one of the best choices you can make when you need a reliable web server. To analyze the pricing aspect, we can take the case of shared hosting that is known literally as web hosting. Most especially among newbies and all.
In Linux shared web hosting, the basic plan is available for ₹ 279 per month. It also offers unlimited space for storage and unlimited bandwidth but is limited to a single domain. If you are okay to pay ₹ 309 monthly, you can host up to three domains. There are unlimited disk space and bandwidth for that matter. Also, the third plan lets you host unlimited domains. It's available for a monthly charge of ₹ 449. Also, it has to be noted that we are talking about Indian server hosting of Bluehost India Hosting.
Nevertheless, you have to note that Bluehost India does give you an option to use some of the best Bluehost India coupons. This is a way-too-impressive option to get a notable discount out of it. Even in normal cases, a Bluehost India coupon gives you the maximum discount. This maximum discount is indeed a big deal when you are purchasing that product for a longer period of time. You can choose the coupon I have given below to get a notable amount off your order. Does not that sound great? Also, if you are looking for Bluehost.com coupon codes, then visit this page.
An Overview and History of Bluehost India
As in the case of Bluehost International, Bluehost India is owned by Endurance International Group. This is also the owner of a number of web-hosting providers out there. That includes HostGator, A Small Orange, and ResellerClub. Out of these, ResellerClub may be a bit more familiar for Indian bloggers and professionals. It is headquartered in Mumbai, India and has been one of the popular providers of reseller hosting as well as related services. What has to be noted here is that Bluehost India is not an actual replica of Bluehost US. As opposed to it, Endurance International Group has made use of its own product — ResellerClub — to bring a set of web hosting services to the Indian webmaster community.
Thus, in the long run, you can expect a satisfactory service you used to get from ResellerClu. This is a part of the same firm. In short, you get all the servers and technical section ready from ResellerClub India. Despite the fact that both are from Endurance International Group, which is literally the web-hosting conglomerate, you can't compare the high-quality servers of Bluehost United States with those of ResellerClub — there will be change, I bet.
Features Worth Noting
Of course, there will be a huge number of features you can expect from Bluehost India! One of the sets of features is the simplicity Bluehost keeps in the whole scenario of web hosting. In the Bluehost India review, it is necessary to point out the step the firm has taken to bring enhanced performance. For instance, all the plans of Bluehost India Hosting give you high-performance servers and the support for Global CDN, hence helping you to serve people from different spaces in the most equal and satisfactory manner.
The firm has made use of cPanel with all the simplicity you can expect, in such a way that you would love to manage all your sites or blogs with ease.  Yet, the ease of installing blogging platforms and CMSs makes more than enough sense, while its in-depth programming support is a feature we should never forget to mention. In short, I would say that the Features aspect of Bluehost is impressive.
Pros and Cons
In this Bluehost India review, we have found some pros and cons of the service, which are as follows.
Pros of Bluehost India
Payment is done in India currency and almost every payment method works fine.
You get better support options, thanks for being in your own country.
More affordable hosting plans.
Local (hence better) support.
Less latency.
Cons of Bluehost India
The servers, when compared to the US version, may seem insufficient in terms of performance.
Summary
Of course, in our Bluehost India review, we found a lot of reasons to love Bluehost India Hosting. For example, we have to note Bluehost India coupon codes that are really helpful in the long run. Also, when you select the exclusive Indian version, you get a bit more reliable payment methods. However, the problem of a less-intuitive control panel and low-quality servers seems to be an issue when it comes to Bluehost India. So, if you are ready to compromise some quality and features for the affordability and local support you get, you can go with Bluehost India Hosting. It won't be possible for you to do that if you are comparing the service with what is provided by Bluehost International version, in which you use United States-based servers.
Related Readings: Bluehost Review Discount Link, Bluehost India, Bluehost Coupon Codes, Hostgator India Coupon Codes