Bluehost has been known for its high quality web hosting services. A lot have already ventured in this service provider. Nowadays, the number of bloggers have constantly been increasing and mostly uses WordPress. Considering this, an offer — Bluehost managed WordPress hosting, is made possible. With Bluehost, they build and design their servers fit to run the bloggers choice, WordPress. They have an exclusive technology that certainly gives clients the proven functionality, reliability and most of all, performance. Currently, Bluehost Managed WordPress Hosting has four (4) plans: Blogger, Professional, Business, and as well as Enterprise. Let us go into the details and take a look at the following: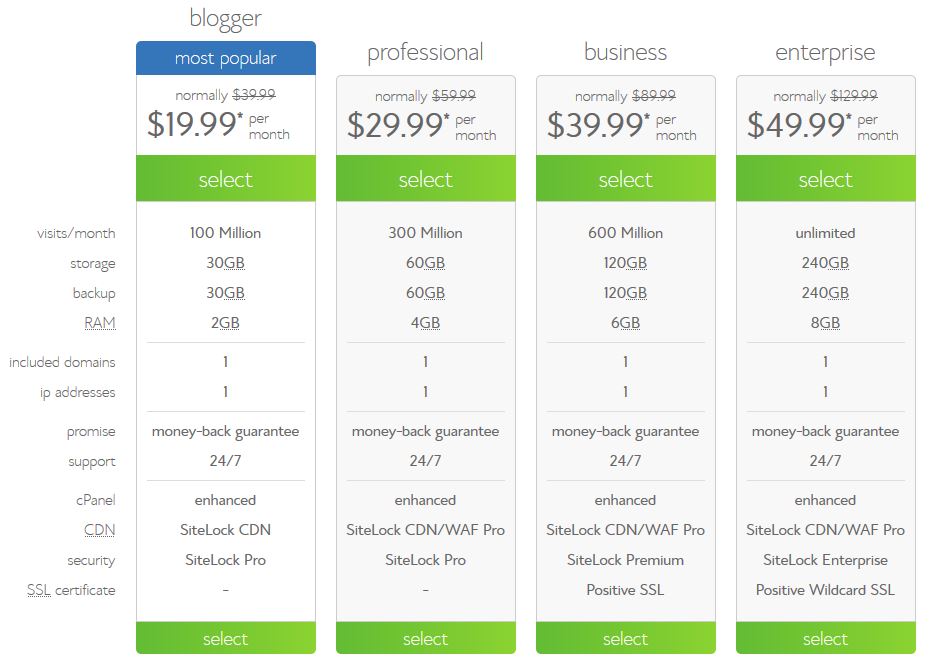 Related Reading:  Bluehost Review
Blogger
Among the 4 Bluehost managed WordPress Hosting plans, this plan is the most popular — the Blogger. From $39.99, it is now down to $19.99 per month. What are the goods in this plan? This may be the cheapest among the 4 plans, but it is already equipped with so many features. Your site will have up to 100 million visits per month. When it comes to internal technicalities, the storage being offers is up to 30GB, same with the backup. For its RAM, you will get to have 2GB memory space. The included domain and as well as the IP address is only one.  Aside from that, it also comes with an enhanced cPanel, SiteLock CDN and a SiteLock Pro for security.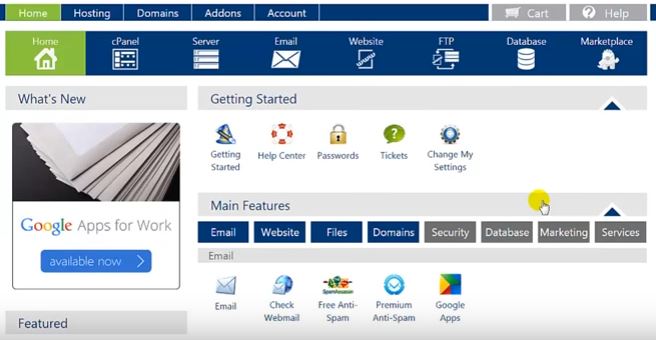 If you are a personal blogger and would not need too much storage space, this is the right plan for you. Is this plan not enough? You might want to check out the next plans.
Professional
If you think Blogger plan would not work for you, then Professional Bluehost managed WordPress Hosting might. From $59.99, you can now get the Professional plan for $29.99 per month. Unlike the Blogger Plan, this one has 200 million higher visits per month. The storage and memory space is also doubled, from 30GB to 60GB and 4GB RAM. It has the same enhanced cPanel but the CDN is SiteLock CDN/WAF Pro, which is slightly higher than the Blogger plan. Still not the right plan? Bluehost still have 2 other plans. You can check them out as follows:
Business
The increment of storage space for the Bluehost managed WordPress hosting plans are doubled for each plans. With Business Plan, the storage and memory space is doubled than the Professional plan. From $89.99, you will only get to pay $39.99 per month. The storage and backup space is up to 120GB and the RAM is up to 6GB. For the visits per month, your site will have 600 million views. Unlike the Professional and as well as Blogger plans, this one has an additional Positive SSL for SSL Certificate. If you want to have an all-out storage web hosting, Business plan is already a good option. But if you want to have an unlimited and doubled storage space than the Business plan, then we suggest the Enterprise plan of Bluehost. We give you the Enterprise plan details following this section.
Enterprise
The other 3 plans have almost all the goods for web hosting, but this particular plan is the highest among them — the Enterprise plan. You can get all the stuff for this plan at $49.99 per month from its $129.99 normal price. What makes it the top plan? Well, the good thing about this plan is the unlimited views per month, unlike the previous plans. And from 120GB storage room in Business plan, Enterprise is 50% more, it has 240GB for backup space as well. Same goes for its RAM, which is not 8GB. It is equipped with all the features of Blogger, Professional and Business plan. In addition, instead of a Positive SSL Certificate, Business plan has a Positive Wildcard SSL.
Bluehost Managed WordPress Hosting Thoughts
If you are a blogger, you would want to carefully choose what web hosting service provider has the best offer at a valuable price. You need to think over the needs you want for a web hosting service. The available plans for Bluehost managed WordPress hosting will give you options. These plans are actually good compared to other web hosting service provider. It comes in 4 plans which has a reasonable load of features at an affordable price. The good thing about Bluehost plans is its promise of money-back guarantee and a 24/7 support. The money-back guarantee is good for 30-days.


Bluehost does not really fail to provide good service. The Bluehost managed WordPress hosting offers an overall extreme speed, unbelievable simplicity and completely secure service.
There are a lot of offers but you also need to think of the future of your site. Think if the plan you will choose will be able to provide the possible future needs for your site.