This article will provide you with some essential information about BlueHost Pros and Cons for your website or blog.
Reading the topics below will give you more knowledge about BlueHost. Now, let us begin.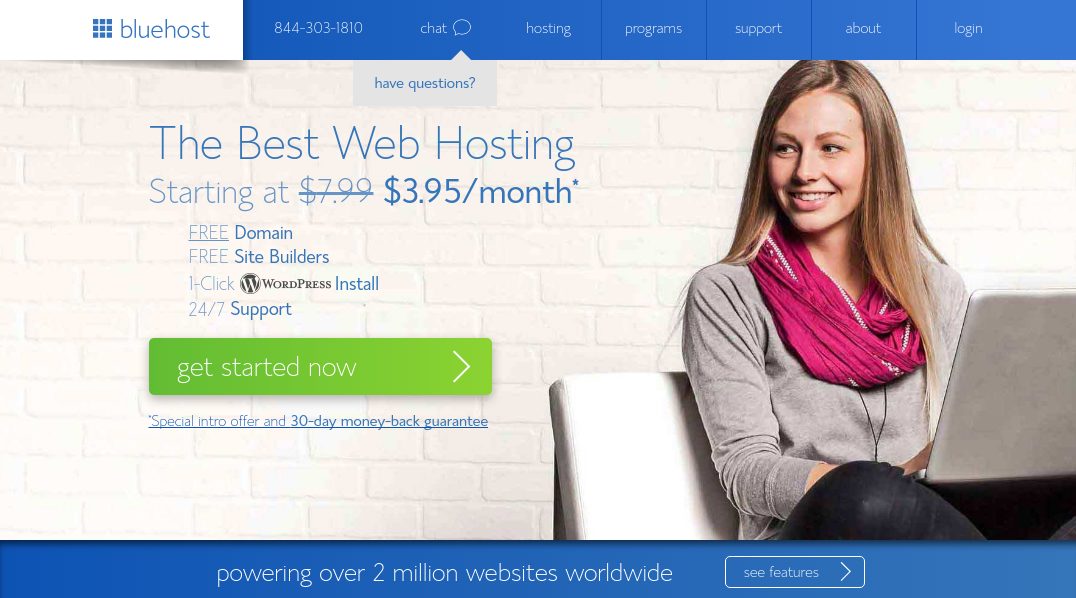 In 1996, Matt Heaton, started a new hosting site which is the BlueHost. He was also the one who starter HostMonster and FastDomain. Bluehost ranked 1st in overall hosting review sites and forum thus the most popular web host back in the 2000s.
Now, in this article, we will tackle about BlueHost. Is this the host for you? Let us find out.
Special Offer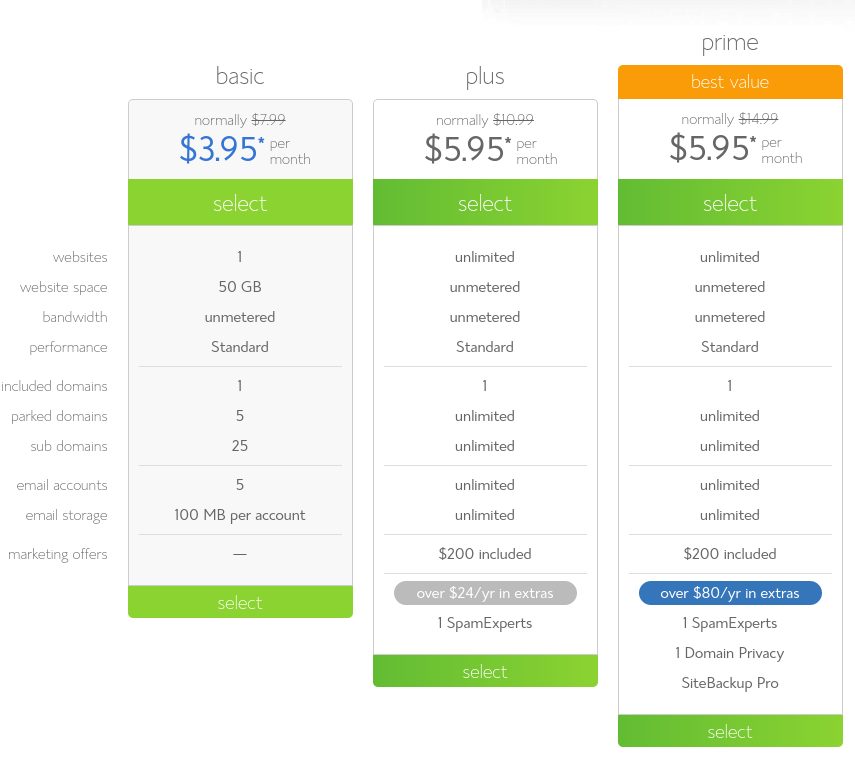 Recently, BlueHost offers a very affordable price. Starting at $3.95 per month you can have a free domain, free site builders, 1-click WordPress install, and 24/7 support. To avail this special offer, visit BlueHost now.
BlueHost Pros and Cons
Pros:
Here are the advantages of using BlueHost as your web host:
In 2017, BlueHost scored 99.6% in uptime and have hit the top 5 uptime scoring hosts several times this year. This web host is really pretty good at $2.95 per month. You can also check this article to see further updated 24-hour monitored uptime by BlueHost.
According to a BlueHost user, he hosted 6-8 niche sites in his account and for the past few years, there were no CPU throttling witnessed. This issue has not been observed recently. This evidence is enough to say that CPU limiting factor is not anymore a major concern.
Best User Dashboard + Great Additional Features
BlueHost custom user interface design is a lot more user-friendly compared to the old one.
In addition, BlueHost also offers plenty of handy add-on features which you can grab from other web hosts, this includes phpPgAdmin, language preferences, 404 setting, dedicated domain, management system, as well as built-in support for Spam Hammer, goMobi, Weebly, Cloud Flare, and many more.
Helpful User Support Portal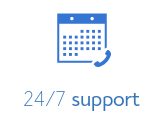 Some hosting review sites failed to point out that BlueHost runs a huge knowledge-base for customer support. Comprehensive documentation for its service was provided by the company. Hence, BlueHost also operates a Youtube channel to deliver video tutorials for the sake of some people who needs help about web hosting. This would save a huge time for all BlueHost users who do not go to live chat or phone support.
BlueHost provides four level hosting plans, these are shared, VPS, dedicated, and reseller hosting. You don't need to worry about server upgrades or out-growing your hosting company with BlueHost. There's an article that made a review about BlueHost's Hosting Plans. You can check it here to learn more about BlueHost's Hosting Plans.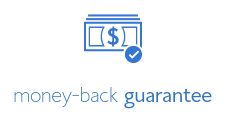 BlueHost users are allowed to cancel their account anytime and can ask for a pro-rated refund. This means that BlueHost needs to work very hard to win business for it is very easy for users to ignore the web host.
BlueHost has been the first one mentioned by WordPress to be their partner Hosting Site. BlueHost is one of the oldest Hosting Sites that started in 2003 and had a good reputation since then. They just went lie low nowadays, maybe that's why they didn't have Grade A ping on Shared Hosting Accounts. You can check WordPress.org's Hosting Tabs to see the proof. And to learn more about their WordPress hosting, you can read more information here.
Powerful and Affordable Shared Hosting
Shared Hosting is one of the most popular hosting services that BlueHost has. To learn more about its power and affordability, just check this website.
Cons:
Even though Bluehost is one of the top rated web hosts, there are few important issues you still need to know.
Be extra careful with CPU throttling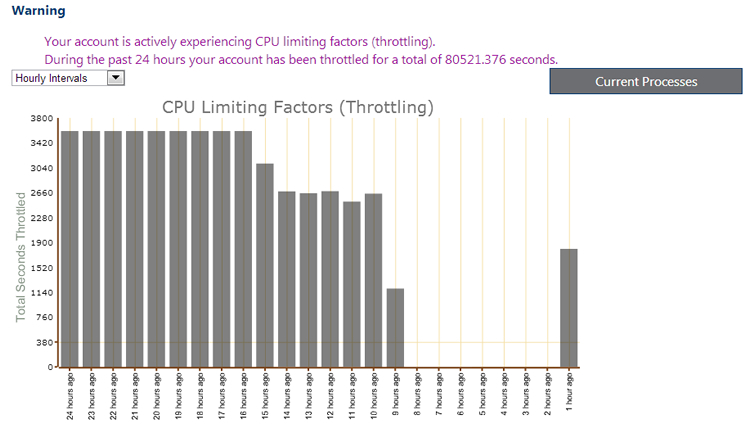 Take an extra careful with Bluehost's CPU throttling to avoid any undesired hassles. Remember that slow sites kill search rankings and user conversions.
Compared to the signup promotion price, Bluehost's renewal prices are much higher which is almost 90%. Expensive renewal rates is actually a norm in the hosting industry. WebHostingHub, A2 Hosting, GreenGeeks, FatCow, HostGator, iPage, InMotion Hosting, etc, also practice such policy in order for them to attract new customers.
To avoid this issue, here are two ways to do it:
Always switch your web host so that you will enjoy the low entry promotion price.
You should stick with a web host wherein the renewal price does not jack up.
This is one of the problems of those BlueHost users. When it comes to BlueHost's load times, it's really slow. It has a response time of 2058 ms which is around 2 seconds. Other pages' average load time is about 1400 ms. You can tell that BlueHost's ping is slower than a turtle. You can also check this article to read more about BlueHost's ping.
Conclusion: Is BlueHost the host for you?
You should consider the following fact that Bluehost:
Offers a very affordable price after discount which is $2.95 per month as a starting payment and $5,95 per month for standard shared hosting plan plus all the usual features.
Is one of the most popular web hosting brand in the world. Many of the experiences webmasters recommended Bluehost as a web host. Moreover, Bluehost hosted more than 2 million websites.
If you are looking for a famous web hosting brand which has a lot of great features then Bluehost Web Hosting is the right web host for you. We hope that this article convinced you in choosing Bluehost Web Hosting as your web host and helped you for your queries about it.
To check the full Bluehost Review, check this link.