Bluehost Review— Bluehost is one top-notch web-hosting provider, having a strong and long list of clients, including famous web giants. The company, founded in 1996, currently powers around 1.9 million domains, which is, of course, an impressive number. In these years, through its exceptionally talented service providing the team, Bluehost has ensured its position in the top-hosting-provider list. Here's our Bluehost Web Hosting Review 2018.
Bluehost Review
Choosing the web-hosting provider for your blog or website is a comparatively tedious task, especially when we have to take the increasing number of hosting provider ventures into account. The best way to solve the problem is to seek advice from experienced bloggers and internet marketers, who are already familiar with web-hosting. Bluehost will obviously be in their suggestions because the famous web-hosting provider has a huge number of clients, including some of the giants of the web world. In this Bluehost review, we would look into each and every section of Bluehost hosting services. Hope this Bluehost review will help every newbie, who is stepping into the blogging or web development world. But before that, a brief overview of Bluehost as well as different services are provided. Let's start with the top features of Bluehost web hosting services.
Bluehost Hosting Features
Unlimited storage space, Bandwidth
Ability to host unlimited domain names
Unlimited email accounts
Free Domain name registration
Integrated instant site-builder and quick installation scripts
Ability to host unlimited subdomains
Advertisement credits such as $100 AdWords credit
Advantages of Bluehost Hosting
Bluehost offers impressive customer support that can help you fix both technical and non-technical issues that you might have to confront while using Bluehost servers.
Bluehost makes use of a customized version of cPanel, which is one of the popular and intuitive solutions for server management. This customized version is better than the original one when you consider its user interface.
When you want to create a website in a shorter time, say a few seconds, the instant site-builder of Bluehost control panel will be definitely helpful.
Bluehost offers anytime money-back guarantee, meaning that they will give your money back (for the unused period) to you whenever you cancel their service.
Simplicity Always Makes Sense
Obviously, it seems like Bluehost has understood the fact of being simple and has imparted this in its service. The beauty of simplicity ranges from its website to the dashboard of their service. In that aspect, services offered by Bluehost keeps a track of clean and simple usability. Hence, using the dashboard of your Bluehost hosting account is an easier job when compared to other web-hosting providers, as the company has kept everything in an extremely elegant manner.
Of course, this simplicity has helped the service in these 15 years. In this Bluehost review, we would like to accentuate that the power of simplicity has attracted many bloggers and web developers into Bluehost by neglecting all other choices.
Why Bluehost Hosting?
TL;DR, Bluehost is one of the best picks this year 2018 for shared hosting most especially because of its price, high-tier service, FREE Domain, and no other hidden charges. As for starters, going for shared hosting would be the best, it's suggested for 1-20 Websites.
Major Factors
#1 – Price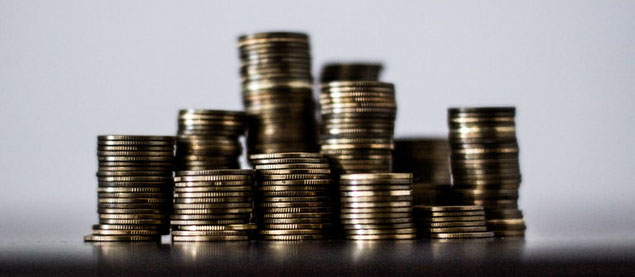 Get Bluehost hosting for $2.95/month! That is correct, you get the quality Bluehost hosting service starting at $2.95 a month!
Alright, first of all, especially to starters, we mostly care about the price right? As long as it gives good service and it has more than 99.97% uptime, then that's it! So let's check our top 3 suggested hosting sites and compare their prices. As you have seen above, our Bluehost coupon code gives you a discount of 64%, from $7.99 to $2.95/mo but with a FREE DOMAIN so lesser hassle with processing.
a. BigRock – 24% Discount – $1.20/mo – $9.99 Domain/yr;
b. SiteGround – 60% Discount- $1.58/mo – $14.99 Domain/yr;
c. HostGator – 30% Discount- $3.47/mo -$15 Domain/yr;
Among all of these four, it's clear who gives the best promotional discount among them all.
#2 – Up Time

"What was that, as long as it gives good service and it has more than 99.70% up time, about?"
You really don't wanna get your website go down especially during your peak hours or do you? Even as starters, we care about those small digits behind 99%, because we don't just buy cheap stuff and get cheap services. Let's make sure how good this Bluehost hosting site is. According to HostingFacts Pingdom Account, Bluehost Shared Hosting has an uptime of 100%!
How about the others?
a. BigRock –
According to Netcraft.com, which is a site about hosting statistics, the worse they had was 99.82% uptime: 87/480 Samples in San Jose. Still at 99.70+% so that's still good.
b. SiteGround –
During the year 2018, it had the best among them. According to BestHostRating, it has almost 100% uptime for the past few months in 2018. We had GoDaddy, HostGator, and Bluehost who had the top spot for the best services before, but now this one took the spotlight. I say, you still pick Bluehost if you are a starter but then try this one out too if you're already making lots of websites and a large fan base.
c. HostGator –
Also 100% uptime as Siteground this 2018. No wonder, it has been popular for the past few years. Also, aside from the fact that it gives good service, it has a cute alligator logo which made it easy to remember.
It's clear that with this criteria, Bluehost isn't the best, but of course, it is still on our top list and still the easiest to start with.
#3 – PING!
Ping is the time for the host to load your website. Bluehost has a response time of 2058ms which is around 2 seconds. This is still according to Hosting-facts.com's Pingdom account. That is Grade B (Good) if you check it with Pingdom.com yourself.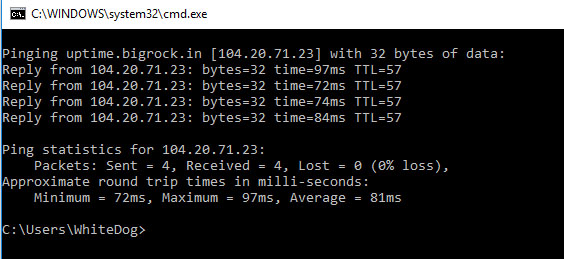 a. BigRock –
Erm. We don't really have data for this. But if you have a website hosted in a BigRock Shared Hosting Account, feel free to share it in the comments below. 🙂 The picture above is just a sample of how to ping it. I pinged it today 8/24/2018, but this is most probably hosted on their cloud hosting and not shared hosting.
b. SiteGround –
780ms, reference: http://stats.pingdom.com/zp1kq4gopbjs/3292798/2017/08;
c. HostGator –
983 ms, reference: http://stats.pingdom.com/zp1kq4gopbjs/1631038;
Still, in this criteria, we noticed that they aren't the best, but they surely would fix that. 2s isn't that bad anyway.
What Else?
#4 – Suggested By WordPress Itself
On WordPress.org's Hosting Tab, Bluehost has been the first one mentioned by WordPress to be their partner hosting site. It is one of the oldest hosting sites that started in 2003 and had a good reputation since then. They just went lie low nowadays, because of some reason. Maybe that's why they didn't have Grade A ping on Shared Hosting Accounts.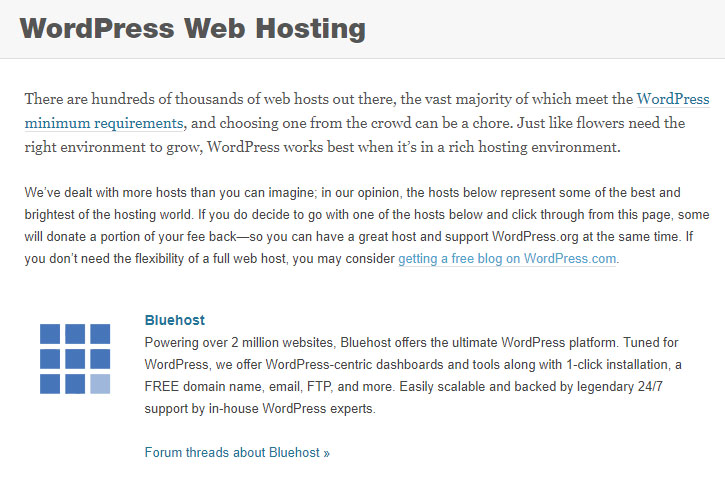 #5 – Control Panel
Neat. It doesn't look too modern, but if you prefer simplicity, then this one is for you. Contrary to other hosting control panels they have sidebars, but this one doesn't have. Bluehost's customized cPanel comes with a ton of app integrations which allow you to install almost any popular script (be it WordPress, Joomla, Drupal, Magento, etc.) with just a few clicks.
This saves beginners, who don't need the extra flexibility of manual installation and also helps save time by rendering your website up and running. Aside from auto-installers, Bluehost also features Google Apps integration in their control panel. This is helpful if you want to use Google Suite for your email or your corporate Google Drive cloud storage, for example.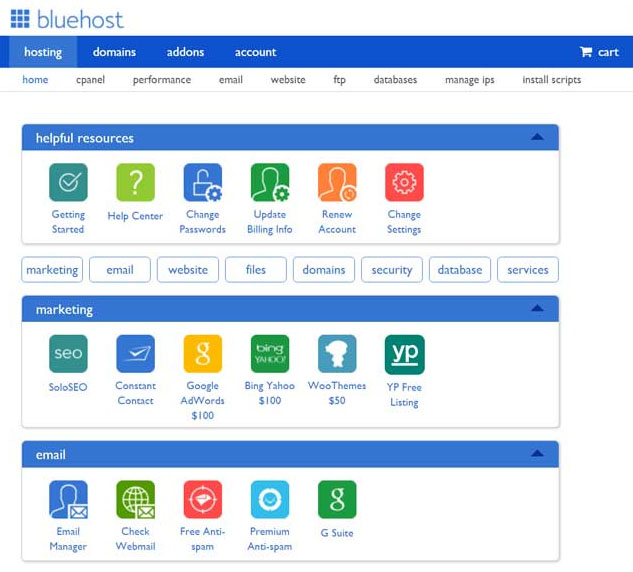 #6 – Integrated User Interface
Lots of themes can be chosen from. With their integrated user interface, you can easily create and manage your website. Plus, you can also easily choose from thousands of preset themes with just a few clicks away-no web design skills needed! Bluehost also offers Free Consultation for your website design.
Moreover, Bluehost professionals can design a mobile-friendly site for you and if you opt for the website design services, you'll get a user-friendly drag-and-drop tool for updating and managing your site. Therefore, it's easy and convenient with Bluehost. Plus, Bluehost supports mobile view for your phones so you can easily manage your site on the run.
#7 – 24/7 customer service
They also offer 24/7 chat support for all users. So it's easy customer support eases new users some time and effort. Just go to helpchat.bluehost.com or call their customer service hotline 00 1 801-765-9400. All you have to do is put your name and your domain site, then report the problem. You can also go to https://my.bluehost.com/hosting/help/domains-faq for FAQs.
#8- Mobile Responsiveness Service
Well, Bluehost also has a service called goMobi which makes your website mobile responsive. Nowadays, most people have smartphones, so how convenient would it be for you and your readers. Statistically, there are also more mobile users than desktop users already so you would gain more viewers on your website. With a mobile view, you can easily browse and access your website using your phone. It's simplified for you, by BlueHost.

#9- Money-Back Policy
Finally, Bluehost provides a refund within 30 days of signing up. So if you're not satisfied enough, you can easily get your money back and a "sorry-we're-not-enough" gift basket. Hence, you'll have no regrets if you don't like it.
Hosting Plans Offered by Bluehost
Though it may sound a bit expensive at first glance, the price tags of Bluehost hosting services will seem quite reasonable when you analyze the featured offered. Like many other hosting providers, Bluehost has three different shared hosting plans. You can compare and choose the best suitable plan as per your needs. In the 'plus' shared hosting plan, you will get features such as unlimited disk space, unlimited bandwidth, unlimited domains, $50 Facebook Ads credit, $50 Twitter credit, Google AdWords credits, free website builder etc. in a truly reasonable price. Hence, we guess, the 'plus' hosting plan of Bluehost should be emphasized in this Bluehost review. Obviously, it is a great deal for newbies. Don't forget to use Bluehost coupon codes to get discount on Bluehost hosting plans.
Note: Along with the 'starter' and 'plus' shared hosting plans, Bluehost also offers the 'business pro' hosting plan. If your sites need more resources, then this plan is suitable for you. Read this article for more details: Choosing Between Bluehost Pro and Standard Shared Hosting.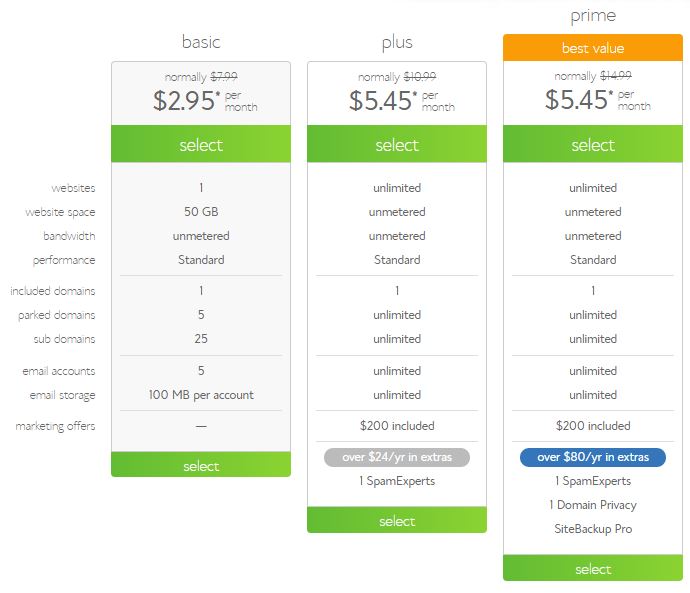 Reliability – The Word Is Enough
Just like all other top web hosting providers, Bluehost is also offering 99.99% uptime, in spite of the fact that you can hardly see your website/blog down while using Bluehost. The major reason for the reliability of Bluehost is the powerful data centers, which are operated by Bluehost itself. As per the record, Bluehost consists of three data centers, which, when combined, is able to provide quality and seamless performance to each website/blog.
Furthermore, it seems like Bluehost is confident about their service to a deeper extent. In case you think that Bluehost hosting services are not enough for powering your website, you can cancel the account and they will return you the money next second. In addition to that, according to various experience by bloggers, Bluehost serves top-notch quality and performance for their services, resulting in less load time.
Useful Add-ons
For making the website management easier than usual, Bluehost has integrated some truly useful features in their hosting plans. Using these add-ons, you can easily install CMSs and other platforms in your server using single click. As you can guess, the list of supported CMSs includes your favorites such as WordPress, Drupal, and Joomla etc. You can try all these features using the demo of cPanel dashboard.
Customer Support
Bluehost is also famous for its quality customer service team, who can help you all the time for fixing technical and non-technical issues; you might face during the use of service. You can either make use of the live chat or call them.
As a reference, you could check these testimonial pages talking about Bluehost: Featured Host's User Testimonials. Though, as of late 2017, Bluehost performance has dropped a lot and it seems like the new king of hosting providers is Siteground. The good news is we also have a coupon for you if you want Siteground.
Pros
Free Domain Name helps users cut down your budget incredibly;
45 days money back guarantee and anytime money back guarantee for unused period;
Easy-to-use cPanel;
Quick installation scripts for CMS installation;
Comparatively high Server Performance;
$100 Google Advertising Credits.
Cons
For those who are accustomed to standard design of cPanel, customized one will be a bit hard;
Although excellent, customer support is a bit slow.
Bluehost Versus Other Web Hosts
You might also wanna check how we rate Bluehost versus other web hosts: Hostgator, GoDaddy, InMotion, SiteGround, Justhost, iPage, Arvixe, Dreamhost, BigRock.
FAQs
Bluehost Review: Conclusion
Reflecting on all that we said earlier in this Bluehost review, Bluehost seems like an optimum choice for a newbie web developer or blogger. What do you think about the service? Do let us know via the comments.