Webmasters always have a hard time choosing between highly reliable web hosting companies. This can be attributed to a variety of requirements by webmasters. Bluehost and HostGator are so far the most popular and high-quality hosting providers that are currently available in the market. Together, these two providers host more than 11 million domains. The importance of finding a reliable web host cannot be overemphasized. It can indeed save an individual from a lot of headache down the lane.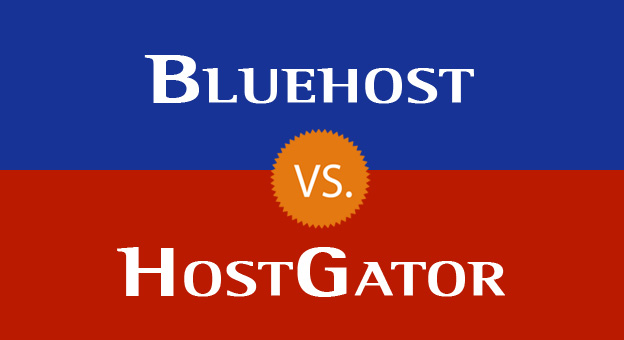 Undoubtedly, HostGator and Bluehost are the default web hosting providers for a number of professionals and newbie webmasters. These two are commonly associated with cheap and reliable web hosting services. Another positive thing about these two is that they barely restrict or censor content provided that the material is legal in the US. In this review, we'll try to analyze both the hosting companies in order to determine which one is superior.
Longevity and Credibility
Since 1996, Bluehost has been providing its services to customers. The company has even been voted 20 times as the largest web hosting company in the world. As a matter of fact, it hosts well over 1.9+ million domains.
Meanwhile, HostGator has been gaining popularity gradually to embrace the competition. The web hosting company currently ranks tenth in the list of the largest hosting provider. In fact, at the end of 2013, HostGator had over 9,000,000 websites according to Inc. Magazine.
Unfortunately, when it comes to credibility, we do not have an outright winner between these two web hosting companies.
User Interface
One similarity between these two is that they both offer cPanel which is a very important aspect of web hosting. To add to these, the two providers are known for regularly keeping their cPanel together with WHM panel updated. This goes a long way in helping the users keep their files safe from any sorts of intrusions.
Similarly, Bluehost and HostGator provide their customers with a decent and easy to navigate the billing area. This is something most users appreciate.
Moreover, the only area where HostGator tends to have an edge over Bluehost regards its online experience. The platform harnesses the power of their mascot 'gator' incredibly to bring out the creative nature of the outlet. This mascot is used throughout the site from live support to the billing area. By doing so, they create a fun but creative online experience. Hence, it allows users to navigate through the pages beautifully.
Winner: Evidently, HostGator wins in this case.
Performance and Reliability
In terms of performance, webmasters throughout the world would without second guessing recommend both Bluehost and HostGator as they offer 99.9% percent uptime guarantee.
Normally, all HostGator sites are hosted in Dual Xeon servers at Dallas. Their data centers are found in Dallas and are well furnished and connected to around 10 backbone providers. On top of that, to boost its performance capabilities, HostGator makes annual investments in new technology.
On the other hand, Bluehost makes use of CPU Segregation technology. This technology is known to intelligently control CPU and offer your site protection from malicious users.
Winner: Clearly, Bluehost thumps HostGator with its rock-solid performance in this case.
Features and Pricing
Check out the table for quick features comparison.
| Features | Bluehost (Plus) | HostGator (Baby) |
| --- | --- | --- |
| Uptime | 99.9% | 99.9% |
| Disc Space | Unlimited | Unlimited |
| Bandwidth | Unlimited | Unlimited |
| Domains Allowed | Unlimited | Unlimited |
| Databases | Unlimited | Unlimited |
| Email Accounts | Unlimited | Unlimited |
| Free Domain | One Year Free | No |
| Control Panel | cPanel | cPanel |
| 24*7 Support | Yes | Yes |
| 24*7 Live Chat or Phone | Free | Free |
| Lowest Possible Price | $5.95/month – 36 months advance | $5.96/month – 36 months advance |
| Discount Coupon/Link | Discount Link | HostingDecisions |
| Read Reviews | Bluehost Review | >HostGator Review |
| Our Ratings | | |
Both of these companies offer more or less similar features. They all offer different plans something which is always encouraging to the customers. In addition, the prices are affordable and the availability of coupons makes it enticing to customers. However, Bluehost through their professional hosting service offers a 44% discount via their Bluehost coupon.
Additionally, another feature that favors Bluehost is that the web hosting company offers free domain to its customers, unlike HostGator.
Winner: Clearly, Bluehost wins in this area.
Customer Support
For a web hosting company, a competent team of customer support is a mandatory requirement. This is particularly helpful when a customer has some issues with their website or server and need assistance. Hence, the support team should be able to offer their assistance as soon as possible. That's why they should always be on standby to help prevent downtime. In most cases, these sites tend to have a 24*7*365 customer support program. They can be reached via a number of channels including creating a ticket, email support, phone support or engaging them on a live chat.
Moreover, since both companies are dedicated to providing good customer service, these two ties on that front.
Conclusion
All in all, both Bluehost and HostGator are reliable hosting sites. However, for this review, Bluehost dominates HostGator in a number of areas. Hence, it emerges the victor in this round of battle. So, that's our HostGator vs Bluehost review. What do you think about it? Let us know by leaving a comment below.
Related Reading: Hostgator India Vs Bluehost India