HostGator, Bluehost, and DreamHost require no introduction at all if you are familiar with the world of blogging and web development. Where selection of a good web hosting provider is imperative! Indeed, these are some of the popular web-hosting providers. Which you shall grab for your blog or website as far as seamless functioning of blog/site is the primary priority of yours. Since three of these providers have created a good impression among professionals, the process of selecting one from the list may seem tedious. We made this Bluehost vs HostGator vs DreamHost review for all of you!
Some of our friends told us that they find it quite a confusing task to select a hosting provider from this three-member list. That is why we decided to do a comparison between Bluehost, HostGator and DreamHost. Essentially, we will discuss major factors such as price, customer support, extra features, uptime and server performance, user opinion etc. Before that, however, we shall have a glance at the reputation of each company.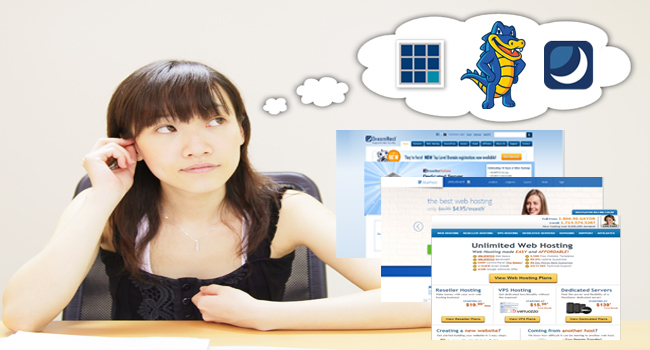 Bluehost, HostGator and DreamHost – We shall have an Introduction
HostGator, which is indeed one of the prominent players in the web hosting industry, had its start in 2002! The company offers different kinds of web-hosting services such as shared web hosting, dedicated server, Virtual Private Server as well as reseller hosting. For this comparison, however, we are considering the 'Baby' plan of shared hosting section.
Bluehost is, a bit older than HostGator, as it had its inception in 1996. Just as the case of aforesaid provider, Bluehost also offers shared hosting, dedicated server, reseller hosting, and VPS. Yet, we should consider that they focused on shared hosting till recent times, and some may find the absence of experience in VPS and dedicated server section as a serious issue. For the comparison, we will choose the one and only shared hosting plan of Bluehost.
Not surprisingly, as one of the favorite choices of professionals, DreamHost too offers shared web hosting, VPS and dedicated server, but lacks reseller hosting. Nevertheless, it has come up with cloud hosting, which makes enough sense these days. Even after being founded in 1997, we should say that DreamHost has managed to implement good changes throughout its journey. DreamHost also offers a single plan for shared web hosting, and we will consider that plan while comparing.
Bluehost Vs HostGator Vs DreamHost Features Overview
Check out the table for quick features comparison.
| Features | Bluehost (Plus) | HostGator (Baby) | DreamHost |
| --- | --- | --- | --- |
| Uptime | 99.9% | 99.9% | 100% |
| Disc Space | Unlimited | Unlimited | Unlimited |
| Bandwidth | Unlimited | Unlimited | Unlimited |
| Domains Allowed | Unlimited | Unlimited | Unlimited |
| Databases | Unlimited | Unlimited | Unlimited |
| Email Accounts | Unlimited | Unlimited | Unlimited |
| Free Domain | One Year Free | No | Yes |
| Control Panel | cPanel | cPanel | DreamHost's Own |
| 24*7 Support | Yes | Yes | Email Only |
| 24*7 Live Chat or Phone | Free | Free | $9.95/month |
| Lowest Possible Price | $5.95/month – 36 months advance | $5.96/month – 36 months advance | $3.28/month – For one year. |
| Discount Coupon/Link | Discount Link | HostingDecisions | MDISCOUNT85 |
| Read Reviews | Bluehost Review | HostGator Review | DreamHost Review |
| Our Ratings | | | |
How Much You Have to Pay – Plans and Price
HostGator Plans and Price
HostGator offers three different plans for shared web hosting – Hatchling, Baby and Business! These plans seem very suitable for a newbie blogger, web-based professional and business respectively. However, the basic plan, Hatchling, does not allow users to install multiple domains in the server, and the plan is available for $5.56 per month. Regardless, the second plan gives unlimited domain hosting capability but you have to pay $7.96 for that. And, in the case of third, it provides some special features such as toll-free number (meant for support), private SSL and dedicated IP etc, and it requires you to pay 11.96 per month. Having said all these, we have to point out that HostGator has some simple but powerful discount coupons, which shall help you avail incredible discount on orders. Do not forget to use HostGator coupon code while purchasing hosting from HostGator.
Bluehost Plans and Price
Now, when it comes to Bluehost, what they have is a single hosting plan and a 'Pro' version, which does not seem to be a shared hosting plan, when we consider price range. Therefore, we assume, Bluehost offers a single shared hosting plan. In this plan, however, the company offers awesome features such as unlimited domain hosting, free domain as well as customer support. Yet, all these features are bundled together to fit a budget of $6.95 per month. Also, 'Pro' version we had mentioned costs $19.99 per month, which might not be affordable for all. Bluehost offers coupon codes to avail discount on Bluehost hosting.
DreamHost Plans and Price
When it comes to the case of DreamHost, they do also have a single plan for shared web hosting services! For this plan of shared hosting, you have to pay $9.95, which seems quite affordable when we consider features such as multiple domain hosting, free domain, unlimited bandwidth & disk space etc. Putting all these factors in one bowl, we have to draw a conclusion that HostGator is the best choice when the payable amount does matter to you. As you can see, when you use some superb HostGator coupons, you shall get huge discounts on order, which can even save amount, which is greater than a free domain, especially if you are purchasing service for a longer period. So, HostGator wins the race.
Uptime, Disk Space and Bandwidth
In this case, however, there is no much room for strict comparison, as three of these providers are generous!
Bluehost, HostGator, and DreamHost offer unlimited bandwidth and disk space with each of its plan! This does make enough sense because the user does not have to be tensed about site resources crossing the limit. However, when it comes to the case of Uptime, DreamHost is a bit different. Both HostGator and Bluehost offer 99.9% uptime, which in turn conveys that the provider MAY confront technical issues.
Even though DreamHost gives you 100% uptime, it is a bit ironical to see that the company had faced some major outages as well as compromises on user data. Yet, we shall say that, when considering the fact that DreamHost has acquired necessary steps, three of these companies can provide satisfactory uptime.
User Interface and Hosting Control Panel
Just like the previously mentioned section, HostGator and Bluehost have chosen the same way, whereas DreamHost managed to dig its own way. Both HostGator and Bluehost use cPanel-based control panel, which is easier for a user, especially if he/she has previous experience in managing web servers. Yet, HostGator has made the control panel bit complex, though the complexity leads to productivity, whereas on the other hand, Bluehost has minimized graphical elements in the control panel. Both of them offer CMS install scripts and site-builders with it.
Regardless of all these, DreamHost lets the user have a customized version of the control panel. Even if you are having a nice experience in cPanel, DreamHost control panel may sound a bit weird at the first use. But, according to user opinion, it becomes quite productive after some time. So, in this section, however, we have to enter a tie, even though some may prefer cPanel-made ones to the customized one.
Technical Support and Customer Care
All these companies aim to provide customer care with each plan, but what varies is available methods to avail that support. For instance, we can see that HostGator and Bluehost provide different methods such as through live chat and telephone call. In the case of DreamHost, you have to pay a monthly amount of $9.95 if you want to have a phone call based customer care support. So, we have to put HostGator and Bluehost in the primary position and DreamHost seems to fail this.
If You Do Not Like the Service
Suppose HostGator was not able to meet your expectations! If you have decided not to use the service between 45 days, the company will return the money. Obviously, this shows the self-confidence of the company! On the other hand, Bluehost has a money-back guarantee for 30 days. Now, creating a difference once again, DreamHost offers a money-back guarantee of 97 days, but the refund is possible if you have used the credit card/Google Wallet to pay money.
Now, it is Time for Decision
In light of all these sections, it is quite clear that HostGator and Bluehost grab first and second place respectively. But in the case of DreamHost, we will have to compromise, especially in the case of uptime, hosting control panel as well as price section; in addition, HostGator is the only provider, which supports monthly payment option! Which is your favorite among these? We are waiting for your response.