One of the most popular website hosting provider is Bluehost. It has been known for its outstanding performance when it comes to providing services with different packages. Now, they have incorporated a support from CloudFare. With this, Bluehost with CloudFlare support is now faster and is just for free.
The web traffic of your website will be linked through the intelligent global network which is optimized for the possible fastest content delivery possible. The good thing about CloudFlare's system will improve as the number of users grow. Those websites which are powered by CloudFare will definitely see the significant improvement when it comes to performance and will have a decrease in spam and as well as other attacks.
Bluehost with CloudFlare Support is now faster Just for Free
Pros of CloudFlare  System
There are a lot of CloudFlare system's advantages, aside from Bluehost with CloudFare support is now faster as the main benefit. As follows are the advantages of CloudFlare system: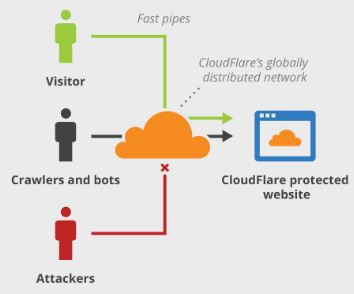 Improvement with Site Performance
The proxy servers of CloudFlare are not only limited to a one known country but all over the world. These servers can be found near your visitors. With this, the visitors of websites are more likely to see improvements with the loading of the pages because of how the cached content is being delivered from the nearest caching box rather that directly sending from their server. Bluehost with CloudFlare Support is now faster, definitely. There are a lot of research that you find when you surf the net that shows the correlation between the visitor's length of time in term of stay and as well as the speed of the  website.
Protection from Threat and Bot
Data from Project Honey Pot is the one that CloudFlare uses. Aside from that, they uses other third party sources and those data even from its own community. CloudFlare do this for it to identify the possible malicious threats available online and prevent the attacks before they infect your website. If you are wondering about these possible threats that CloudFlare stops, you can check it out in the CloudFlare dashboard.
Protection from Spam Comments
With CloudFlare, the number of spam comments sent towards your website is being reduced through the use of the data from of third party resources.
Warn Visitors with Infected Computers
The good thing about the CloudFlare is how it alerts those human visitors which has infected computer. It does not just alert them, but it also suggests for these particular visitors to take action for them to clean up the possible virus. Not just that, but the malware on their machine as well. For security, the visitor will have to undergo into CAPTCHA decoding for them to gain access to your website.
Offline Mode
There will be instances will CloudFlare's server is unavailable. Should this happen, visitors can still be able to have access with your website since the CloudFlare will serve your visitors with a page which is coming from its cache.
CPU Usage is Lower
If few request is hit in CloudFlare's server, it will lower down the overall usage of CPU of your account.
New Site Stats
You may have most of the possible good tools for you tot evaluate the human traffic which is coming to your website but nothing when it comes to search engine threats and as well as crawlers. If you have the CloudFlare system, you will have the good tools with the mentioned lapsed feature.
Cons of CloudFlare System
Though there are a lot of advantages of CloudFlare system, this particular system still does have its own number of drawbacks as well. Though there are a n umber of drawbacks, Bluehost with CloudFlare Support is now faster and still have a lot of advantages rather than disadvantages. You may refer to the following list of disadvantages of CloudFlare system.
There is a need for you to make configuration changes for possible requests which should be directed to www.$domain rather than $domain.
Internal statistic program that are directly read from your Apache logs may be affected by CloudFlare. Though in your Apache logs, fewer requests is reflected to your server which in turn lowers load, your visitor's experience will remain unaffected.
Your website's static content is in cache of CloudFlare. This will definitely reduce your server's load. This particular case means that whenever you have alteration to any existing static file such as image, the change will not immediately be inflicted — it will take longer. If you are updating your website, put your CloudFlare system to Development Mode. With this, you will be able to see the changes immediately when ever there is one.
Another drawback is how the system's basic mode will not be able to handle SSL certificates. If ever you will need to use an SSL certificate, that certain part of your website will need to be on a subdomain which is not protected.
Features
Worldwide CDN
Intelligent Threat Protection
Asyncronous Javascript Loading (Rocket Loader)
Performance / Security Stats which is free for daily
Page Specific Settings / Rules of 3 hours for free
Those mentioned features are all available in their free account. If you will pay for their service, there is an additional feature of Priority Image Loading (Mirage), Image Size Optimization (Polish), SSL (HTTPS) Support, Automatic Mobile Optimization and as well as High-Priority Server Processing.
How to enable CloudFare?
CloudFlare services will be enabled through the control panel if you are in shared plan. Access it by just using the icon which is located in the Domains section. Of course, the CloudFlare services is not only exclusively accessed through shared plan. It is also available on VPS and as well as dedicated servers upon request. However, this is not available on Windows servers.
In the Domain Management section, you just have to click on the CloudFlare icon.
Click the Next button under the Enable CloudFare section for you to create your "Free CloudFlare Account".
Finally, click Activate for you to enable CloudFlare which can be seen under the CloudFlare Account View section.
Reminder: There are two ways that CloudFlare can be accessed. You can access it by visiting directly CloudFlare which is already an advanced mode. Aside from that, you can also access it through cPanel which is the most basic mode. This lives up with: Bluehost with CloudFlare Support is now faster. If ever you signed up through cPanel for CloudFlare, keep in mind that you do not need to change your name servers.