Cloud hosting has slowly been breaking the ground of web hosting industry. Because of its vast number of benefits for the clients, almost all web hosting providers have been offering different versions of cloud host plans. Among these providers are the popular names in the industry — Bluehost, HostGator, BigRock and as well as SiteGround. All of them offer different cloud host plans, so we bring you a cloud host comparison of the four web hosting providers.
Introducing Bluehost, HostGator BigRock and SiteGround
When it comes to web hosting, these four providers are known for their commended services. Before we go even further down to the cloud host comparison, let us give you an overview of these web hosting providers:
Since its primary years, Bluehost has constantly been the word of the mouth of those who avail web hosting services. It has been founded in the year 2003. It is one of the leading web solutions services providers in the industry. Ever since 2003, there are already a lot of innovative ways that they have done to empower people to fully employ the world wide web. It is now into partnership with WordPress for over 10 years. Aside from that, they are into putting a contribution to open source.
HostGator is a year older than Bluehost, it has been founded in 2002. Today, it is known as a global provider of web hosting and as well as other related services. Among the hosting they offered are web, cloud and as well as WordPress. The same with Bluehost, HostGator is also in partnership with WordPress. Aside from that, they have also services for Reseller, VPS, Dedicated and as well as domains.
Compared to other web hosting providers, BigRock offers web hosting under in Linux Operating System. Through the years of service, they are able to formulate scalable hosting solutions, not just for individuals but as well as for large businesses. In the year 2012, they have been the top pick web host and was hailed as editor's choice by an award-giving body. They offer a wide range of plans from their affordable web hosting services to other related web services.
Among the four web hosting providers, SiteGround is the youngest in the hosting industry. It has been founded in the year 2004. SiteGround is able to gradually but steadily become one of the leading web hosting service providers. There has not been a large number of employees back in the days, but now they are able to widen their services with their growing numbers of employees as well. Their services have also been rising, from web hosting services to other affiliated services as well.
Cloud Host Comparison
Hosting Plans Package
Each of the web hosting service providers has different cloud host plans that they offer. For the Bluehost, it comes in 3 various plans, from Starter, Performance and as well as Business Pro. The most popular of the three is the Performance. For the HostGator, also comes in three plans, Hatchling, Baby, and Business Cloud. Same with the Bluehost, the most popular plan is the middle plan.
In BigRock, there are also three plans, the Starter, Advanced, and Business Combo. Basically, Bluehost, HostGator and BigRock have almost the same offers for their cloud host plans. The only one service provider that differs among the 4 featured providers is the SiteGround. It has four cloud host plans, the Entry, Business, Business Plus and as well as Enterprise.
Bluehost

With Bluehost, Cloud is made effortless. They have somehow made innovation and reinvented the cloud. With Bluehost, cloud host plan is made safer because in cloud, your website is more reliable and the data is automatically mirrored across three distinct devices. Aside from that, there are no longer load times because it is faster than other hosting. In just one glance, you will be able to understand the performance of your site in a much simpler form. In addition, even if you have more web traffic, it will never slow you down because Bluehost had made the plan bigger.
Bluehost's cloud host plan features monthly billing, automated migration and as well as data mirroring.
HostGator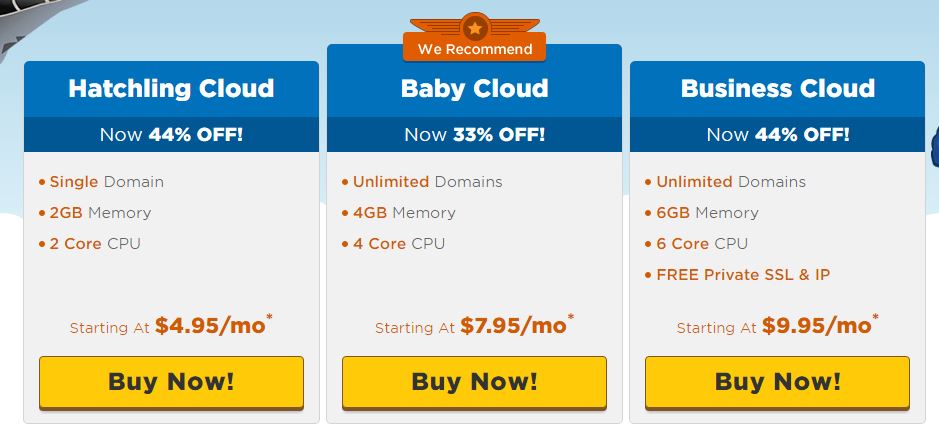 What's more for HostGator? With their cloud host plans, you get to experience doubled load times. It is now four times scalable. You will only need a simple click, no more data migrations, downtime and as well as reboots. Same with the Bluehost, you will also see your site's performance stat at a simple glance. You would not need to exert more effort just to understand the performance of your site. They have dashboard tools that provide a quick view of the page download speed, uptime, trends, global reach, and others.
Their cloud host plan features are integrated caching, resource management and as well as an intuitive dashboard. With all that said, everything else is much simpler with HostGator's cloud host plan.
BigRock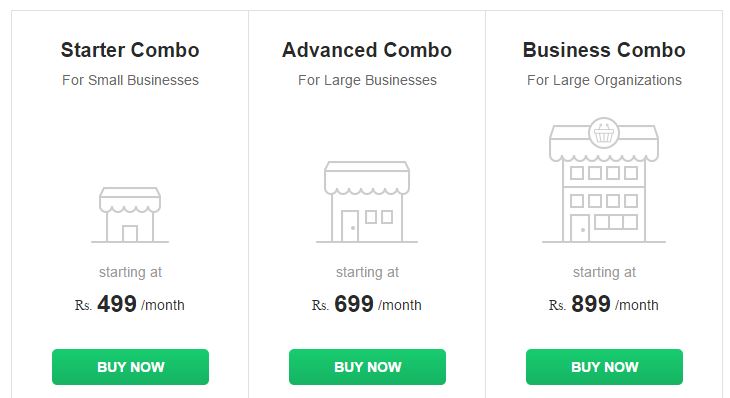 BigRock makes sure to offer a better cloud host plans for the clients. Their Cloud for business helps the client harness the true nature of cloud computing. Not just that, the intuitiveness that they offer for their cPanel which lets the user easily navigate things is much updated than ever before. With BigRock's cloud host plans, you get to scale up your website in just a simple click. There is no need for you to exert more effort into thinking how you will be able to double the speed of your website, leave it to their hands. They have incorporated a cPanel which is industry standard control panel.
With their Cloud for Business, there is an instant scaling using the power of cloud. It assures a high availability of the data as well. BigRock ensures that your websites run faster for you costumers to easily get around your homepage. In addition, you get to easily manage your website's traffic.
SiteGround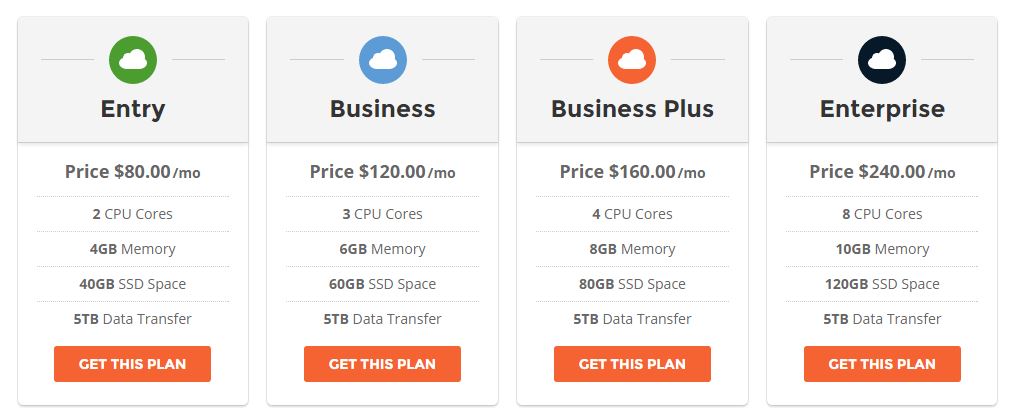 Fast, scalable and fully managed website — this is what SiteGround's cloud host plan offers. The cloud host platform that SiteGround offers assures a fast, auto-scalable and will allow you to customize your plan. It comes in 24/7 VIP support. Your asking for their services? Yes, they have fully managed servers from which SiteGround configures and manages the infrastructure and as well as server software to lift your problem with IT maintenance. Aside from those mentioned, they also keep track of your daily backups and have free CDN and as well as multiple locations. You can choose among their 4 data centers and you get to add free CDN for better local speed and as well as geographical accessibility.
Their detailed features include Exim mail server, IP Tables Firewall, 1 dedicated IP, SSH access, 5 PHP Versions and HHVM, WHM and Panel, MySQL 5 and as well as PostgreSQL. These are just a few of the vast numbers of feature that SiteGround offers.
User Interface
When it comes to the Graphical User Interface of the web hosting service providers, they have made their own mark. Most of them have a minimal design which is user-friendly and are easy to navigate.
Hosting Control Panel
Since most of the web hosting providers that are featured in this article have almost the same sections of cloud host plan, all of them have the same tools for a control panel. Their FTP accounts are all unlimited. The domain names are offered freely and are included in their plans, the same with the domain transfer. Since WordPress blogging is very popular these days, all of the providers have also considered having a WordPress compatible servers. They make sure to have a custom 404 pages for the users. For the eCommerce solutions, all of them still have the same feature.
Technical Support
All web hosting service providers surely have help and support services, but not all have the same features. The web hosting service providers that are featured in this article have the same features for their technical support. All have 24/7 phone and free priority support. Aside from that, it is a knowledge base and has user forums. They also come with live chat support and as well as video tutorials.
Security
When we talk about cloud host, security is always the main concern. There are still a lot of clients that are still wary of this type of hosting for sharing confidential information. So, to make sure you have secured virtual storage, make sure to consider plans that offer an SSD and as well as SSL certificates. The good thing about the four web hosting service providers is that all of them offers these certificates on their business plans.
Final Verdict
All of the featured web hosting service providers have actually good offers for their cloud host plans. It is very significant to find and consider the best hosting provider that offers what you need, not just for today, but as well as the future. There are a lot of various features for each of the service providers, but most are just related. So, you need to assess your current needs for web hosting and note the features for each provider that you think is what you need.