In the previous post, we had discussed becoming an affiliate of DreamHost! DreamHost, being one of the eminent figures in web-hosting industry, is the best place, from where a blogger or web-based professional can start his/her life as an affiliate marketer. Of course, a number of features offered by DreamHost, such as uptime, truly intuitive User Interface of the control panel, scripts to make CMS installation easier, reliability etc., make DreamHost a favorite choice of bloggers and internet marketers, whereas relatively high commission rates attract affiliate marketers into this web hosting affiliate program. As we had mentioned in that article, an affiliate of DreamHost can earn up to $97 when a person joins DreamHost by following his affiliate link. Now we will show you how to generate DreamHost promo codes to save money on DreamHost web hosting.
Along with different aspects of DreamHost, we had told you a number of ways you can depend upon for attracting users towards DreamHost via your affiliate link. We, at the same time, did mention that DreamHost promo codes are the most effective way to promote DreamHost affiliate in your site or blog. In this post, however, we have decided to have a deep look into DreamHost promo codes as well as how to generate DreamHost promo codes. First, we will check how DreamHost promo codes work!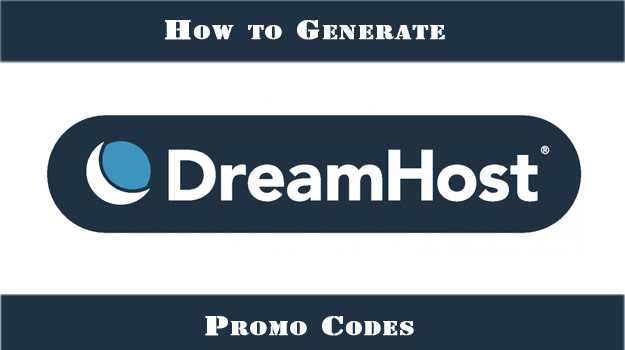 How DreamHost Promo Codes Work
DreamHost Promo Codes work based on a principle – Offer profit and Gain Profit. In other words, the more you offer for a customer a discount, the more conversions you get. As we said earlier, when one joins DreamHost through your affiliate link, you can earn $97. However, by creating DreamHost promo codes, you can offer part of earning to your readers. While creating a promo code in DreamHost, you have an option to select a certain amount of discount, and your profit will be $97 minus discount.
For instance, if you decide to provide a discount of $50 for your readers while purchasing hosting from DreamHost, you will receive earnings of $47 when there is a purchase that makes use of your discount coupon. Similarly, if you would like to provide a discount of $17, you can have earnings of $80. Yet, it is advised to the amount in such a way that both – you and your reader – get maximum profit. However, if you are sure that you will be able to attract thousands or hundreds of purchases by offering a bigger discount (say of $60 OR $70), you can do that. To do so, however, you have to ensure such huge traffic in the medium you use to convert readers to new DreamHost customers, let it be a blog, site or social media pages or profiles.
There are a number of advantages to prefer DreamHost promo codes to other ways to promote links to promote link of DreamHost affiliate. The main advantage is that even when your coupon is used either directly/indirectly (when some people share your coupons), you will get earnings. Since you are offering a discount, chances are high that one coupon may go viral on the web. Now, however, we will tell you the process to generate DreamHost promo code.
Step One
First, you have to log into affiliate control panel of DreamHost. Click on 'Rewards' and you can see a list of options. In the list, along with a number of options, there will be an option called 'Create Your Own Promo Codes'.
Step Two
If you have created a DreamHost promo code earlier, you can see a list of those coupons in the upcoming page. In that page, you can see details about each coupon. Now, however, in order to create a new promo code, you have to click on 'Create Your Own Promo Codes!'.

Step Three
Now, you have to give details about the promo code you are going to generate. First, you have to give a name to the coupon. You should be much careful while choosing a name because this name is how your DreamHost promo code will become popular. Thus, the name of the coupon should be quite attractive.
Next, you have to provide a description of code for the purpose of identification. After selecting rest of options, such as whether you want to provide free domain registration and unique IP bonus, you have to decide discounts offered by the particular promo code. You can decide discount based on the duration, for which customers purchase DreamHost hosting service.

Step Four
After cross-checking what you have entered above, you can click on 'Create This Promo Code Now!'. In seconds, you'll be able to see the new promo code in the list of available DreamHost discount codes.
Final Step
Congratulations, you have successfully generated a DreamHost promo code, using which you can increase the number of affiliate sales. Now, to get more sales, you have to share your DreamHost promo code as intensely as possible! Also, there are some tips you can follow while creating and promoting promo code. Some of them are:
Use a name that is related to your brand name.
Rather than merely talking about code, use other ways such as blog posts.
Didn't you find this tutorial helpful? Do you have any doubts about generating DreamHost promo codes? We're here to help you!