Choosing the optimum Web Hosting service for a blog or site that is about to launch is not kids' job! Well, we are not trying to underestimate kids here. But we want to show how childish newbie bloggers become while selecting a web-hosting provider. We cannot blame those newbie bloggers, either; because, in a small time-period, there had been a huge rise in number of web hosting solutions. It is ranging from extremely small ones to BIG brothers. However, we'll be able to overcome this issue of abundance if we are using a specific formula to judge these web hosting providers and thus to choose the best! And, while forming that formula, we have to take a number of factors into account. Here, we will tell you about those factors, which should be considered while choosing web hosting for your various purposes.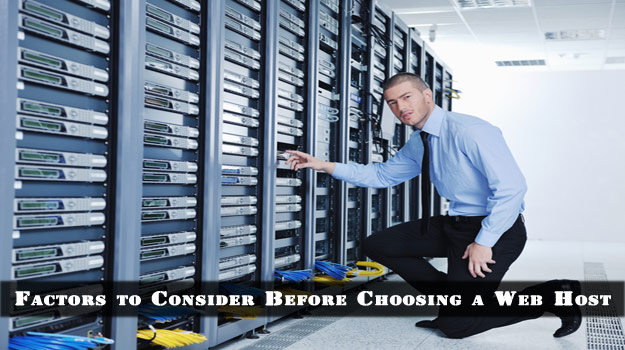 #1 Price
Aha, you are mistaken! Considering price does not mean that you should choose any web-hosting provider that does offer CHEAPEST hosting solutions, they can affect your website. Nevertheless, there will be situations when you have found two web hosts. Which are offering almost same features, such as 99% uptime, easy-to-use User Interface, additional features etc. In those types of situations, you can give priority to price to save your money. That having said, we would like to mention that price could be an important criterion for those newbie bloggers who can hardly invest that much in blogging.
#2 Specifications Matter
Well, yes, specifications matter when you are choosing a web-hosting solution, especially for a blog or eCommerce-based website. In case of such websites, we cannot have an estimate of traffic they are going to receive. Sometimes, the traffic will be quite low, whereas it might attract thousands of users in a small time-period. So, to rescue yourself from risk, it is advised to go with a web host that offers mediocre range of features and server specifications ad try to get VPS – Virtual Private Server or even better Dedicated hosting. Though you might not need GBs of RAM, it is always good to be secure when it comes to building a blog or site.
#3 Support
You might not need technical support while purchasing shared hosting. That is because most hosting providers offer a truly intuitive user interface for control panels nowadays. And, every internet user can handle the web server with a huge number of tutorials available in web. However, if you have chosen to go with an advanced web hosting solution, say a VPS or dedicated server, grabbing technical support from your web-hosting provider is important, as it will get you familiarized with web server as well as fixing issues that you might have to confront.
#4 Control Panel – It's Good to have a Demo
We said that most of web-hosting providers, nowadays, give importance to building an intuitive control panel for all their web-hosting services. However, there may be some exceptions. Thus, before you move on to the payment part, you should be clever enough to have a glimpse on control panel or server. Especially if you are purchasing a VPS OR dedicated server in 'managed' category. Moreover, if possible, you can check every section of control panel and UI, offered by control panel, that you can know how it feels to use your web server in particular situations.
#5 Scalability & Additional Features
As we mentioned earlier, you cannot simply predict future of your blog or site. So, while purchasing basic hosting via a company, you should check if the company offers a room to grow – in other words, scalability. Along with offering advanced hosting solutions other than shared hosting, such as VPS, cloud hosting, dedicated server hosting etc, you must confirm that the company lets you upgrade your current hosting plan. Obviously, for aspiring bloggers, ability to upgrade is a big thing to consider.
Did we miss any points? We are eager to hear your opinion about choosing the best web host.