The internet can now be considered a highway that connects people and services to cater our varying needs. Domain names can be considered your business on such a busy highway and hosting sites, specifically BigRock, are your governing body that connects you to this highway. Let's say that your business is attracting a lot of customers. It's going to be important that you keep your business up so that the customers you serve continue to enjoy the services you offer. And for the business to stay up, you have to pay for permits and stuffs to continue running your business legally. If your permits expire, then the government can stop your operations. Much like businesses, domain names have expiration dates too. In order for them to keep running, you have to pay for the fees that comes with it.
In this article, we will explore what happens if BigRock domain names expire.
In BigRock, once your domain name expires, the domain will go to a Renewal Grace Period stage wherein the domain name will be put in a temporary commercial Parking Page. While in that period, all of the sites functions (like emails and other contents) will stop working along with it.
The days that a domain name can be renewed before it's sold to another buyer depends upon the domain's extension. Below is a list of the Grace Periods of some domain extensions available for purchase on BigRock.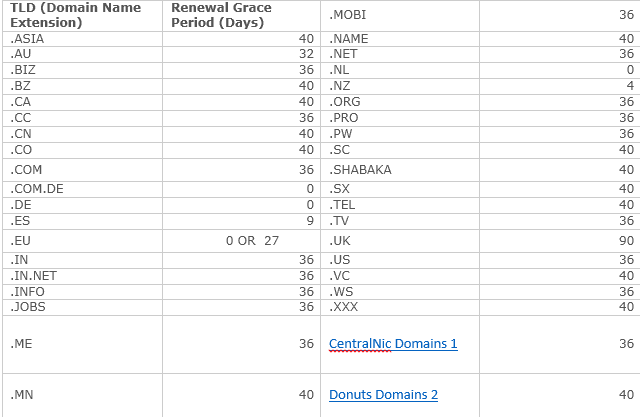 Some domain extensions follow a standard process in renewing domain names
But some domain extensions have some and specific conditions for their renewal periods. For example, if a .CO domain expires, the owner will be given the first 5 days of the Grace Period to resolve the renewal of the website. Once the 5 days passes and the domain is still not renewed, it will only be then that the website be put on the Parking Page.
A .DE domain name expires on the 5th last day of the month it was registered, renewed or transferred. To further explain, let me give you an example:
If you registered a domain (ex. iamhandsome.de) on December 1, 2016, the domain will expire on December 26, 2017.
However, if you registered a domain (ex. iamandsome.de) on December 31, 2016, the domain still expires on December 26, 2017
NOTE: These are just a few examples of the specific conditions that some domain extensions may have. Hopefully, we will get to cover some more about this matter later on. But for now, lets focus on what happens if BigRock domain names expire.
Some other domains are auto-renewed by the registry for 1 year
Depending upon the domain extension upon expiration. It also locks up our funds for the same action so that it won't happen again unless desired. Fortunately, the auto-renew function is not immediate as it is only queued and often takes 48 hours to take effect so that you can either confirm or decline if you want to manually renew your domain in BigRock.
When a domain name reaches the end of the Renewal Grace Period, it will be queued for deletion so that others could claim it. At this stage, the domain enters the Redemption Grace Period to where the domain could still be redeemed by the owner. Keep in mind that this is only going to be possible if there are no back orders for the domain in question.
Conclusion
So that's it! That's basically what happens if BigRock domain names expire. Hopefully, we will get to discuss more about the other specific conditions of different domain extensions. We hope to help you be informed of the process of renewing such domains. If you have questions regarding this article, make sure to leave them in a comment below! Thanks for visiting our site.