If you want to host a website on the internet you need a few things with you which includes domain name, web hosting and a script. There are a lot of hosting providers available on the internet and HostGator is one of these. HostGator is one of the best web hosting service available on the Internet. There are different kinds of services which are provided by HostGator. We will provide more information on the best HostGator coupon codes that can be used to receive a discount on HostGator web hosting.
Everyone wants to get some discounts on the hosting packages they are going to buy. If you are thinking to buy web hosting from HostGator you can try the discount coupons which will get you the maximum discounts possible. The discount coupons can be applied on any package you are willing to go for in HostGator. We have shared the coupon codes with you which will help you in getting the maximum discount on HostGator hosting.
Our 2 Most Recommended HostGator Coupon Codes
We will basically talk about 2 coupons in this post. One is our 30% off coupon and the other one is our 1 Cent Coupon which will give you a bill of just 1 Cent on your first month's bill.
30% Off Coupon –
HD30
This is the most widely used HostGator coupon and this will give you a total of 30% off the total bill amount off on your first bill. So if you are buying a hosting plan and making payment for a year or more, you can just go ahead and use this coupon to get maximum discount. The maximum discount would be best used on a 36 month plan. This offers you the best HostGator discount.
1 Cent Coupon –
HostingDecisions1Cent
Now comes the 1 Cent Coupon that you can apply on your first month's bill and the total amount that you have to pay for the first month will be just 1 Cent. It's a coupon that you can use if you want to test HostGator services before moving to them fully.
How to apply coupons?
The steps you need to follow to apply these coupons and get discount is very easy. Just take a look at the procedure we have listed below:

Go to HostGator.com and choose a plan that you would like to buy.
For demo purposes we are going to choose the Hatchling Plan in their Web Hosting services.
Then you need to enter a domain that you might be owning or you can choose to register a domain at HostGator itself.
Now you need to add a username and a security pin for your account.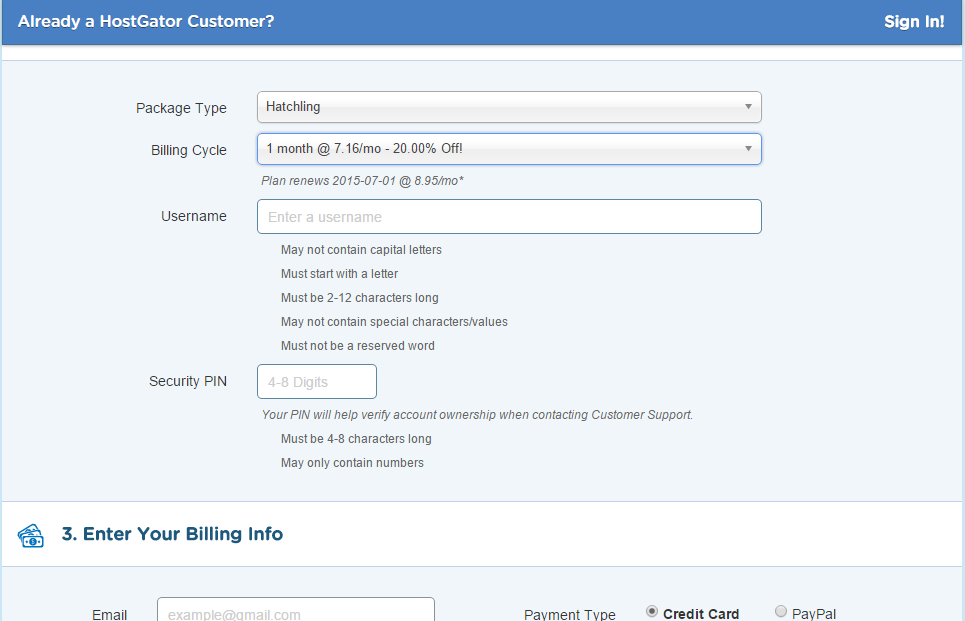 Now comes the form which you have to fill up and provide billing information.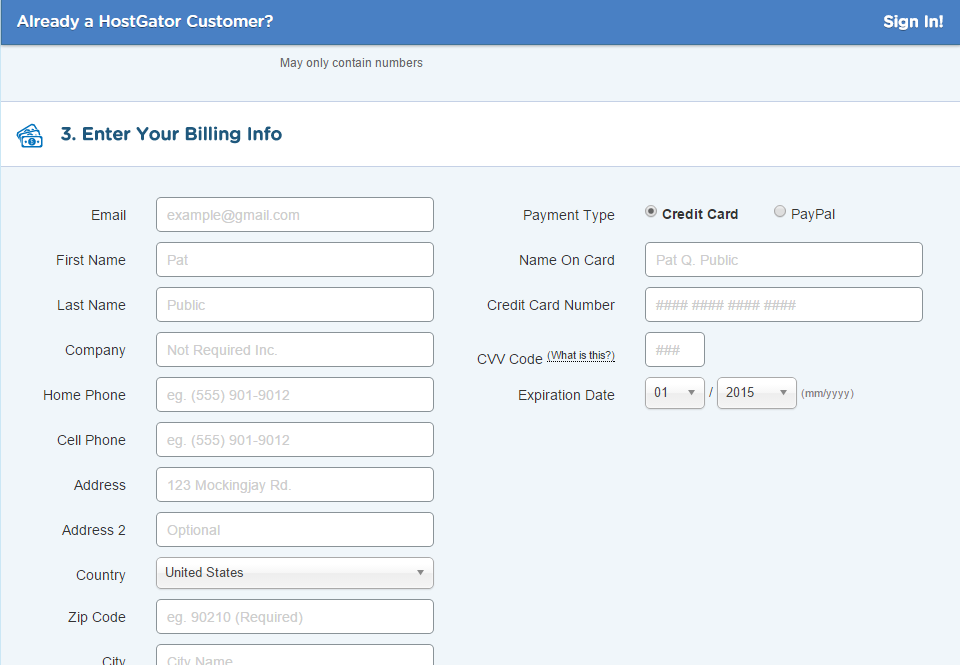 If you want to add some additional services you can choose from the list you will see on the page. Else just skip it.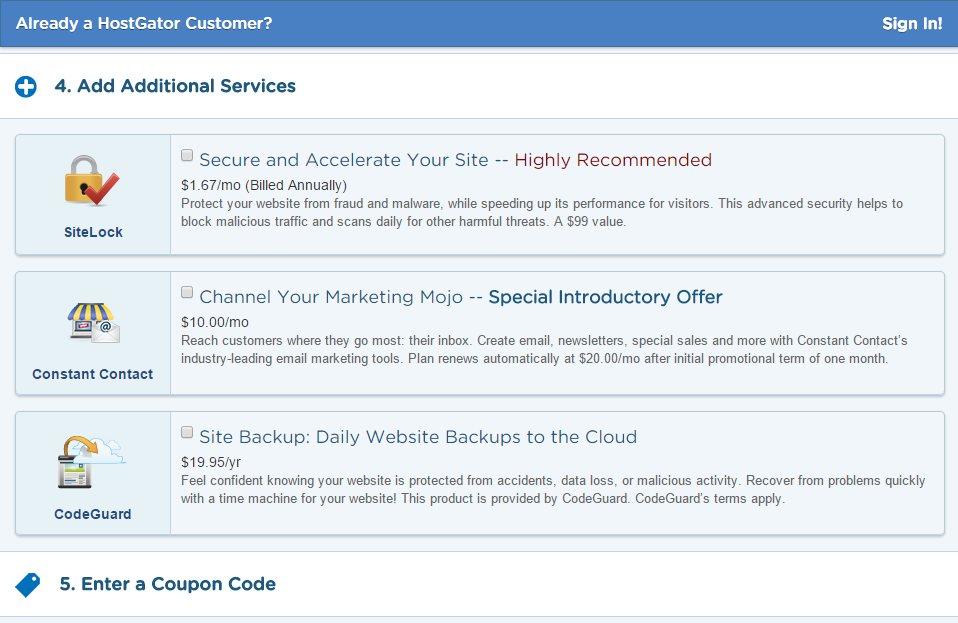 Now just enter the desired coupon code that you are willing to use and click Validate.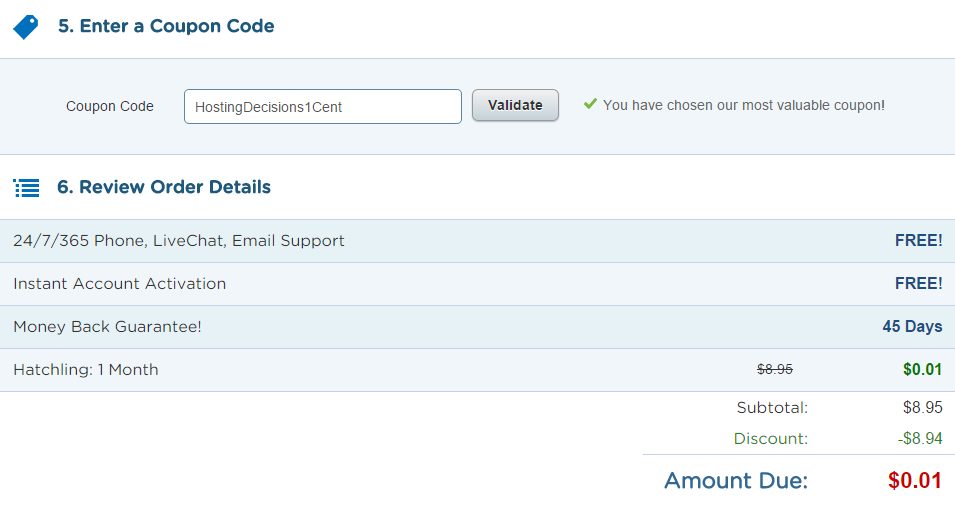 After all this is done, just go ahead and click the checkout button and your payment method will be verified and the purchase will be made.
Let's have a look at the services offered by HostGator.
Services offered by HostGator
Shared Hosting
If you are going to start your first ever website you should try the web hosting provided by HostGator. Shared Web hosting is ideal for all the beginners. All the hosting plans under shared web hosting come with unlimited bandwidth, disk space, easy to use control panel etc. Web hosting packages at HostGator start from as low as $3.96 per month. By applying HostGator coupon codes you can get the maximum discounts possible on web hosting plans.
Reseller Hosting
Reseller hosting is the best option if you are interesting in making money with hosting. You can become a HostGator reseller and sell web hosting packages to your customers. There are a total of five plans available under the reseller hosting service offered by HostGator and price for reseller hosting start from as low as $19.96 per month. By applying HostGator coupon codes you can get the maximum discounts possible on reseller hosting plans.
VPS Hosting
The next service which is offered by HostGator is VPS hosting. If your website is getting high amount of traffic and your web hosting server is not able to handle it you should try VPS hosting where you will get private server for using. You can use the private server to host your website. The hardware specifications of the server is powerful which will easily handle high traffic you are receiving on your website. VPS hosting packages start from as low as $11.97 per month. By applying HostGator coupon codes you can get the maximum discounts possible on VPS hosting plans.
Dedicated Hosting
Dedicated hosting is ideal for the people who want to have full control over the web servers. Even if your website is getting large amounts of traffic you should go for dedicated hosting. The servers in dedicated hosting come with powerful hardware specifications. You can try both from Windows servers and Linux servers to go for dedicated hosting. No other website other than yours will be hosted on the dedicated server you purchased.
The steps to apply HostGator coupons are quite simple as you can see but if you have any questions or doubts, you can get them cleared in the comments section below!
Related Readings : Bluehost Coupon Codes , Hostgator India Coupon Codes,