You've probably stumbled upon this article because you're looking for quick easy steps to create your first-ever WordPress website- well, you're in luck! 'cause this short tutorial has quick easy guides for you to create a free WordPress website in just a few minutes. All you need is a strong will and imagination, and voila, you have created your new WordPress website. This guide on how to create a WordPress website is only recommended for new and beginning users. As we go along, you will also be introduced to some of the best web hostings.
But first off, why WordPress?
WordPress is the most popular web hosting provider in the world, powering as much as 30% of the Internet. It is free and open-source, it means you don't really have to pay in order to create a WordPress website and is made freely available for the use of many users. WordPress is also user-friendly, very much recommended for beginners and non-skilled users around the Internet.
You can use any web host providers like HostGator, SiteGround, and BigRock. But for this instance, I'll be using Bluehost.
Step 1: Registering for a Web Hosting Provider
Since I'll be using Bluehost, you can check out a discounted price of Bluehost coupon for only $2.95/month which is perfect for starters! Check out the details here.
#2 – Choose a Website Hosting Plan
Once you click "get started now," you'll be taken to a page to select the hosting plan of your choice.
Choose a suitable hosting package for your website, but since you're just starting out I would strongly recommend their basic plan which is only $3.95/month but you can check out a discounted price here.
#3 – Domain Name
After picking a suitable and available website name, you can now continue.
#4 – Filling out your Details
To create your account, just enter in your personal information on the "create your account" page.
Just fill out your personal details including your First Name, Last Name, Business Name, Country, Street Address, City, State, ZIP code, Phone Number, Email Address in which your activation link will be sent.
Then, enter in your payment information to continue.
#5 – WordPress 1-click Installation
Now that Bluehost account has been set up, you can now install WordPress with your Bluehost CPanel.  Install it with the 1-click installation located at the control panel- first, look for WordPress, choose the domain where you want to install your website, click the "Install Now" button and you will get access to your new WordPress website.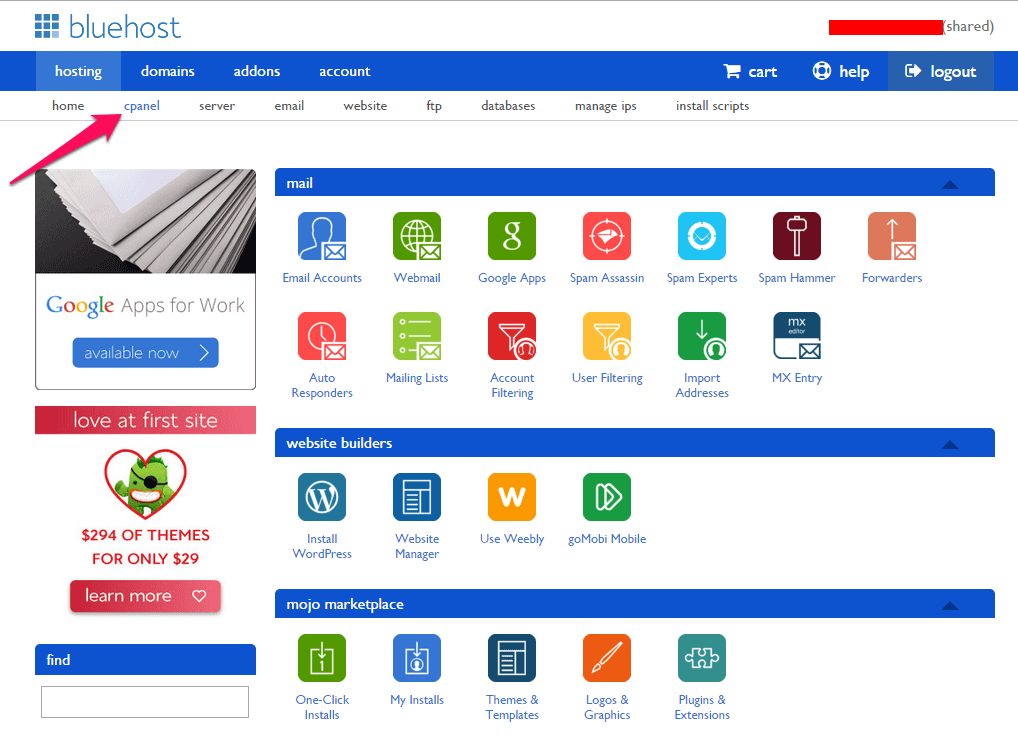 Step 2: Starting with your Website
#1 – Logging In
The first thing to do in creating a website is logging in to your WordPress Dashboard.
#2 – Customizing your Website
Now that you're all set to create a WordPress website,  go to your WordPress Dashboard and click Appearance and choose Themes. First, we need to customize your website theme. Once you have found a theme you like, installing it is as simple as clicking "Install" followed by "Activate". If you're looking for some inspirations for your website, you may want to visit here.
#3 – Adding contents and pages
Now that you have some fine website look, it's time to add contents to your website. Find the Pages -> Add New and once you've clicked, you'll find a screen that has a white blank page. You can add text, images, and more for your website. Press Publish if you're ready to go public.
#4 – Menu Structure
If you wish to map out pages and posts in the fashion you want, go to Appearance>Menu, then drag each item in your desired order. Click "Save Menu" when done.
Step 3: Know-It-All
Now that you know the basics of creating and managing a WordPress website, it's time to explore more features!
#1 – Changing The Domain Name of Your Website
Go to Settings> General. There you will find WordPress Address (URL) and the Site Address (URL).
#2 –  Disabling Comments for your Posts and Pages
If you wish to disable comments for your website, go to Settings>Discussion and uncheck "Allow people to post comments on new articles".
#3 – Adding a New User
If you want your friends or someone else to help you build your website, then creating a user profile must be done. Here you can set his name and his roles that he will be taking part of.
#4 – Adding Plugins
Adding plugins is easy. Plugins are vital for a good website, especially for a monetizing one. To add a plugin, go to Plugins>Add New, and you can simply start searching for plugins.
Here's a list of some top and recommended WordPress plugins for your website.
Now, you're all set!
Creating a WordPress website's easy! But always remember that a good website is an improving website!
If you have something in mind about the topic don't hesitate to ask in the comments section!