Hi. You might be reading this probably because you are already a blogger, or just planning to be. Anyway, let's go DIRECT TO THE POINT. I'll teach you how to make $1000 a month blogging!
How much do bloggers actually earn and can I make a living out of it?
According to Melanie Pinola's post in lifehacker named, "Can I Really Make a Living by Blogging?", 63% of the Bloggers only earn $0-$99/month. That's not much, but if you are the 10% of the bloggers who are just blogging for fun, you would be surprised that you could actually learn how to make $1000 a month blogging.
Where did you get that 63%?
I took it from this chart. 10% earn nothing, 28% Earn under $10, and 25% earn $10-$99 a month. You add them all, then that's 63%. Therefore, a lot of bloggers don't really have enough knowledge on how to monetize their own blog.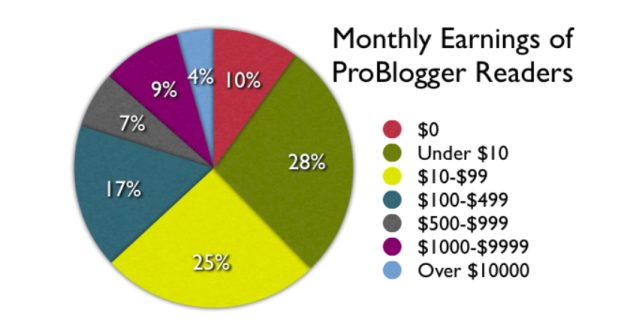 But let's get to the bright side of blogging. 24% of the Bloggers only earn $100-$999 which isn't really bad for a part-time job and if you're earning from your blog passively. And 13% of them actually earn $1000-MILLIONS of Dollars when lucky enough. Now that's what we are gonna teach you. But by that, I'm not saying that it is mere luck in order to achieve that. It even takes years of perseverance to keep your blog running and earning that much.
Wow! I'm already tired of my job! Can I quit it and Start Earning from Blogging?
Hey, wait. As I just told you, it's not EASY to make money blogging in a month. Here are some sample quotes from bloggers.
Angela from TheCouponProject once said:
"I always tell folks that I worked for 8 months on my blog before receiving a single check! You have to make sure you are committed and passionate about what you're blogging about. Focus first on quality content and bringing in traffic. And if you NEED the money…like NOW? Don't start a blog. Get a day job."
Ajaero Tony Martins post about why you can't make money blogging on Shout Me Loud:
""I often hear people say that the Rich Dad Company is an overnight success and I think it is a fact; but it took us ten years to get there." – Robert Kiyosaki"
Vladimir Gendelman of Forbes:
"New bloggers often expect immediate returns on their investments. Blogging can be costly if you choose to pay for extra marketing privileges or hire designers or writers to compensate for your inexperience. You've sunk in a major time investment to create your blog, so it only makes sense that you'd want immediate results.

But expecting immediate profitability is dangerous. Developing a strong blog takes anywhere from one to three years. Many bloggers quit because they're too impatient to build up the kind of following that will bring a return on their investment. Consider whether you have time to wait for a possible pay-off."
Alright, those are just three examples. I just want you to know that blogging is the modern method of writing books, you don't instantly earn from it. The risks are too high. That's why I made you guys read that because if you are only planning to blog for money, then STOP reading from now on. I need to make sure that you are passionate enough and you have enough time and discipline to persevere on writing and monetizing it.
Also, as you can see from their quotes, there's no shortcut in learning how to make $1000 a month blogging. If you want to earn such PASSIVE INCOME, wherein you can just relax and lay in bed earning money, then YOU MUST WORK HARD AT FIRST and learn hard on how to make $1000 per month on a blog.
Anyway, if you are one of the 10% who already has a blog, but actually earns nothing, then this is perfect for you!
How do I monetize my blog?
There are TONS of ways to monetize your blog, but I'll tell you FIVE  of the most popular and proven-to-be-effective ways to make money blogging in a month.
Method #1

–

Affiliate Marketing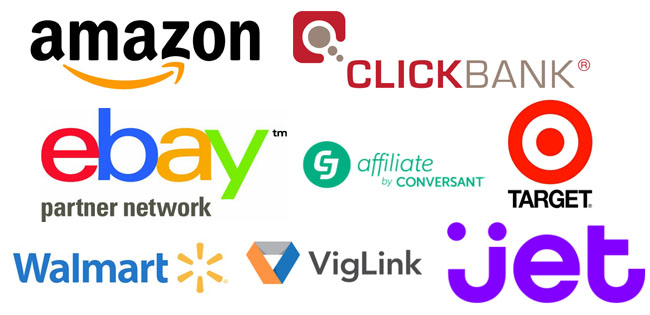 Best For: Bloggers who like reviewing products.
Combo: Method #4 Writing Reviews
Alright, Step 1 on how to make $1000 a month blogging. The images above are just some examples that offer Affiliate program. "Umm… What is affiliate marketing sir?" That is the process of advertising someone's product for them and if the owner gets a sale you will get a percentage of it and that's when you earn! On products, you get around 5-10% commission. This works best for reviews sites with detailed content about a product.
Alright, I wanna make you feel EXCITED about this! Of course I wanna inspire you on how much the most perseverant, most gutsy, and most passionate earned with this method. I'll cite 2 examples for each. First, I'm going to introduce to you, AMAZON Affiliates!
#1 Amazon Affiliates – Problogger Darren Rowse Earned $600,000 in 13 Years!
2003 to March 2016
13 Years is too long for you? Well, here's a good example of someone who earned well in 6 months!
"Awww, 13 years… can't wait that long."
Www…wait! I'll give you one more sample from Amazon Affiliates. He quickly earned $3934 in just 6 Months!
#2 Amazon Affiliates – $3934 in 6 Months!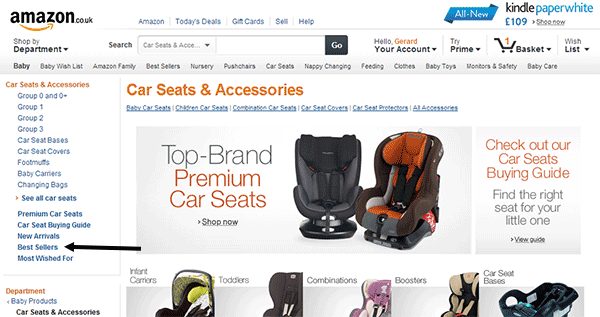 This guy, chose to give reviews about Amazon best sellers. Specifically, car seats and accessories which is a low competition niche. For the first month he had 763+ Unique Visitors then tripled it on his next month. For full details, Check how he did it here.
#3 ClickBank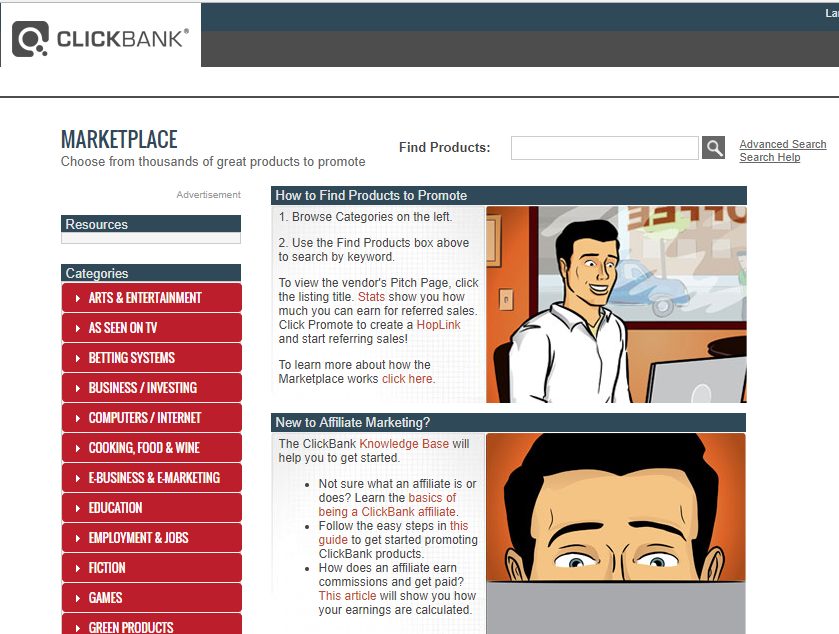 Another trustworthy website is ClickBank. But what is ClickBank? It is an affiliate site where you can select your products you want to sell on your website. It has been operating since 1998, so you can say that it is well-respected. But the question is "how do you get successful on making so much money by using ClickBank?" Let me tell you the story of Alex Berezowsky. He generated more than three million dollars by promoting more than 70 eBooks and programs in several niches and industries. For more than 10 years, he has lived 100% relying on his income online, which is something we want to happen to us too.
Alright, so those are 3 samples of successful bloggers out there who earned from Affiliate Programs. If you wanna see more, then check the link which I used as reference.
To check all other different affiliate programs, check this link.
Method #2 –
List Building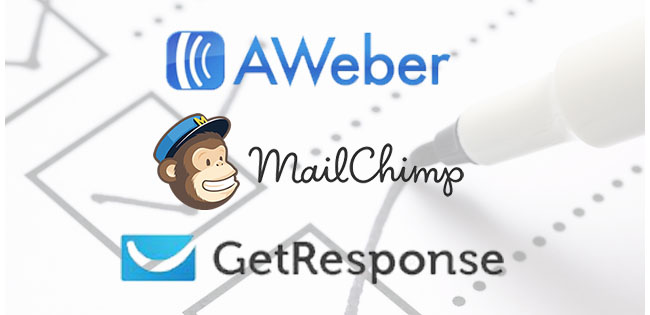 Best For: Everyone, to be honest.
Combo: Every other monetization method
Step 2 on how to make $1000 a month blogging! Alright, up next is Email Listing. Ummm… I just would like to clarify that LIST BUILDING itself is not what will make you earn, but the promotions you sell to them. It's a way to connect to your visitors with more conversion compared to simple posting it in Social Media Networking sites like Facebook wherein they could just see it if they keep visiting your page or the clicked the see first button on your page.
Again, for those who are not aware what an email list is, it is a channel that will allow you to directly and personally communicate with your audience on an ongoing basis. Your message gets delivered to the place on 91% of consumers check everyday which is on their INBOX. Not to mention, it will help you greatly in generating traffic. Why? Since every time you send an email to those who subscribed to your list, they feel like they are your VIPs especially if you send exclusive promotions and spilling some secret knowledge. They'll keep coming back to your site. Just make sure you have a link on the email you sent linking towards your website.
One example of a guy who earned $5000 a month SIMPLY through Email Listing is Brendan Mace. But first, he made 40k subscribers in a year then started sending promotions.
Another example would be Robbie Richards, an online entrepreneur who generated 4,476 subscribers in just 10 months! He created a 25 List Building Strategies which is something you should take some time to read and internalize.
Before I forget to tell you, here are the 3 suggested email autoreponders for starters! I personally love GetResponse the most but it seems like most people use aWeber. MailChimp looks nice and is free but has a bad customer support in my experience. (What do you expect from something free anyway?)  Start reading for listing strategies now to make your 1k challenge blog!
Method#3 –
AdSense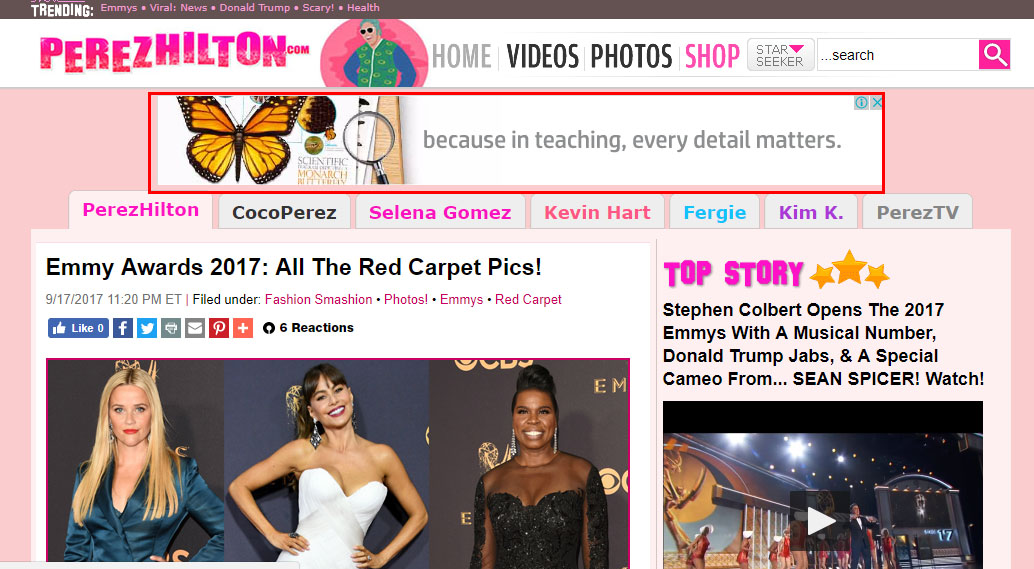 Best For: Bloggers who have more than 3000 visitors but doesn't make too much sales talk.
Combo: Everything, though some prefer to remove it if their affiliate method earns more.
I'll clarify first what I just said… This method of monetization is for people who don't like to sales talk too much. So you let Google do the sales talking for you. I personally know a lot of people who do that but still they get lots of people visiting their website. People who write general information about new stuff, travel bloggers, and most particularly, GOSSIPERS. Haha, sounds funny right? But yeah! They would be great for this method since most of them don't know how to sales talk and just want talk about anything they have in their heads.
For example? That image above. It's a gossip website that earns $ 2,378 USD EVERY DAY just through gossiping. That is according to itamal's top 10 blog earners. Know a neighbor who's good with this? Tag her in the comments section and help her earn!
Anyway, since I just mentioned travel bloggers. you can check how Jarryd Salem and Alesha Bradford, travel bloggers, earned $6000 a month just by travel blogging. Adsense did not do the best for the anyway, but at least you can check what they combined with Adsense to earn.
More information about Adsense: AdSense is currently the best known advertiser on the internet today. It is also the best way to get a good source of income for any blog or website. This method works when you put AdSense adverts on your site and every time your visitors click on it, you get a payment straight from Google to your AdSense account. These clicks can give you between a few pennies to about $10. As for this, Google does not allow you to show your earnings on the internet. If you are running a free blogger blog and have AdSense on it, then your website is working through Google. Plus, if they decide that they don't like your blog, then your business is gone within a flash.
Here are two well-known blogs with highest AdSense earnings as of 2016 according to itamal.com: 
#1 Michael Arrington- Founder of TechCrunch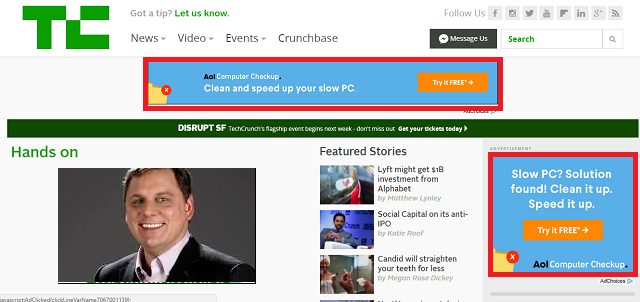 He created his famous web blog in 2005. And now it is considered as one of the most popular technology blogs in the world. Michael has a team of bloggers who regularly updates TechCrunch with technology related articles. As of 2016, his estimated monthly earning is $240,000. 
#2 Jason Calacanis- Founder of Weblogs
Ehhh… the first time I checked his site, I wondered why there were no ads. Then I realized, this is just the PING server to notify you if a website THEY OWN is updated. Meaning, they actually have SEVERAL websites full of adsense! One of them is Engadget. Check it for yourself.
More information about WeBlog: It is a ping server run by Moreover Technologies that automatically notifies subscribers when new content is posted to a website or blog. And it is free of service. It is one of the largest ping servers on the web, and processes around 4 million pings every single day. His estimated monthly income as of 2016 is $120,000. How cool is that?
So those are the just two examples of successful bloggers who made so much money with the help of AdSense. Maybe you should start creating your AdSense account now. You can also check this website for more info. You better be taking notes for this Step 3 on how to make $1000 a month blogging!
Method #4 –
Writing Reviews (Paid Reviews)
Best For: Again, people who like writing reviews.
Combo: Affiliate Marketing
I'll tell you what I love best with writing reviews about products you LOVE. A personal friend of mine actually earns $1500+ a month passively with his weed grinders review site. On its "celebration month" he earned $2000+. This website is also a combo to Affiliate Marketing. I actually help him with the website sometimes so here are some really "specific photos". (Actually this photo below is Amazon Affiliate Marketing…)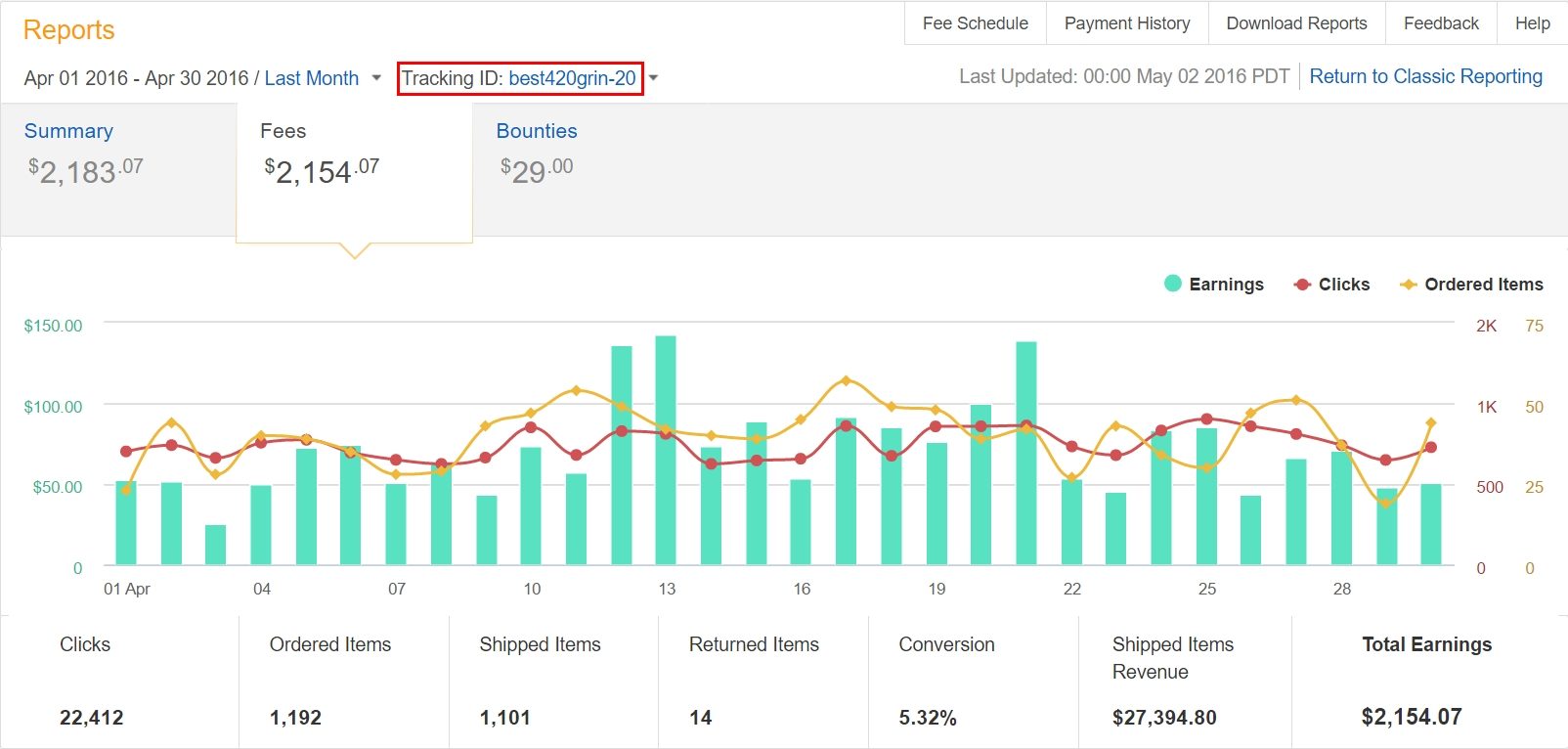 But that's not yet the most interesting part. Since if you really make reviews of things you love, people will come to you and ask you for a review and will send you the item on your address! So if you love shoes, start doing an article about it now, and once you reach page 1 of google for you certain keyword, people will start sending you emails about reviewing their item and others would even offer you money PLUS the item. I even know someone who receives items that way and sells them in real life!
Here's one example of someone who outreached: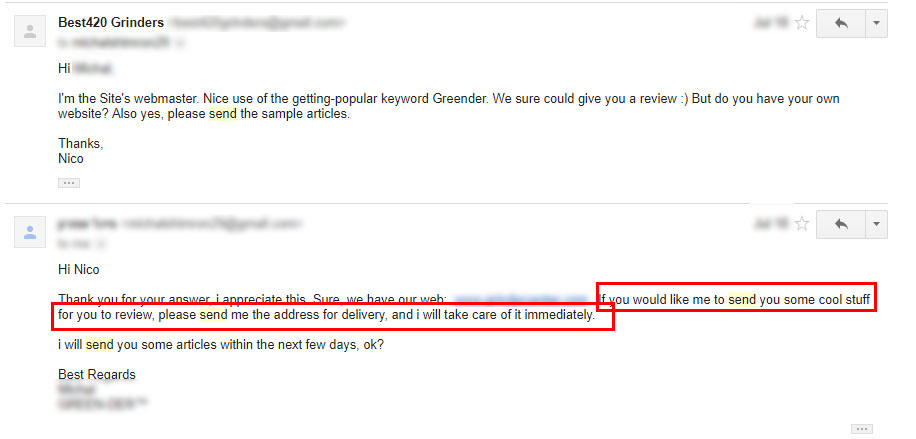 I had to blur some parts to keep the person's privacy. Some people really offer you money and that's what this monetization method is all about. But we would like to keep that amount private, since, also, the offers are not yet that high. So we earn more from affiliate marketing side. (Ironic, yeah I know…) How to make 1000 per month on a blog? Get your partners. Let them help you in your race.
Anyway, here are other successful review bloggers on the internet:
#1 Erica of Coming Up Roses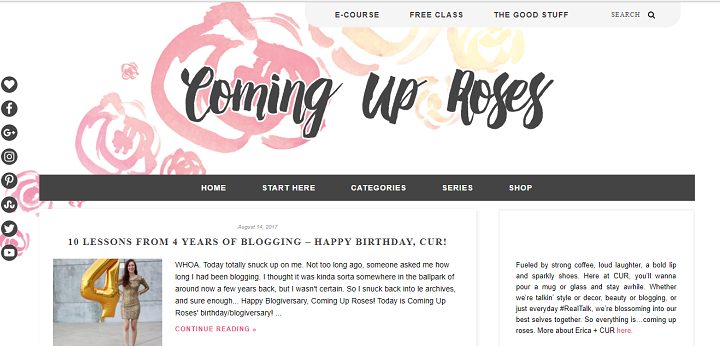 Let me ask you a question… Are you a fashionista? Or do you like bags, shoes, and clothes? If you are, then why not start blogging about it? Just like Erica who is a huge fan of fashion decided to create Coming Up Roses. She write blogs about clothes, shoes, and many more. She even writes reviews about different brands for fashion stuff. And guess what? Last time she updated her monthly income report, she made $4,728. How is that for a living? 
#2 Lindsay of Pinch Of Yum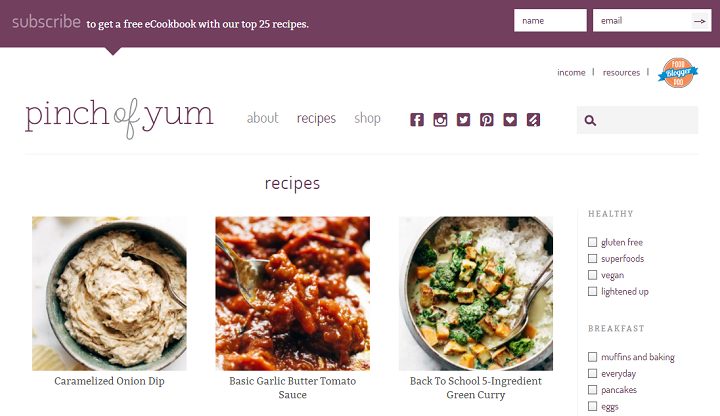 Would you believe if I tell you that this woman makes $30,000 a month by writing blogs about food? She creates recipes and write some reviews about the ingredients of her recipes. Well, maybe she doesn't really earn $30,000 a month by only writing reviews, but that is still a great help to earn such income. Do you like food as much as I like it? Hmm… Check Pinch Of Yum for mouth-watering recipes.
To learn more about these successful review bloggers and other more successful bloggers, just click here. 
Everything clear here for Step 4 on how to make $1000 a month blogging? Get going!
Method #5 –
Blog Sponsors or Direct Advertisers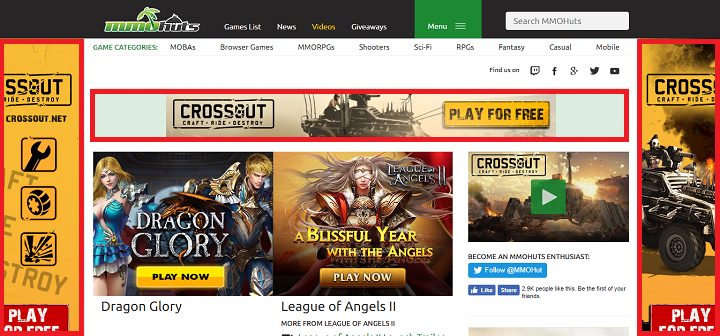 Last but definitely not the least on how to make $1000 a month blogging methods is Blog Sponsors or Direct Advertisers. If you you're quite confident that your blog has got a nice amount of traffic, then why not start offering advertising space to private advertisers on your blog? This method will get you more secured income and you can negotiate on the price. Moreover, when your blog gets a satisfactory amount of traffic, more advertisers will come. This will make your advertising space more popular that you will not need it to promote to others. Advertisers will come to you and will make you an offer. How's that?
By the way, notice those pictures enclosed in a red box? Those are examples of paid ads. The picture above is MMOHuts.com which is a review site about games. We are not so sure though how much they earn all in all. But every banner usually earns at least $800 a month, you multiply it by 3 and you get a secured $2,400 every month. If you think that's all they earn, think again. They have other means of monetization, like Youtube ads which is connected to Google AdSense.
How do I get traffic?
First and foremost, start from sharing it to your friends. Find a group that will surely love your content. Don't focus on sales first, focus more on something that people would enjoy reading. DEFINITELY NOT SPUN ARTICLES as they look so FAKE and will turn off your subscribers and loyal fans. Also, when you write, in my opinion, you don't really need to follow guides on how to write in the internet. Just TALK the way you are. People who love your personality and like your information will enjoy reading your site. For more info, here's Dan Shewan's guide to gathering traffic.
Final Thoughts: How to make $1000 a month blogging
Okaaaaay! So have you decided which method you will use on your website? Or wait…. You don't have your own website yet!?? You still do it on blabla.wordpress.com? Perfect, we know exactly what's the best for starters as this is "HostingDecisions.com" itself is obviously researching about hosts and reviewing them. Among the 4 Best Hosts that we have picked, here's the best one for you since it has 1 free domain and you can focus more on your website rather than study more about the Cpanel… Now, set off to make your 1k challenge blog!
If you have questions, feel free to ask below 🙂