InMotion hosting vs Bluehost, you will have definitely heard both names if you're active in the world of blogging or internet marketing for a while. Often, some web developers too prefer these web hosting services! Well, this case of combined preference, more often than not, creates a noticeable confusion among normal users, who might be a bit afraid to choose web hosting services. The most effective way we can follow is to compare hosting services that an internet marketer or blogger can get from InMotion hosting vs. Bluehost hosting. This also includes the newer Indian version of BlueHost India.
Thus, by contrasting what have to be contrasted, you will be able to have a clear idea about the web-hosting provider you should choose. We would be approaching both web hosts from the basic user's point of view. I hope it would be best in such a situation! So, shall we start with a comparison between InMotion vs. Bluehost?
See also:  Bluehost vs Bluehost India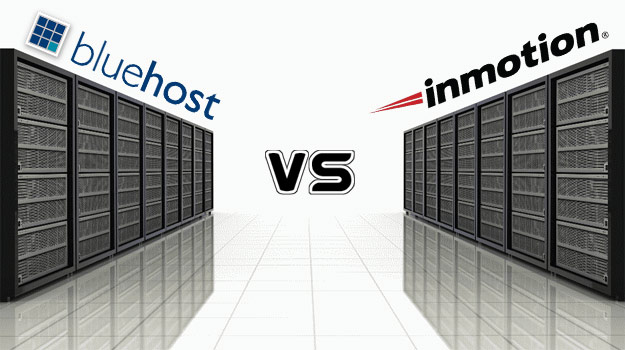 InMotion Vs. Bluehost — Introduction and History
InMotion had its inception back in 2001, and the service has been serving users for more than a decade, with a noticeable amount of satisfied customers in different parts of the globe! This web-hosting service is having its servers located in Los Angeles, Ashburn, and CA. Well, these details prove how reliable InMotion hosting is when it comes to shared hosting or VPSs.
Bluehost hosting services, which had started its journey back in 1996 — well, maybe, even before InMotion will have taken birth as an idea —, literally needs no introduction to internet marketers and bloggers out there. Being rated at a higher level, Bluehost hosting has data center in Provo, UT. So, that being said, Bluehost is reliable, indeed and you never have to be scared about losing all your data all of a sudden.
Services Offered, Plans, and Affordability
InMotion Hosting
InMotion hosting provides different kinds of web hosting services for users, giving them complete freedom when it comes to choosing. First, there is Business hosting — it's what InMotion hosting calls shared hosting — that starts from $3.49 per month, which is indeed an affordable rate when compared. And, there are Virtual Private Servers as well as Dedicated Servers you can go for when you need exclusive data and features with no one accessing any bit of it.
Also, one of the most reputed services from InMotion hosting, there is a Managed Hosting section of InMotion. Its major features included top-notch support from the experienced team and optimization for popular CMSs as well as blogging platforms like WordPress. So, InMotion hosting is a great solution when you want an all-rounder web host, in which you can upgrade as per what your requirement wants you to. Plus, there's reseller hosting as well.
Bluehost Hosting
Bluehost hosting is also an all-rounder web hosting service provider one can solely depend upon, but not that much! Shared web hosting section of Bluehost offers the most basic plan for $3.95 per month (Click here to get discount on Bluehost hosting) and it's a great deal when we consider the fact that Bluehost shared servers are proved to offer VPS-standard performance in practice. Also, there is a WordPress hosting service that is completely managed so that you won't have to be concerned about the VPS or dedicated server technicalities.
As usual, you can expect the VPS Hosting section and Dedicated Server that will be useful when it comes to projects that require state-of-the-art performance and reliability as well as the assurance that no one else intrudes into your data or resources. So, I'd say the competition is tight, but you may prefer the latter if you are attracted by the VPS-level performance of the servers.
We cannot merely compare InMotion hosting vs. Bluehost based on the amount they charge! It is because Bluehost is offering a free domain name when you purchase shared hosting from Bluehost. Therefore, you would be able to save a bit from the entire budget — $1 at least. So, there might be another temptation to choose Bluehost if you are struggling because of the tight budget to kick-start your blog or website.
InMotion Hosting vs. Bluehost Hosting: Technical Support
There's a real tie when it comes to comparing the technical support section of InMotion vs. Bluehost. Both of the providers are quite popular for the superb technical support team they have. Well, in short, you would not have to prefer one to another because you need better technical support. Thus, you can move forward with no sort of confusion in this aspect. In both, you have support through phone, email and live chat.
Enhanced Features
In this section, InMotion will hopefully get over the other. Since InMotion is a kind of more business-type one! You'll get features like Max Speed Zones, which will be helpful when it comes to serving the website quickly to customers. It has to be noted, that there are free, regular backup options and superb cPanel interface. So, we won't blame you if there's an inclination towards InMotion when it comes to this aspect.
To Conclude
So, we hope we were able to compare both InMotion vs. Bluehost. We hope we are able to help you choose the most appropriate from the duo. Which is your favorite, by the way? Just comment done below!