In this article we shall demonstrate installing phpBB using Simple Scripts.
4 Steps to Install phpBB using Simple Scripts
Make sure that you login into the BlueHost account before proceeding to the following steps below that is needed to be done to accomplish the task.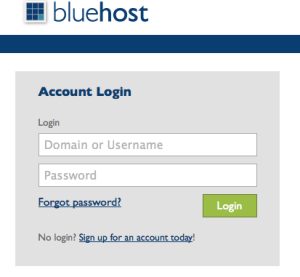 STEP 1:
First thing you need to do is to scroll down and find our Software and Services Category. Click on phpBB icon and look for the install button on the lower left panel of your screen. Once you click on the icon there will be a preference on which version of PhpBB you will install. It is best not to mess with the version especially for those who are new to phpBB. Take note of your domain, if you have several domains please specify on the drop down menu on the installation prompt.
STEP 2:
It depends on the users preference but you have the option to install phpBB on a sub folder of your own choosing. That option is located on the right hand side of the domain specification.
Under Additional Information there is an option to specify your own login information; you could simply do that by deselecting or unchecking the box.Once you uncheck the box you need to place your desired username and password. Take note that you have to confirm your password.
STEP 3:
After altering the installation process to your preference you must agree to the license agreement in order to proceed to the installation process. Please read and click the check box accordingly. You must also agree to the license agreement of Simple Scripts if you want to utilize its use to phpBB. It discusses standard rules on how to handle Simple Scripts such as contacting the development team of any simple script you will use. Please read and click the check box when done. Once you're done with your license agreement click on the install button.
STEP 4:
Simple scripts take up to a minimum of 2 minutes to install alter and configure the scripts. After the installation process phpBB will appear on your My Installs List once you log in to Simple Scripts. There you could find further assistance on using Simple Scripts.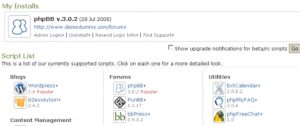 The page above should show that you've successfully installed phpBB.
To check if phpBB has been successfully installed
You could check it out by logging in to your Admin Account. Enter your Username and Password in accordance to your installation process.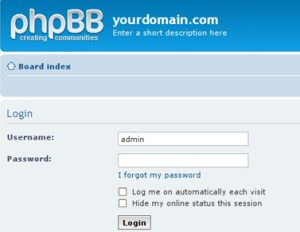 There will be a message thread. If you want to read it you can click on the icon and a text will show.

Other phpBB related functions
Installing Themes in phpBB
For you to be able to make changes to your site, you could scroll down on your main page and visit to admin panel to customize your theme.

Find the Administration Control Panel Link. Confirm your password to proceed. Now there will be an option to change forum titles and other information available on your site, to make alteration you can click on the Board Settings.

To install a formal theme click on the Styles Tab. There are many options that you could use as a theme. Each one can be uploaded to your personal site and once you select a theme it automatically shows on this list.

To install a theme click the install link.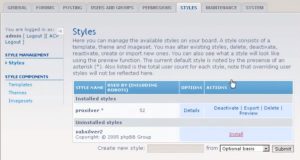 You have to ensure that the Active button is clicked on to Yes. Once you're done with editing click the Submit Button. After clicking the Theme you have selected will be available for use.
Conclusion
That should do it. You now should have an idea on Installing phpBB using Simple Scripts.