Not like the most popular web hosting providers today, JustHost did not really have a good start off. Since the time it came to life back in the year 2008, it has gradually been gaining bad reputation for having slow servers at the top of all its other issues. However, not many have known how JustHost have actually been bought by EIG which have also been buying other web hosting providers back in 2010, one is the Bluehost. The good thing is how JustHost have slowly gained the trust of the clients under new management. Currently, JustHost have three web hosting plans and in this particular article, all the plans will be tackled: JustHost Basic, Plus, and Prime compared.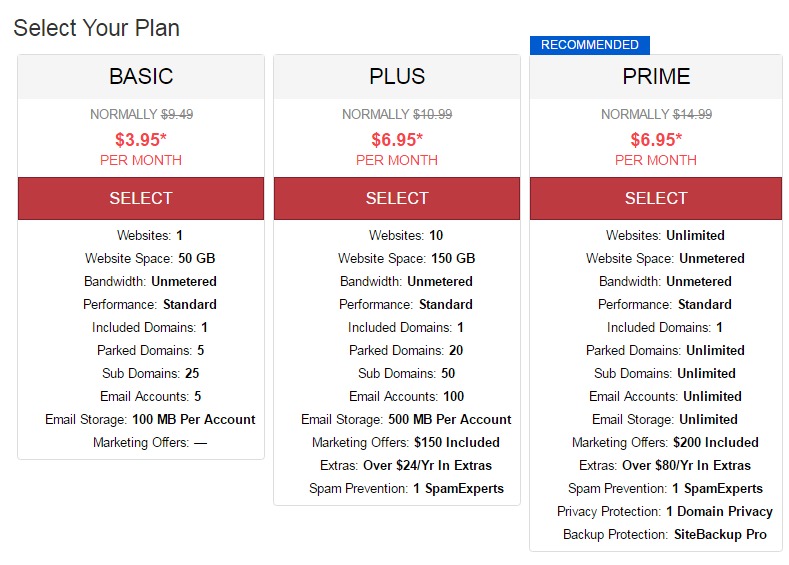 Basic
If you may have noticed, other web hosting providers have a basic or starter plan as well that consist of almost the same features. They would almost always differ with the value that they offer. Currently at$3.95 from $9.49 original rate, you will be able to avail JustHost Basic plan which is a lot cheaper compared to other web hosting providers. With this particular plan, you will be able to have just one website and a 50 GB which is actually more than enough for one website. It also has an unmetered bandwidth with a standard performance. As mentioned you are allowed to have one website with a domain as well. Aside from that, it also has 5 parked domains and 25 sub domains.
One of the inclusions in this package that you may not somehow like is having 100MB limit per email account. You may also actually activate backups nightly if you want. You can do this by adding it during signing-up phase which you can avail at a certain price as well.
Plus
For a few bucks, the JustHost Plus plan offers really great deal compared to the basic plan. Though bought offers the same features, as mentioned above, they will definitely differ with the value. This particular plan is being offered at $4.5 from its normal price at $9.99. If the basic plan offers one website free for you to navigate, the Plus plan allows you to have ten websites. Instead of having 50 GB website space, which is actually more than enough for a single website, this certain plan gives you 150 GB. It also have an unmetered bandwidth under a standard performance as well. The included domain is only one as well but with 20 parked domains and 50 sub domains. As for the emails, instead of 5 accounts, you may be able to have 100 with 500 MB allotted  storage per account.
The features that makes the JustHost Plus better than the Basic plan is the marking offer of $150 inclusion. It also have over $24 per year in extras and a SpamExperts as well.
Prime
Out of the three JustHost plans, Prime plan is the most recommended. Though you may find this expensive, it will definitely be worth it. The features are ecstatic, however, not as brilliant as offered by most of the popular web host providers today such as BlueHost. This particular  plan  is being offered at $9.95 per month from their normal rate of $19.99. All the features from both the basic and plus plans are actually inherited by the prime plan. However, instead of limited websites, in this certain plan, you will be able to have unlimited websites. Not just that, you can also have an unlimited website space, bandwidth, parked domains, sub domains, email accounts and storage. However it only also includes a single domain just the Basic and Plus plans all  operated in a standard performance.
The additional feature for the Prime plan of JustHost is the marketing offer inclusion of up to $200. The extra could go over up to $80 per year as well. However, the same with Plus plan, it also have 1 spam prevention from SpamExperts. Exclusive feature for the Prime plan is having one domain privacy protection and a backup protection with SiteBackup Pro.
JustHost Basic, Plus, and Prime Compared: Final Thoughts
That's it! So, with JustHost basic, plus, and prime compared, which one is the right one for you? All of the plans from JustHost are actually made considering  the clients different level of needs. There are individuals who are up for having a single website only. There are also those groups that would opt to have 10 websites for their company instead. Or yet, they would need  a bigger storage space. So, depending on the features that you need, be it with JustHost basic, plus, and prime compared, you will actually know which plan is the right one for you.
Individual
As mentioned, if you only need one website to run and will probably only stay as a single website in the future still, then we suggest for you to get the Basic plan. You do not need to choose the Plus and Prime plans if you are only limited to single website. This way, you will save the features that you will not be able to use from those two plans. If you avail basic plan, you will surely utilize all the features included in it.
Business
Now if you are in the e-commerce field and would want to have large website space which is restricted in the lower plans, then opt for the Plus plan or even better if you could avail the Prime one. Though Prime plan is a lot expensive than the Basic and Plus plans, the price is worth with what features it could offer to you. It may not have the best features out there in the industry, for the price you will pay, it will be worth it.
In addition, one important thing that you should also consider is the future. Think if in the future you will expand as such and would need a much bigger storage space. To keep you from this worry in the future, you may want to just directly avail the best plan. Not just the plan with the most features, but with the quality as well. Also, do not just focus on the needs that you have today. But instead, think further and look for the possibility in the future to prevent the hassle.