The world wide web has been constantly growing. When it comes to offering web hosting services, one of the great providers in the industry today is JustHost. Ever since the foundation of their business, it has been offering plans that are not only affordable, but equipped with great features as well. They have variety of plans that are not only for those who are blog enthusiasts, but as well as those individuals and startups businesses, be it small or big. In this particular article, we will walk you through JustHost pros and cons to give you what you have to know about JustHost.
If you have already been reading JustHost reviews from various sites, you may already have the idea of what this certain web hosting provider can offer. They have feature-rich plans that are being offered at such amazingly low price. So, what do you have to know? Before we go on with the JustHost pros and cons, let us know the current JustHost plans and offers first. Continue reading down below.
JustHost Plans and Offers
Just like other web hosting providers, JustHost have numerous selection of plans to choose from. They have different packages from shared, VPS, to dedicated hosting. Here are their four key web hosting plans that offers different features: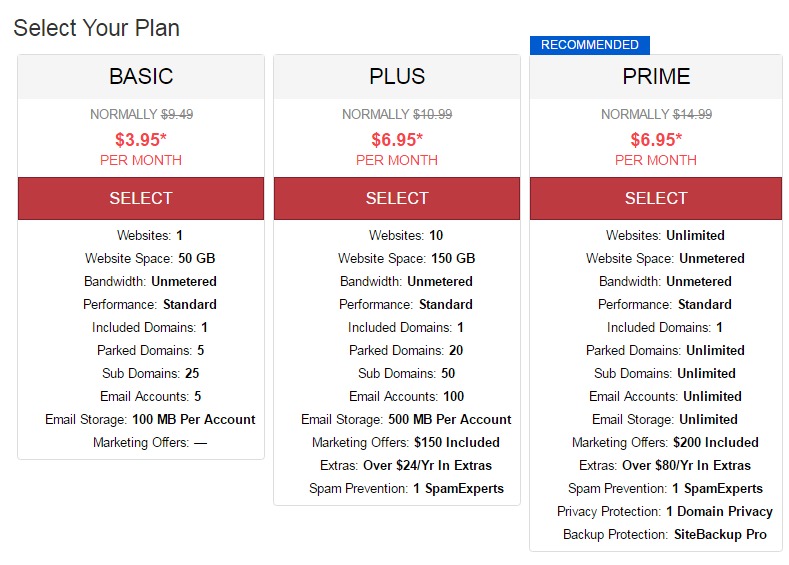 Basic
If you are an individual who only needs a single domain, then you might want to try JustHost basic plan. What comes with this plan? Aside from a free domain, you will also get to have 50 GB storage. The network bandwidth is unmetered. In this particular plan, you will have 1 website, 5 parked domains, and as well as 25 sub domains. You will also be able to have 5 email accounts and a 100 MB email storage for each of the 5 accounts. Though this is already a good plan for starters, adding extra money for Plus plan is a better plan.
Plus
If the JustHost's basic plan is too plain for you, then how about trying their plus plan. This particular plan is such a crowd pleaser. It is actually one of the most popular plan that JustHost offers. It is also only a few bucks higher than the basic which makes it more likable for its features. If basic plan only offers 1 website, this plan can hold up to 10 websites. Even the storage is made better from 50 GB to 150 GB. It has the same unmetered network bandwidth and still have a 1 domain, but with 20 parked domains and as well as 50 sub domains. You will also get to hold 100 email accounts with 500 MB storage each accounts. Aside from that, it has $150 worth additional marking offers and spam prevention as well. This is why it is one of the crows favorite.
Prime
Now, in the long run, you might have outgrown your plus or even lower plan, the next plan that you may want to consider availing  is the Prime plan. It includes unlimited websites, unlimited storage, and unmetered bandwidth as well. Still 1 domain is included but not with an unlimited parked domains and as well as sub domains. The email accounts are also unlimited with unlimited storage as well. The marketing offers is up to $200. As mentioned, the plus plan has a spam prevention. Well, prime also have that feature but with privacy protection and as well as site backup.
Pro
After done checking the three other JustHost plan packages, if you have still not found the right plan for you, then try the Pro plan. Among the other three JustHost web hosting plans, the pro plan is considered as the most expensive one. It inherits all the features that are included from the Standard plan down to the Prime. The only difference with Pro to Prime is actually hosting your website on a lot better server than you. With this, you are promised to get more out of the features of the certain plan as you will have a much higher performance server for your website.
JustHost Pros and Cons
Ever since going live, the JustHost has gradually been making noise into the world wide web. Though, you might have already read before hand how this particular web host provider does not really have the best features out there. But it still has its own perks given the situation. What could be the features that separates JustHost from its competitors? Are there any drawbacks that keeps it far from the other web hosting providers? Without further ado, here are the benefits and fallbacks that most will experience when availing JustHost, or simply Justhost Pros and Cons:
Pros
With the number of web host providers coming out in the industry, one factor that attract clients or customers is the affordability, one of the most discussed topic when it comes to JustHost pros and cons, in which the JustHost web host provider have. Aside from affordability, it offer plans that are equipped with a lot of features. It has helpful resources and support as well.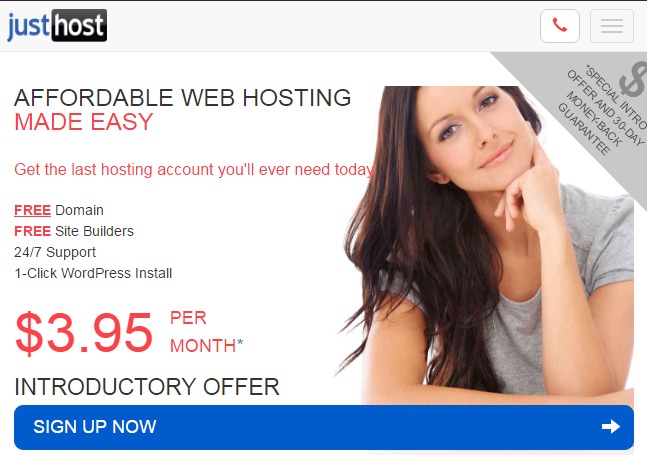 Aside from the affordability, what makes a company stands out is having useful and very cool features that are offered in their budget-friendly plans which JustHost have. For instance, they offer 50 GB storage for their basic plan. Other than that, it has unlimited bandwidth as well, up to 100 email accounts, and a year free domain registration. You are already insured against any possible problem that may occur as their plan includes a site backup service. In addition, each of the plans that JustHost offers actually builds on that base and offers more exciting features on top of those mentioned bundles.
The JustHost web host provider as well providers support for the best of their customers. They even have their own YouTube channel that contains a lot of helpful tutorial videos for those who are not familiar with how to navigate. Each of the videos available on their channel offers possible solution for their specific problem. With this, before you consult their customer support, you may just want to check their YouTube channel first to look for the same issue that they may have already answered from their series of videos.
Cons
You may have noticed the number of benefits and advantages that we have tackled about JustHost, those are just half of the JustHost pros and cons. Of course, this certain web host provider is not perfect as the others, so, we shall go into details as to their drawbacks as well.
Lesser Uptime
One fallback of the JustHost is having less uptime. All of the web host provider can not really guarantee a perfect uptime for you website. Though their servers could still be strong that you would not have to deal with your website not functioning.
Given that case, it may be a problem to those that are handling websites from big businesses. JustHost would not be able to guarantee your business of having 99.9% uptime. The security to be provided for your business cannot be handled by JustHost. However, it does not really mean that your particular website will be down or crashing all the time. The JustHost web host provider still has a high uptime, it's just not the expected uptime for the same industry.
Below Average Quality Features
Less uptime is just one of the drawback, the other one of having low quality features. It has been mentioned over and over again how each plans from JustHost really are full of good offers. However, the tools and features that are included in their packages are not really the best in the market. There are other web hosting providers that really does offer the best functioning features and as well as the most effective ones.
However, the down line for these kind of web hosting providers is their price. They tend to have higher rates and are  very much expensive compared to JustHost. In which case, the JustHost really did manage to have good balance with affordability and providing clients a lot of tools that they can utilize.
Final Thoughts
That's it! If somehow the JustHost web host provider somehow got your attention, then you may want to check out their special offers from their very own website. This certain company really does know how to attract customers from their introductory and as well as their signup offers. The good thing about JustHost is being able to consider the clients pocket. In this certain web host provider, you can really save quite a lot of money because of their special offers. But, the good thing that you should do first before jumping into decision is not  settling for a single review but reading a lot before you finally conclude.
When it comes to checking if the web host is really a good one for you, the best that you should do is consider the opinions of the current and as well as the past costumers, ask for JustHost pros and cons. Once you have checked and is satisfied with what you have discovered or consolidated, then you might even really find JustHost as the perfect web hosting provider for you.