Of course, you have heard about different kinds of web-hosting services. These include the most-popular Shared Hosting and Virtual Private Server hosting for those who need additional security and customization. While Dedicated Servers are for those who need complete control and all features of a fully-fledged server, Reseller Hosting, etc. Nevertheless, it would not have been so long since you started hearing myths about SEO Hosting. Which at least some of the professionals may be interested in. Now, however, we have a long-debated topic here — SEO myths to leave behind in 2018.
Moreover, we do not have any kind of belief in myths that are used to exploit users and make them spend more. Hence, we decided to give you an article that debunks the common SEO myths and its advantages. In case you did not know, we will start with an introduction to what web hosting companies call SEO Hosting.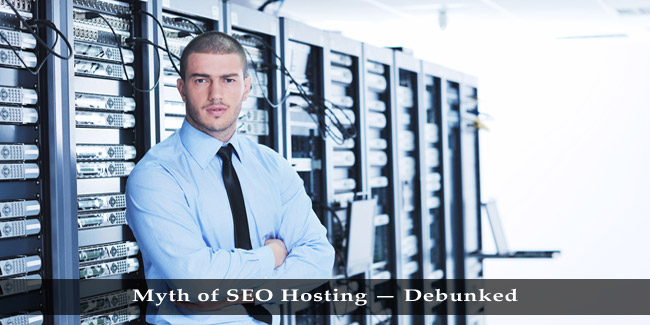 Things to Know about SEO Hosting
SEO Hosting is a specific kind of web-hosting package, where you have separate IP addresses for each of your sites or blogs! Despite the fact that the C Class may have some other websites hosted in it, your site or blog can be accessed through a particular IP address. So, when you host your website or blog in an SEO Hosting package from the web host, the site will be the only one to be hosted in the IP address.
Suppose you have hosted five different sites in SEO Hosting web server of yours. All these five sites will have different IP addresses, using which you can access them. Therefore, when you need a single dashboard to manage different sites with different IP addresses SEO Hosting may make sense. Thus saving time to a notable extent. However, there are more SEO ranking myths (hosting) than you expect and we will be debunking those top SEO myths here.
Why People Go For SEO Hosting, By The Way
I did mention that one of the features that make SEO Hosting different from others is the availability of dedicated IP addresses. Most web-based professionals have a notion that having a dedicated IP address is helpful. That is when it comes to ranking in Google search engine result pages.
They also believe that the other sites that may be hosted in an IP address would be harmful to the reputation of their websites or blogs. As far as good organic traffic is a part of the concern. There is also a notion that SEO Hosting gives more stability and credibility when it comes to storing files for your websites or blogs. Altogether, newbie professionals find more than enough reasons to depend upon these SEO hosting.
These common SEO ranking myths are definitely the SEO myths to leave behind in 2018. For more top SEO myths debunking, keep reading.
SEO Myths to Leave Behind in 2018
They were commenting on the misconception that having multiple sites hosted on the same IP address will in some way affect the PageRanks of those sites. There is no PageRank difference whatsoever between these two cases (virtual hosting vs. a dedicated IP).
The statement shown above is from Matt Cutts. Matt Cutts is popular as the head of Web Spam Team at Google. An authentic statement like the one possibly debunks the myth that having an SEO Hosting would increase search engine visibility of the website of your blog or will increase organic traffic that flows. Simply put, Google algorithm doesn't actually care whether you have a dedicated IP or not. That is as long as your content is good.
And, for that matter, there is no possible relation between uptime or speed of your server and the IP address. If you have a good, reliable and trustworthy web-hosting plan, you do not have to go for SEO Hosting, behold.
Reasons for its Persistence
You might be wondering why SEO myths do persist even after all these revelations and facts! It is because of the fact that web-hosting companies have been playing well. In order to create and sustain a notion that dedicated IP address is some kind of an addition as far as security and performance of the site.
Also, they have been, in a hidden mode, a bit more interested in stating that SEO Hosting would be good to ensure top places in Google SERPS. In other words, the majority of web hosting companies want us to believe that a bad neighborhood — caused by a lack of dedicated IP — is a threat to the success of your site or blog. We're debunking these SEO myths to leave behind in 2018 for you to efficiently make use of your cash, time, and effort.
I hope these things prove why the myth of SEO hosting has been existing for a while as well as why it is necessary debunk and get rid of that myth. Do you know any more SEO myths to leave behind in 2018? Drop your comments below!
Now that you know the top SEO myths 2018, learn more facts and truths about SEO: