It is an undoubted fact that creating a website has become an ultra-simple task. Especially following the dawn of some of the revolutionary web-based technologies, intuitive Content Management Systems, and easy-to-use website builders out there in World Wide Web. Nevertheless, the abundance of these resources has created a lot of confusion when you need simple, yet affordable resources for creating a website or blog.
In this post, we'll give you a list of resources that make great sense when you are seeking affordability. Also, an easy-to-use interface at the same time. You can be confident when purchasing these resources because we have taken users' opinion as well as 'image' of these products/services before preparing this list. So, shall we move on to the list?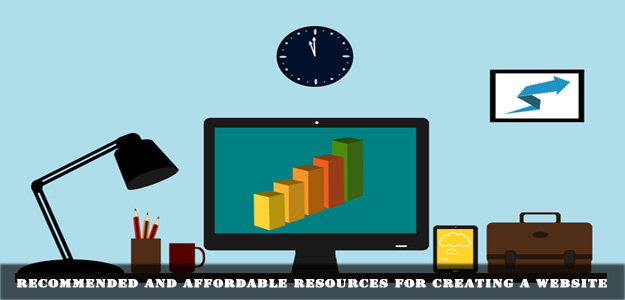 Web Hosting from Hostt
Well, as you may know, an effective web-hosting solution is an essential factor for every website or blog. So, when you have confirmed your decision in creating a website or blog, the first thing you should consider purchasing is web-hosting services from a reliable firm. However, if you would like to engage in a give-and-take policy, hosting that you can get from Hostt.com is completely free — wait before you get thrilled. Here are the details. You will have to purchase a domain name from Hostt.com for a period of three years. Currently, it costs $13.95 a year to purchase a domain name Hostt.com for one year. So, it will costs you $41.85 when you purchase the domain name for three years. Although it might sound a bit expensive, you will be relieved to hear that you get free, unlimited, and yet reliable web hosting for three full years!
Unlike most free hosting services, Hostt offers top-notch web hosting with a bunch of impressive features. Those features include 24×7 support from the dedicated team, full root access, free domain transfer, free file transfer, script to install popular CMSs, a customized version of cPanel to enhance usability, $100 credits in Google AdWords and deep level of integration with various web-based platforms. So, if you will love paying just $41.85 for a domain name and in turn skipping a payment of around $180 (average charge of $5/month for hosting), it makes good sense to try Hostt for your web hosting needs.
Creating a Website with Website Builder from IM Creator
Despite the fact that WordPress is a widely-used solution in creating a website or blog, it may fail to be an instant way to publish websites.  You have to first install WordPress in your server and follow several steps. Just as other website builders out there, you can make use of pre-built templates to power on your website or blog. Since IM Creator does offer complete customizability, you will be able to choose a template and then make necessary changes to suit your convenience and requirement. You will be able to integrate an existing domain name or a new domain when you like to publish a website through IM Creator; plus, you have nothing to fear as web-hosting is already integrated with IM Creator service.
Talking of this integrated hosting feature, you can get unlimited disk space, bandwidth as well as its expanding collection of website templates. In addition, IM Creator offers a Pro subscription version, where you get a solution to bring white labeled sites for your clients. So, considering these as a whole, IM Creator is a great choice if you want interesting in creating a website in just a few clicks.
E-commerce from Pimwi
Undoubtedly, eCommerce is the new world's way of buying things! And, if you want to be a part of that change, pursue a solution that lets your customers purchase your products or services online. Pimwi is a great option for you if you would like to include eCommerce when creating a website! Once you have decided to go with Pimwi, you can get rid of the actually-hassle-rich process of integrating a solution to process payments from your user and deliver the product or service.
To your respite, Pimwi offers a UI that is able to let you add elements of your site in form of cards — such as gallery image cards, Google Map cards etc along with product cards. These cards have customization options and you will be able to change them according to your requirement. Talking about eCommerce cards, you can assign a certain product or service to a card and set up the eCommerce way of buying. When a user clicks on the purchase button and processes the payment through PayPal, you will receive the processed amount in your PayPal account — simple as that.
In addition, you can find a variety of cards in Pimwi dashboard, though the number depends upon the plan you choose from the list. However, the basic fee to have this awesome website builder is just $25 per month and you can just forget about charges for both web hosting and domain names.
Email Marketing from MailChimp
Even after the revolutionary journey of social media and its influence among internet users, Email Marketing has not lost its popularity among web-based professionals, including bloggers, web developers, and others. It is so because most of the users consider email to be important and your marketing emails will hit the real place if you prepare them in an attractive way. However, you need a service like MailChimp to make sure that your emails reach the right place, without any fail!
So, if you have a list of emails, including those of your customers or followers, MailChimp opens up a way to reach all of them in a single click. You will have to set up your newsletter or other kinds of email and hit the 'Send' button, and all your emails will be there at your customers' inbox — doesn't it sound simple? And the best part is that MailChimp offers a free plan, in which you can have up to 2000 subscribers and send up to 12000 emails each month. We hope this will be enough for a typical web-based professional. Plus, MailChimp offers affordable plans for each of you and you can choose according to your budget.  So, do be sure to add an email service, like MailChimp, when creating a website or blog.
Well, what do you think about these services? Don't you think they are, at the same time, affordable and useful? Or, do you have any other recommendations? In both cases, do let us know through your comments.