BigRock.in is known as the best domain name register in India. Not just only in India but it also serves all over the world. BigRock.in offer all types of domain name registration for lesser price. Once in a while, they offer .COM domain for only Rs.99/year. Now you can say how awesome BigRock.in is. Not only in domains but they also provide all types of web hosting. It includes Windows hosting, Linux hosting etc. In this tutorial, you will learn how to register domain name at BigRock.in.

Why choose BigRock.in?
In choosing a domain register, questions arise on why we should choose BigRock.in. It appears that a lot of people are wondering why to choose BigRock.in. So here are the answers to your question:
BigRock.in is an Indian website. You can recognise it as an Indian website when you see the URL of BigRock web hosting that ends with .in. As it is an Indian company, if you have any problem of complaints regarding your domain name you can communicate with the Customer care representative as its TOLL FREE to inform them. If you are planning to buy a server at BigRock.in, they can provide you with a full customer support.
BigRock.in offers domain names at its cheapest rates as compare to other hosting providers in India. It is also the number one most reliable hosting service in India. As well as membership business for there users to make money. It has a referring system for every domain name. You will have a one year free renewal and you will get discounts for buying any service using your domain name.
So let us start the tutorial on domain name registration for BigRock.in:
How to Register Domain Name at BigRock.in in 3 Easy Steps
The first step is to open the website of BigRock.in and to do so click the link above.
Step 2:  Get a domain name

In the BigRock.in website front page, you can see a search box saying Enter your Domain Name. Search for the domain name you want to be registered. When you input the domain name, you can now select the extension such as .COM, .NET, .IN etc. and then click Go button.
After you click the Go button, you can now see all the lists domain name. For example, I have searched for sample. See the results in the image below.

Step 3:  Payment
In the result page, you can see that there are many domain names available depending on what domain name you have searched. You have to choose any one of these domain names and click on ADD as shown in image above.
I have selected sample.company from the list of domains. When you click on ADD, that domain name will be added to your BigRock.in accounts cart for that you need to create an account at BigRock.in. After creating an account at BigRock.in, a dialog box at the right side will be displayed. Click on Checkout.
Now that it has been added to your shopping cart, you have to pay BigRock.in with the amount charged. In the example below, you can see they have billed me Rs.299. You can also get discounts on the domain name you register when you enter a coupon code. You can also get a 10% off on your domain name registration if you share that on Facebook and Twitter.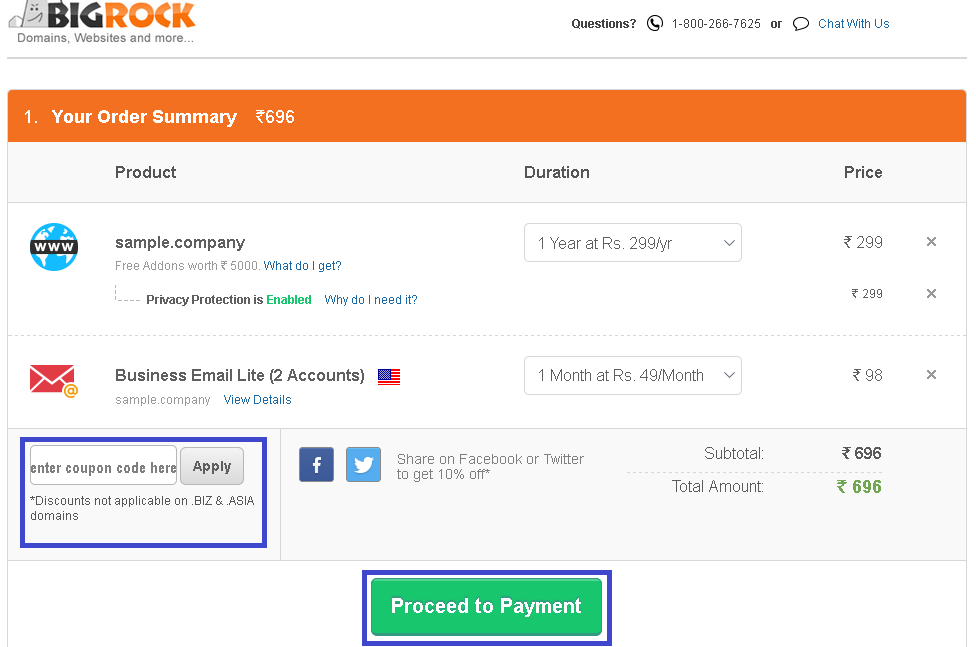 Lastly, click on Proceed to Payment.
Final Thoughts: Register Domain Name at BigRock.in
Do you find our tutorial on how to register domain name at BigRock.in? Let us know and drop your comments and questions below! Learn more about BigRock web hosting and get your BigRock coupon code!