When you say about web hosting to a newbie blogger, internet marketer, web developer or other professionals, you can be sure of the fact that they will HEAR it as Shared Web Hosting. It has been so in past years and will be the same in the future. Have you ever thought about reasons behind extreme popularity of shared web hosting? Most probably, it is because of the fact that shared web hosting plans, let it be from HostGator, Bluehost or InMotion will be offering something that other hosting categories, such as Virtual Private Servers, dedicated servers, cloud servers, etc, do not. However, it is not good to say that shared web hosting is the best, because shared hosting servers have some serious disadvantages as well, and as a dedicated professional, you should understand both sides of the coin before you pay money for a brand-new shared hosting server.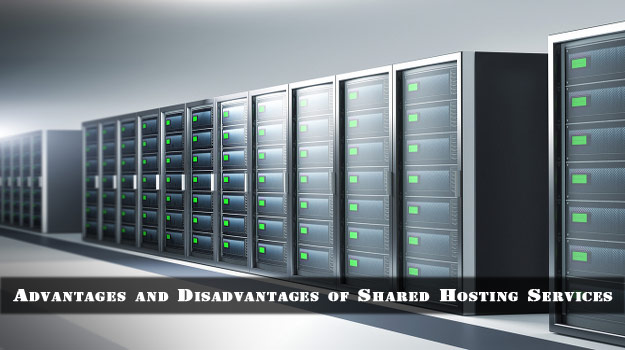 In this post, we will have a glimpse on noticeable advantages and disadvantages of shared web hosting, with focus on practical aspect. We hope this will be, in some ways, useful for those who are still confused about choosing shared web hosting. Once you have checked out its advantages and disadvantages but still determined that these disadvantages will not affect journey of your site, blog or web app, you can just go with your favorite, shared hosting plan. First of all, however, we'll have a look on notable advantages of shared hosting.
Advantages of Shared Hosting Services
Affordable Pricing, Plans
When compared to those HUGE pricing plans of dedicated web servers, VPSs and other sorts of web hosting plans, it is a good choice to go with shared web hosting, especially when you do not have hundreds or thousands of dollars to spend on it. In such a comparison, we can also find that shared web hosting products cost less than quarter of typical dedicated servers. Also, shared hosting providers offer different hosting packages, which will suit different kinds of requirements. Thus, if you are a newbie professional who is a bit hesitant to spend huge amount in purchasing web hosting products, you can undoubtedly go with shared web hosting.
When compared to the code-based control section of dedicated web servers, it is a matter of a few seconds to use a shared web-hosting server. Most of popular hosting providers use control panels such as cPanel to let users manage their servers. In addition, they offer some web-based scripts that would be useful in installing CMSs and other web-based platforms in your server.
Disadvantages of Shared Hosting Services
The so-called Unlimited-ness
If you have a look on shared web hosting plan from different web hosting companies, you can understand that major ones among those offer things, such as bandwidth, disk space etc, under unlimited label. Nonetheless, you'll be able to understand the behavior of this particular label once you start really using your server. So, suppose your server is having an extremely huge amount of traffic one day, then we can assure you that your shared web server will have some serious issues in performance and stability. So, once your blog or the website have moved from the 'new' label and have acquired enough popularity to attract readers, shared web hosting would not be enough for you, mainly due to its lack of capability. In this case you can upgrade to VPS, Dedicated or Shared Pro plans.
Security — Well, it's Somewhat There
It does not matter how big or small your blog is, but security is an important factor that determines future of the site or blog of yours. However, it will be quite disappointing when you check out security section of shared web hosting. As you might know, in a shared web server, there will be hundreds/thousands of websites, hosted by various people. So it means that there are high chances for security vulnerabilities. If you have a website that handles confidential and sensitive information, it is not a good decision to go with shared web hosting services. Indeed, this is one noticeable disadvantage of shared hosting services, especially in a world where people give foremost importance to privacy.
Limited OR NO Customizability
In various situations, you might have to customize your web server to suit your convenience. However, when it does come to the case of shared web hosting server, you can completely forget about customization or its application. In a comparison with dedicated servers and VPSs, shared hosting is the least option as far as you are concerned about its ability to be customized for different purposes.
Altogether, shared web hosting is an optimum solution if you have a website / blog that does receive medium traffic and uses moderate server resources. Yet, once it gets into the path of growth, you will have to be afraid of issues, we mentioned above, such as limitation of customizability, security etc.