With an extensive internet market, I am sure we all know the importance of a brilliant web host, but then, there are always chances that you are stuck with a wrong one! How to figure out if you are? Here are the 6 easiest and most visible symptoms that will tell you when it's your turn to leave for the better. The 6 signs you need a new web host!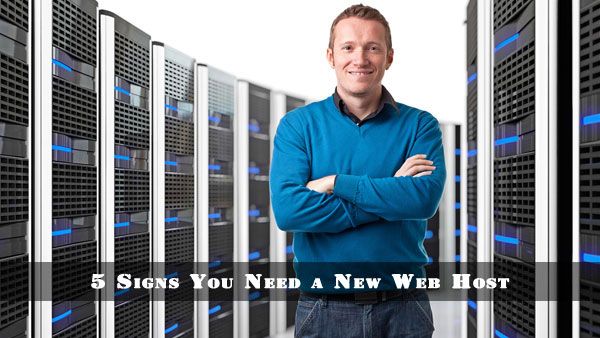 #1 You don't have a web host to host your website in the first place
Common questions in the internet are "Do I need web hosting for my website?", "Do I need web hosting for WordPress?" Yes, you need it. Because otherwise, if you host it on your own computer then if you shut down your computer, your web site shuts down too, making people think your website is dead and would no longer come back. To answer your question "What is a web host and why do you need one?", here:
#2 Your Site Breaks Easier Than Your Relationships
This is like the morning alarm when you see that your site is going down more often, at a random time and feels like always. Probably you just need to bid the final goodbye to your old host and turn to a new one. Only if you do not want to lose business in the peak hours and who wants to visit a site that more often than not redirects to 404! Experienced the first two symptoms? Well, this is only the second of the signs you need a new web host.
#3 You are Always in Queue when Trying to Resolve Your Website Issues
Why pay a host that takes ages to remediate your issues and reply your queries. A help not in time is just as bad as no help! Switch to a new host that values your time and respects your zeal for providing uninterrupted services.
#4 Your Host is as Transparent as Wood, You Never Know What's Behind the Curtains!
Our #4 in the signs you need a new web host is just pure evil. Imagine being the admin of a website and still being completely clueless of what is going wrong with your own site and then paying for it! Ruthless right? Why not switch to a new host that doesn't mind being transparent about what's wrong and what the current update on the resolution is.
#5 Upgrading the Hosting Plan is 'The' One Solution for all Your Problems
No matter what is the issue that you face, the one and only solution lies with DR. UPGRADE! When with every single issue raised with your web host you get the same story of a better plan in their business card that suits your need, you know you are in a vicious circle! Change your host and change it now before you pay for the most expensive plan in the list and get the same service that a new web host can provide you in half the price or maybe even less than that!
#6 You Pay Every time When They Say "We Are Happy To Help"
There is always a charge to fix the issues, issues that should not have occurred in the very first place. You end up paying for every assistance you get from your host, each time. When your host is charging for fulfilling his basic responsibilities, those minor MySQL issues, or the unlocking of your domain, you know you at the wrong place paying cost of wine for a glass of dirty water.
Do I need web hosting for my website? Yes. But you need not to pay that much for the fundamentals!
So is it the time to finally break-up with your old web host?
If you find any one of the signs you need a new web host, you know it's rocky and there is no time for change better than "now"!
A not so good service provider is never bad to loose, while people tend to ignore the obvious signs of bad service and get stuck with an average or below average host, I still feel it's better to take the temporary pain of switching hosts and reap the wonderful results later. Remember the good old saying in school: "WHAT YOU SOW, SO YOU REAP"!
Do I need web hosting for WordPress? Well, if you're into WordPress or have been sort of convinced that it's  what you need, here's our advice for you:
In case you find some major signs are not making to the list of top six, leave your comments below! But in case you have been experienced half or even more than half of the signs you need a new web host… If you're convinced that you badly need a new web host now, we suggest this list you can choose from: