Whether you are a professional blogger or webmaster, you will come across a variety of web hosting providers.  It is essential to choose an effective web host. A hosting company that suits your preferences and requirements. However, it is not that often you come across a well-crafted web host. One of those web hosting companies is SiteGround. They got their start in 2003, and have a superb reputation among web-based professionals. Also, they offer quality-crafted web hosting needs for all webmasters or bloggers. Let us dig in a little more in our SiteGround review to provide you with some additional information. In this review, we will provide a detailed overview of the various aspects of SiteGround as a web hosting solution for your web hosting needs. We also included a concise SiteGround speed review.
Related Reading:  SiteGround Coupon Codes
SiteGround Review
There is another thing we should mention before we move on to the web hosting plans of SiteGround. SiteGround isn't just limited to a typical web hosting firm. But they also offer a variety of related services as well. For instance, you can choose a WordPress them from their WordPress-theme sector. This will help you to get the best theme for your WordPress blog or website. Well, let's take a close look at the features and plans offered by SiteGround.
What SiteGround Offers & Plans
To start with, there are four different web hosting packages available at the base level. There is also Shared Hosting, which is suitable for the beginner user. This is currently offered at a very affordable rate of only $3.95 a month (a 60% discount off of their regular price). As we move on to the Cloud Hosting sector, we have a basic plan available at $60, which is relatively affordable for the services that are included. They also have different packages available for Dedicated Web Hosting, as well as Reseller Hosting. Obviously, the best plan of choice is totally dependent on your individual web hosting needs for your website or blog. Below is some additional information about the shared hosting plans offered by SiteGround.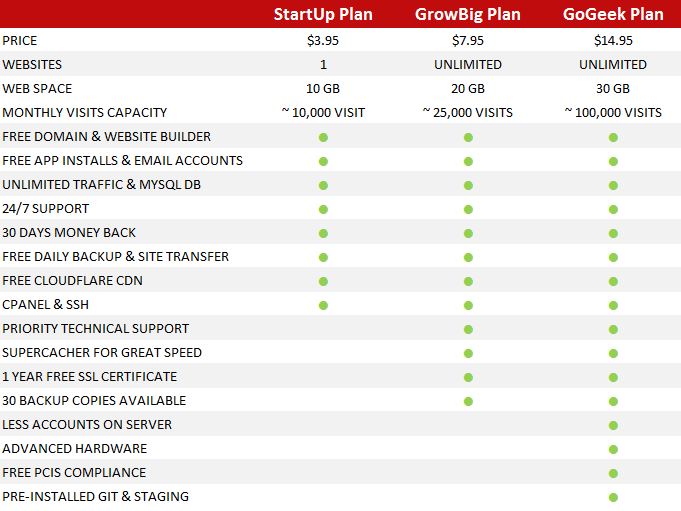 Based on this information, we have to admit the web hosting plans offered by SiteGround are affordable and very suitable for a beginner blogger or webmaster.
"Start-Up" plan is available for only $3.95 a month <<< 60% DISCOUNT
It offers resources such as 10GB storage
Monthly visits up to 10,000
1 Website
"Grown Big" plan is available for only $7.95 a month <<< 45% DISCOUNT
It offers resources such as 20GB storage
Monthly visits up to 25,000
Additional features
"GoGeek" plan is available for only $14.95 a month <<< 50% DISCOUNT
It offers resources such as 30GB storage
Monthly visits up to 100,000
Many more additional features
Additionally, all of the plans offer these great features:
Domain is FREE
Website Builder is FREE
App Installs is FREE
Email Accounts are FREE
Daily Backups are FREE
Site Transfer is FREE
Uptime, Speed & Performance
Our SiteGround review also includes information about SiteGround reliability, customer service, and performance. Like most web hosting companies, SiteGround is very focused on their reliability and customer service. They also offer an uptime of 99.9%. This means you can depend on your website or blog of having great stability and availability to your visitors. In fact, if you asked most SiteGround webmasters, they would admit that they have rarely experienced any downtime with their website or blog. Obviously, this is one of the most important factors to consider when you are shopping for a great web hosting company like SiteGround.
In terms of server response time, SiteGround never disappoints us as well.  They also offer Supercacher. This is an exclusive feature from SiteGround that greatly enhances the speed of your website or blog. This is a great benefit to you and the visitors to your site. So, this is just our concise SiteGround speed review.
Also, it needs to be noted that SiteGround has set up data centers in various parts of the globe. This offers better results, regardless of the area your visitor is from. So, in short, we can count on SiteGround hosting when you need great results.
The User Interface
Of course, we need to take into account the usability of the service when we are reviewing a web host. In addition, the simplicity & intuitive behavior of the web hosting panel user interface is also a very prominent factor. Like most of the industry-leading web hosting companies, SiteGround also depends on cPanel.  This is good. It provides a consistent level of functionality for the end user. In addition, SiteGround has dedicated support for the most popular CMS and web-based platforms, such as WordPress, Drupal, and Joomla etc. These all provide developer-friendly behavior and stylistic design.
Customer Support
Our SiteGround review has revealed the following options offered by SiteGround to access customer support.
Live Chat
Email
Ticketing
In all these methods, however, what assured is the quality and expertise of the given advice. Of course, they might take some time depending upon the issue or doubt you have. Nevertheless, you are assured of getting an effective & impressive support from the firm, thus to move on with your job.
Is It Reliable?
Most seeking out a new web hosting company was to know about reliability.  Is SiteGround reliable? The answer is a big YES. It's not only because a lot of new and experienced professionals count on SiteGround for uninterrupted hosting services; but also because of their 30-day cancellation policy offered. You can try their web hosting service for 30-days as a "test-drive". You can cancel your plan with them at any time. They are confident in their ability to provide you with the best possible service, so you should be confident as well!
The Bottom Line
While looking at the features and aspects we have mentioned above in our SiteGround review, you can see that SiteGround is more than your typical web hosting company. They have a proven track record that demonstrated they have been designed to provide the best possible performance and consistency. In the end, they offer great customer service, reliability, and a bunch of great web hosting features which makes SiteGround is a great choice for your web hosting needs.
Siteground Vs Others
You might also wanna check how we compare Siteground Vs other hosting sites: Dreamhost, Justhost, GoDaddy, Hostgator, Bluehost, InMotion, Arvixe.
Pros
Great Customer Service
Reliability - Superior Uptime
Performance - Great Site Speed
Great Technical Support
Cons
Higher Than Average Pricing
Higher Than Average Renewal Pricing
$24/Year For Domain Name Protection