As there are already a vast number of web hosting providers available in the market today, choosing the right one could be confusing. Two of the most commonly subscribed web hosting providers today are Arvixe and SiteGround. Both of these companies have been proving themselves into providing excellent plans. They offer a lot of useful features for a reasonable price. However, being in the same industry, these web hosting providers have actually gaps in different aspects. When you look into a product, you should consider important factors first before deciding to buy one, the same manner when choosing your web hosting provider. With this, we thought of giving you a comparison of Arvixe vs SiteGround.
We will walk you through the the aspects of both Arvixe and SiteGround while pointing out their differences and the similarities as well. So, let us start with going into the details of the features of both hosting providers.
Features and Reliability
Almost all web hosting providers available in the market today offers the same deals to the clients. They would only differ on the features that they offer at a certain price. There are those offers that are equipped with features, however, they tend to be more expensive. In this particular article, you will know more about Arvixe vs SiteGround. First, lets get down with the feature of Arvixe, followed by SiteGround's.
Arvixe
If you have already been reading out comparison articles for web hosting sites, you might have stumbled upon Arvixe already. They are known as being an experienced and friendly kind of web hosting provider. It was in the year 2003 when the company started providing services to clients. For the years that they have been running, they have already gained the trust of a vast number of customers.

As for the hosting features of Arvixe, they offer Personal Class kind of plan. With this plan, you could get unlimited bandwidth and as well as disk space. You can get up to 6 hosted websites. They offer SSH Access, CGI, SSDs, and as well as Perl and Python support under this plan still. Arvixe affiliate themselves with a 1-click installer named Softaculous, the same as the SiteGround. This one of their common feature. Aside from that, it adopts the enhanced cPanel which makes the customer enjoy the rich features, navigate the whole thing in a one-stop management and able to view detailed usage statistics as well. As of writing, you can get the plan at $7 per month with their Personal Class plan. If you are lucky enough, you can get a discount for as much as 30% of the price.
SiteGround
Now, lets get down with the goods you can have with SiteGround. It was in 2004 when SiteGround was established. Just like most web hosting providers, SiteGround offers dedicated hosting, cloud hosting, reseller hosting, and as well as the known shared hosting. They have already hosted over 320,000 domains since their establishment. The company is being run by 190 employees already.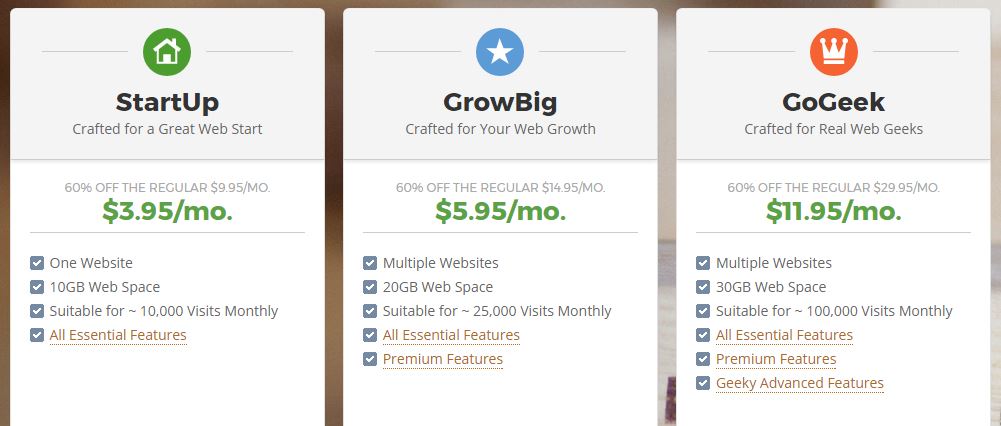 If Arvixe have their Personal Class as their plan, the SiteGround as well have their own version of plans. The basic plan under SiteGround is StartUp, followed by GrowBig and GoGeek. For the StartUp plan, you get to have one website at $3.95 per month. Along with that is a 10GB web space and your website will be suitable for over 10,000 monthly visits.
Those are the highlight essential features of the basis plan. The second plan next to StartUp is the GrowBig plan which is being offered at $5.95 per month. With this, you will be able to run multiple websites with 20GB web space. You can get up to 25,000 monthly visits of your website. And then, finally, the third plan is GoGeek which is offered at $11.95 per month. The same with GrowBig, you could also get to have multiple websites but with additional of 10GB or web space. So, instead of 20GB disk space from GoGeek, you could go up to 30Gb giving you a lot of space.
Similarities
Those are the features under both Arvixe and SiteGround. Fortunately, both the web hosting companies have an additional service being offered. Nowadays, there are already a lot of useful scripts that are available to help you set up various types of websites with so much ease. However, even with those scripts, it requires a good hosting environment for it to properly run all throughout. Luckily, SiteGround and Arvixe offers supports for popular scripts like WordPress, Magento, Joomla, and even Drupal. So, with this, Arvixe vs SiteGround have this as the common denominator for this comparison.
Both web hosting providers offers 100% compatibility. Those scripts mentioned are really compatible with the web hosting providers. They ensure that they are running the latest versions of tools. Other than that, there are some other technical requirements of every mentioned script that are ticked by both web hosting providers. In addition, they have properly adjusted server environment as well. All of their servers are adjusted and tuned as well in a kind of manner that ensures an excellent hosting environment for the mentioned scripts. Both also offers easy installation as well. With this, it will only get to give a hassle-free service to the user. And then finally, they both have their own knowledge base systems that contains a number of useful articles. You can learn about how you will be able to leverage the scripts in the most effective manner as possible.
Quick Facts
Besides those listed features above, both hosting plans guarantees an ease of use with cPanel and Softaculous WordPress installer. Aside from that, you will be able to avail the following things that are already included in the offers of both the Arvixe and as well as SiteGround:
Security: shared SSL server, SFTP, and as well as security scanning
Programming and development: Python, Git, SSI, PHP, Perl, PostgreSQL, MySQL, Zend Optimizer, SSH, Curl and as well as CGI.
Email: SMTP ports, POP3, IMAP, mailing lists, spam filtering and as well as Webmail
Performance
In line with performance, both web hosting companies equips their selves with data centers that are surely high quality servers. Arvise is known to have a well-kept security system and as well as UPS power backup generation for them to be able to convince the webmasters that they are indeed trust-deserving and reliable as well. The Arvixe really does offers 99.9% uptime. However, though they have promised 99.99% uptime, their are several blogs which states how their hosting uptime can just get up to 99.75% in a 30-day period.
With SiteGround, they have three data centers which are located in Singapore, Chicago, and Amsterdam. They try to make use of a custom-optimized server configuration and a top-of-the-line hardware for them to be able to offer fast speed. They even have an enterprise-class electrical system for redundancy which is said to be prepared for electrical outage. However, same with Arvixe, other blogs have seemed to have found out how the uptime record of SiteGround even worse than of the Arvixe's. From the tests that some users have done, both of the web hosting companies have actually did failed doing a good job.
There are reasons why both Arvixe and SiteGround are still being labeled as excellent despite of the uptime values. Both have handpicked their hardware and customized it for a much better security and as well as efficiency. They also use segregation technologies for them to isolate each of the account on their shared servers, preventing users from being affected negatively by others.
Technical Support
If you happen to face trouble when you are using Arvixe vs SiteGround, you do not have to worry. Both have excellent customer support in a lot of ways. You can reach them through live chat, telephone, or even email. They even have their own knowledge-based systems for you to read issues the most commonly occurs. You can also participate to their client forums wherein different users can communicate to the technical staff of Arvixe vs SiteGround from which anyone can follow.
However, with SiteGround, not all of their customers get equal attention from their customer support. If you happen to avail their cheapest plan like the StartUp, you will not get to enjoy their quick possible support. This is for a reason that they are giving support priorities to those who availed their expensive plans. Basically, for them, the more expensive your plan is, the more they will offer you their service.
Arvixe vs SiteGround: Final Verdict
We have disclosed the differences between the mentioned companies considering several significant aspects like the features, reliability, performance, and as well as their technical support. The good thing about both Arvixe and SiteGround is how they been offering hosting solutions for a lot of open source scripts like WordPress. But, which one should you choose between Arvixe vs SiteGround? In this particular comparison, we could say that Arvixe can go against SiteGround. Both have actually a good foundation, however, if you really want to have a truly fast, rich-featured, and reliable hosting provider, we suggest that you go with BlueHost or HostGator. Both are known for their excellent performance, proving it with the opinions of their satisfied customers.