When it was launched, GoDaddy web hosting was noted for their ultimate affordability. Naturally, most people considered this as a big deal. Nevertheless, over the course of time, it seemed more people have become hesitant about choosing GoDaddy web hosting for their website or blog. This is especially true when it comes to their uptime and consistent web hosting! On the other hand, SiteGround has a lot to offer webmasters and bloggers for their uptime and consistency. They may not be as well known as the heavily advertised GoDaddy, but they should be considered for their ever-growing reputation. Here, in our SiteGround vs GoDaddy comparison review, we will show your the benefits and features of both SiteGround and GoDaddy. We believe this post will be beneficially if you are considering either of these web hosting providers.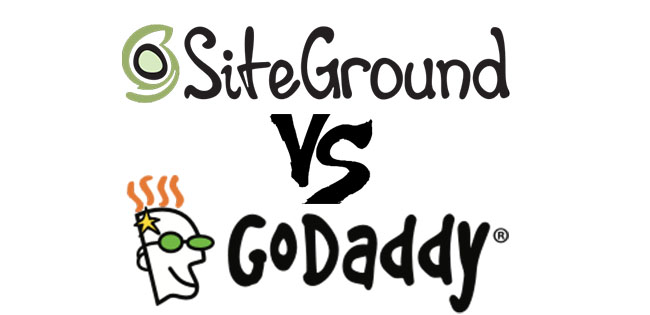 SiteGround vs GoDaddy Comparison
As we mentioned earlier, SiteGround has an impressive track-record as we take the case of hosting services. For more than 12 years, they have been successful in ensuring quality service. Different kinds of hosting plans, including shared and dedicated, are offered by the SiteGround. They also offers additional options such as an intuitive control panel (cPanel) options.
Although GoDaddy has been in the business of domain names for a long time, it have been just a few years that GoDaddy has offered web hosting as well. As expected, their web hosting options are considered fairly basic and non-scalable. Being one product from the renowned GoDaddy, there is no question about reliability of the web host, but several other things are to be discussed, quite deeply.
Related Reading:  Read our recent SiteGround Review for more information on their web hosting services.
Website Uptime
Several tests have been conducted to reach a decision about the uptime guarantee (and practice) of SiteGround and GoDaddy. This is very important since most people consider uptime as the most prominent factor from a web hosting provider. Recently, it should be noted that GoDaddy has had some challenges with providing uninterrupted uptime for their customers. In addition, many people are not that impressed with the sustainability of their web hosting that they offer.
However, the same cannot be said for SiteGround. They have been quite successful in providing a best-level uptime of 99.9%. In our tests that lasted months, sites hosted on this web host were found to be quite stable. So, if you are concerned about the always-up nature of your website, you should consider SiteGround for your web hosting.
Performance & Speed of Hosted Sites
In the SiteGround vs GoDaddy scenario, the conclusion is same if we take the case of performance or speed. That is not to say that GoDaddy is using bad servers and related infrastructure. However, it can be said that the host does not have enough hardware support to equally treat the customer base it really has. Due to affordability of web hosting plans of GoDaddy, people are flowing into it, and the web host seems not to know how to tackle them. So, it is quite natural that you may get enough performance or speed for your site.
In the page loading speed tests that we had compared, websites hosted on SiteGround loaded quite quickly. Also, SiteGround servers are noted for the exceptional server response time — a place where we can see GoDaddy doesn't fair as well. If the server response time is high during the traffic peak time, you may find that your GoDaddy site might not do as well as SiteGround.
Affordability Factor
We have already mentioned that GoDaddy Web Hosting Services is using the ultra-affordable pricing plans to attract people into the brand. In that respect, it's pretty much guessable that GoDaddy is cheaper than SiteGround. In the latter, you can have the standard features for a price that is slightly less than the standard rates.
Customer Support
There are some things that we can say without comparing when the one of the web hosts is SiteGround. And, case of customer support is of same nature. SiteGround is offering the best-level customer support ever seen in the industry of web hosting. The power of quickness is almost everywhere, ranging from ticket-based support to the live chat. At the same time, it needs to be mentioned that GoDaddy is offering the standard customer support option.
Summary
During our SiteGround vs GoDaddy review, it's clear that SiteGround has covered almost all sections, quite credibly. For instance, you can find that the uptime and performance are the worst factors of GoDaddy hosting. So, we would say, if you are looking for a balanced, credible and trustworthy hosting provider, you should choose SiteGround. They is an affordable option as well. However, they offer so much more for the money, and we know there is more to your decision than just the cheapest option. You have to look for the best bang for your buck, which we believe SiteGround offers over GoDaddy for your web hosting needs.