You are here because you want to know about the top CDN providers 2018, right? Not just top, but popular CDN providers as well for sure. Let me clarify something very important first. It will not be wrong if we say the world of tomorrow is of Cloud Computing, replacing all such traditional methods of web servers and related technologies! By means of cloud computing, it is a matter of seconds to make your content available worldwide without putting that much effort.
What is CDN? What are the advantages of using CDN? Here's our tutorial:
Transition towards cloud computing has made the transfer of data quite quick! In practice, Content Delivery Networks (CDNs) are not that different either! Once you use these CDNs in your blog or website, you will actually be creating a copy of your website/blog content in various parts of globe. Thus, when one user visits your site or blog, he or she will be redirected to the server that is easily accessible with respect to his or her location.
Therefore, we can also say that both cloud storage and CDNs will help web developers and webmasters to enhance content availability and deliver it quickly to user-end and both are based on widespread cloud network, after all! In this post, however, we'll have a look on top CDN providers 2018 and Cloud Storage services out there. And, first, we will check out the Top CDN Providers 2018. This will definitely boost the power and performance of your website from users' point of view. Here's our hard-boiled CDN providers comparison: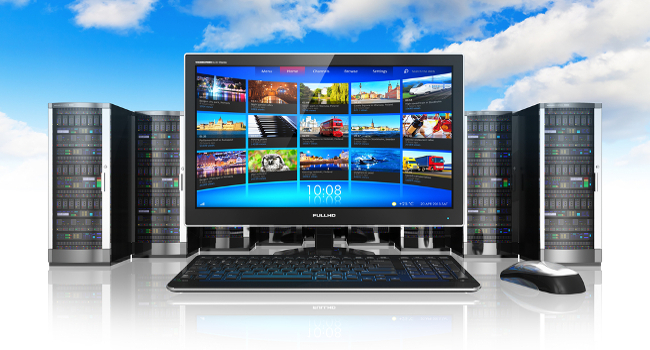 Top CDN Providers 2018
CacheFly
CacheFly is a popular Content Delivery Network that you can rely upon completely! Adding companies such as Adobe and Microsoft into their portfolio list, CacheFly has created such an awesome impression among most professionals.
Network map of CacheFly will just amaze you because this CDN solution has set up powerful servers in almost every parts of globe, ensuring quick availability of content for everyone.
Nevertheless, it is to be noted that CacheFly is for websites that receive massive traffic, as the basic plan, offering data transfer of 256GB per month, is available at $99 each month. Plus, regardless category of your content — let it be apps, games, audio or video — CacheFly will have a dedicated CDN Service for each of them.
CloudFlare
Worthy of its spot in our top CDN providers 2018 is CloudFlare. If you are looking for a solution that not only speeds up but supercharges your website or blog, you can go, without a bit of doubt, with CloudFlare — one of the most trusted and widely used content delivery networks in industry. With a relatively expansive network of servers, CloudFlare can serve each of your users at best level without depending on his or her location.
The best part of CloudFlare is that it offers a free plan as well! And, even in higher plans, the company has not put limits in terms of bandwidth.  So, considering opinion from a huge number of professionals, it's advisable to implement CloudFlare CDN in your website or blog, and you can definitely find something superb.
MaxCDN
Having provided superb Content Delivery Network solution for bigger brands such as TheNextWeb, The Washington Times, BuySellAds and jQuery, MaxCDN does not need an introduction to be recognized as a noticeable solution that helps you serve content well to your readers. By implementing features such as MaxPOPs, MultiPath Network and FastStack, MaxCDN will transfer your data quite easier and quick. That is regardless of the platform and device of readers or users. For images, MaxCDN is one of the best content delivery networks.
In addition, MaxControl control panel of the CDN will help you keep track of analytics. Then, act well in a way such that results would be impressive. According to your requirement, you can go with Starter, High Volume or Custom plans. Unfortunately, MaxCDN does not offer a free plan.
Windows Azure
Earning a spot in our CDN providers comparison is no other than Windows Azure. It does not matter what is your attitude towards Microsoft and other products from the firm, but this cloud-based CDN and storage solution is something worth a shot! When compared to other CDN in industry, services of Azure are very economical, and you can find the approximate price according to your requirement.
Also, to suit different varieties of requirements, Windows Azure offers different services. These are Virtual Machines, SQL Databases, Mobile Backend etc. Of course, Windows Azure has put notable brands such as Mazda, HarperCollins, Diebold, and Xerox into the list of clients.
RackSpace Cloud Files
RackSpace is yet another noteworthy name when it comes to cloud storage and powerful Content Delivery Network, in association with a widespread network partner. Despite not having a free trial, the pricing plan of RackSpace will be something really productive. That is because you have to spend only 10 cents per 1GB of data you store in servers.
Also, as we said, RackSpace has an association with Akamai in order to make your files available globally. Since Akamai is one of the firms that serve around 30 percent of overall internet traffic. These include Facebook and Twitter. You can be quite sure of RackSpace's reliability as a Content Delivery Network.
Cloud Storage and File Sharing Websites
Apart from these CDNs, Cloud Computing world is rich in terms of personal cloud storage as well! Some prominent personal cloud storage and sharing services are:
4Shared
MediaFire
CloudApp
DropBox
And the list never ends, you know!
What do you think about our list of top CDN providers 2018 and cloud storage services? Which one is the best content delivery network for your business? Which aspect of our CDN providers comparison helped you choose? If you have used any of these, we would love to hear your opinion about these. Plus, if you think some other solutions deserve space in this list, please free feel to let us know through comments.