Due to several reasons, including dawn of cheap, simple web hosting solutions, buying web hosting for the upcoming website or blog of yours has become an easy task. But, wait, it is only half of the story we are talking of! As we could find a variety of web hosting services, mentioned selection process is a tough task as well. Because everyone prefers shared web hosting as the basic choice, main problem comes, when you want to upgrade blog/site from shared web hosting to something BIG.
Although a VPS is enough for the first upgrade, you will have to purchase a dedicated web server if you have so many blogs with very huge traffic and bandwidth requirement to manage. Therefore, you have to know something before you purchase a dedicated hosting service. In this article, we will tell you about dedicated web hosting, aspects to ponder over purchasing, advantages and disadvantages. First, we will give an introduction to dedicated servers, as it will be helpful for newbies.
What is exactly Dedicated Web Hosting?
To know what exactly is dedicated web hosting, you have to know how the basic web hosting – also known as shared web hosting – works. In shared web hosting service, hundreds / thousands of users use web server resources. Due to this sharing aspect of resources, you might have to confront limitations in server performance.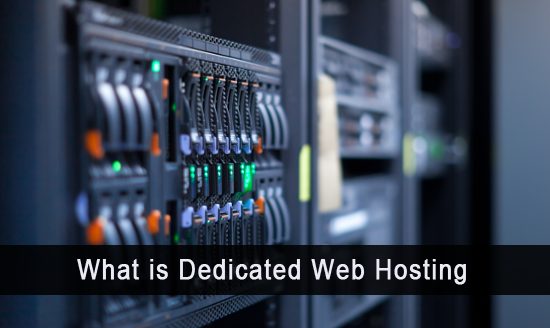 Nevertheless, when it comes to dedicated servers, everything is different. In a way, when you purchase a dedicated server, you lease the entire server from hosting providers for a specific time period. During that period, you can use that server for your purpose with its maximum power, and there will be no one to share your resources. In other words, for the particular time period, you are the sole owner of that server.
Also, you can customize both hardware and software of your server according to your requirement. Nowadays, web hosts also offer completely managed dedicated web servers, so that users do not have to worry about those technical stuff regarding your server. Now, as you have basic knowledge about dedicated web servers, we will check advantages of dedicated servers.
Advantages of Dedicated Web Hosting
Full Control:When you purchase a dedicated server, you have full control over that server, as there is no resource sharing unlike shared hosting. According to your particular requirement, you can install WHATEVER you want and use it in your server.
Security: When compared to shared web hosting, dedicated web servers offer more security. So, if you have some websites handling confidential information, such as an eCommerce website, it is highly preferable to get a dedicated web server.
Reliability: Just like the above-mentioned case, dedicated web servers are much reliable as well! Once you've set up your website or blog in that server, you do not have to worry about confronting downtime. For this, you've to choose dedicated server from a popular name in industry, because when it has a name to keep, company will serve you better.
Dedicated IP Address: Dedicated web server always come with dedicated IP addresses, which will be useful when you want to implement a SSL certificate in your site.
Customizability: As we mentioned earlier, you can customize the web server to suite convenience & requirement. Aspects of customizability include both hardware and software.
Disadvantages of Dedicated Servers
Expensive: Actually, this is not a disadvantage, because you will have to pay more when you want more! Yet, in a way, we can say dedicated server is expensive than shared web servers.
Requires Deep Technical Skills: As we said, you should have expertise in managing servers to run a dedicated server successfully. Otherwise, you will have to purchase a fully managed dedicated server, in which web host will manage your server for you, including OS updates, firewall services, DNS hosting services, Load balancing, performance tuning etc.
Things to Check before You Purchase
Operating System & Updates
In a dedicated server, you have to install operating system according to your requirement. For instance, if you like to install a WordPress blog, its OS should be Linux-based. On the other hand, you can get dedicated servers running on Microsoft Windows Server if you are ready to pay more.
At the same time, you have to check whether your web host offers OS updates. Unlike your desktop, OS updates are inevitable in the case of dedicated servers, because these updates consist of security updates and bug fixes. So, you should purchase OS updates if your web host does not offer it for free.
Management
As we said, web hosts offer different kind of server management options, including full, medium & self-management along with unmanaged server. So, you have to select the particular form of management according to your expertise and time available to manage your server.
So, we hope you have an idea about dedicated web server. If you are about to purchase such a server, our advice is to go with prominent players of industry. Do you have any doubts on what we said? We are ready to help you.