What is SiteLock? What SiteLock Service is crucial to your website? In this article, we will explain the nut and bolts of SiteLock and why you need it fundamentally. Most of the popular web hosting companies in the world offer the protection benefits of a SiteLock Service. There is a vast number of web hosts that have licensing deals with the SiteLock. A few of the popular web hosts that offer deals with SiteLock is the HostGator, Bluehost and as well as GoDaddy.
Maybe there are instances where your website is hacked and your host notifies you that your account has been suspended. In this case, your hosting company would normally recommend you to purchase a SiteLock service plan which will help you guard your files. Before you dive in into buying a SiteLock service, be sure to know what is included with all of the SiteLock services. Then, you can decide which one is the best fit for your website.
What is SiteLock Security?
Nowadays, hacking websites is becoming more common.  It happens quite a bit; more than you think it does. However, there are some hosts that get hacked more frequently than others. The dangerous thing is that not all website owners would not know they have been hacked unless someone points it out, or they get a message from Google. That is why most hosts these days recommend you have a SiteLock service to help protect you. It is a security tool that is cloud-based. It scans malware that is hitting your website. What's more is that this service detects threats, and it also fixes security issues that could be a big problem to your website.
SiteLock is an industry leader that offers complete cloud-based protection of website that can automatically fix threats, help accelerate website speed, prevent future attacks, and meets the PCI compliance standards. In addition, all of their services come with great 24/7 U.S. based phone support.
Pros
Website acceleration
Daily malware scans
Network security
Eliminate database vulnerabilities
Automatic malware removal
Remove you from a blacklist
Website acceleration
Ongoing security assurance
Builds trust between your website and as well as your customers
PCI complaint
Database security
Cons
Monthly fees
Some of these services can be handled by diligent webmasters on their own for a lower cost
How SiteLock Works
If you are wondering if SiteLock really works, we can tell you it certainly does. In addition, there are millions of websites that have already installed SiteLock on their websites. Let us walk you through how their SiteLock service works.
First, you will need to go through their sign-up process which is available on their website. Or you can just ask your web hosting company to send you a signup link for SiteLock. The whole process will take for up to 24 hours to install and integrate the SiteLock on your website. If ever a problem is encountered, you will be notified through email. Other than that, if you are going to sign up with a SiteLock service, you will be receiving site backups, scans, malware removal, DDoS protection, and a certification seal that will build trust between your customers and as well as your website.
Here are their products and an overview:
SiteLock SMART

SMART stands for Secure Malware Alert and Removal Tool. It is an advanced product, technologically that has the ability to automatically find and remove malware that is found on your website. This tool will help prevent the blacklisting from a search engine that will keep your business running and website online. Aside from that, it also performs web app scanning and will check vulnerabilities like SQLi or XSS.
TrueCode SAST

SAST stands for Static Application Security Testing. It is a product that analyzes the deepest source code. It is also known as the testing called "white-box". This tool will help find vulnerabilities that are common by going into your source code and analyze it 100% without executing them. In addition, it also has the ability to add up a critical and unique layer of security by simply protecting your web applications.
SiteLock Infinity

This is a malware and vulnerability detection tool. It will repeatedly scan your website for any possible vulnerabilities and as well as malware and immediately patch and remove it as soon as possible. This degree of scanning protection is what only the SiteLock can actually do among other cloud-based security provider.
DDoS Protection

These days, the common attacks of hackers are through DDoS. with the SecureVIP of SiteLock, the package will surely provide complete DDoS protection from possible attacks. SiteLock actually offers DDoS defense for Web App, DNS and as well as infrastructure. Other than that, it also provides customized protection plans that will range from 2GBps up to unlimited GBps.
TrueShield WAF

WAF stands for Web Application Firewall. It is one of the best features of SiteLock. The WAF is your website's best protection layer. It will protect your website traffic that is malicious and will block harmful requests as well. SiteLocks' up-to-date technology can actually identify the backdoor file and will automatically block the access to them, almost immediately. The good thing about this tool is how the process of setting it up is done fast and seamless with just simple adjustments.
TrueSpeed CDN

When it comes to providing a positive experience to customers, website speed performance does play a huge role. Positive customer experience leads to higher revenue and will ultimately help increase the customer's loyalty. The CDN tool will greatly help increase the speed of your website which lesser bandwidth.
PCI Compliance

PCI complaint is what you would need if you are into the e-commerce business. The PCI compliance program of SiteLock will efficiently guide the owners of business through the Self-Assessment Questionnaire (SAQ) process of being a PCI-complaint. In the industry, the SiteLock has the highest compliance rates. Aside from that, they also offer a web application firewall that is PCI-certified which will add protection to your customer's data.
Currently, those 7 products are those which they are offering through their website. Should you have any more question or if you like further information, you can go directly to their SiteLock's site.
How does removal of malware works for SiteLock?
Once a day, your website will be scanned automatically. This is equivalent of an anti-virus service for your web server. With SiteLock, they use "SiteLock911 scans" for the malware scanning. It actually scans all the files on your server just to see if there are any possible malware injected in them. With this, if any problem is detected, SiteLock will then download them and re-upload your now cleaned date. It does sound like a simple process but protecting your data is not really just as simple as counting as 1,2,3.
SiteLock Plans
In SiteLock, they offer a variety of plans that may fit your needs. Accordingly, having a badge of SiteLock on your website will scare some of the hackers away. The provider also states that with their badge being posted on your website will help increase the conversions and trust of your customers. The good thing about SiteLock is they give you full access for a risk-free trial 30-days. Here are their current deals: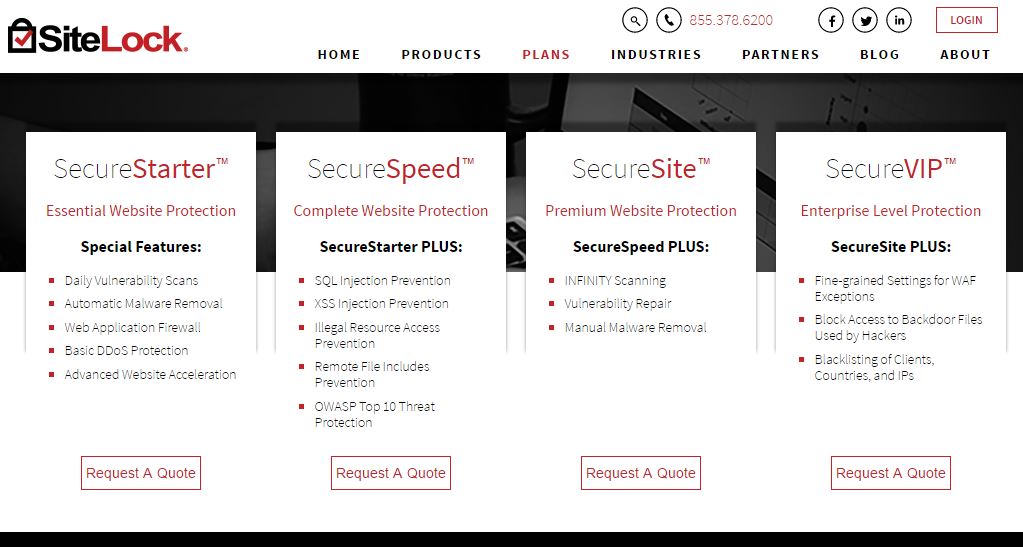 SiteLock offers Secure Starter, Secure Speed, Secure Site and as well as Secure VIP. The most affordable plan among the four plans is the Secure Starter. Each of the plans has their own standard special features. The common features of the four are having the web application firewall, daily malware scan, automatic malware removal, advanced website acceleration, SiteLock trust seal, basic DDoS protection, 24/7 expert support, multilingual dashboard and as well as no installation will be needed anymore.
For the comparison of the features of their plans, you can visit their website and view their comparison tables. It will compare the reputation management, trust seal, comprehensive malware scanning, multi-level vulnerability scanning, TrueShield web application firewall, DDoS protection, TrueSpeed acceleration, PCI compliance, dedicated concierge service and as well as TrueCode static application security testing.
Final Thoughts: What is SiteLock and What SiteLock Service is Crucial to Your Website?
If you have an active website, you should think more about the various Malware and Viruses that can bring your site down. Just like having an insurance policy on your home or car, you should consider a service like SiteLock as an insurance plan for your website. It is something you won't appreciate until you actually really need it. We have other websites, and one of them was infected with some Malware. It can happen to any web owner at any time. You can get a trojan virus loaded onto your site without your knowledge.  Having a service like SiteLock will help minimize this happening to you. The cost of the plans available from SiteLock is a small price to pay for the piece of mind it provides to keep your site secure and up and running.