In addition to great web design, the reliability and quality of services provider by your hosting company will significantly affect your site's performance. As such, it is always important to perform some research before committing your platform to just any hosting provider.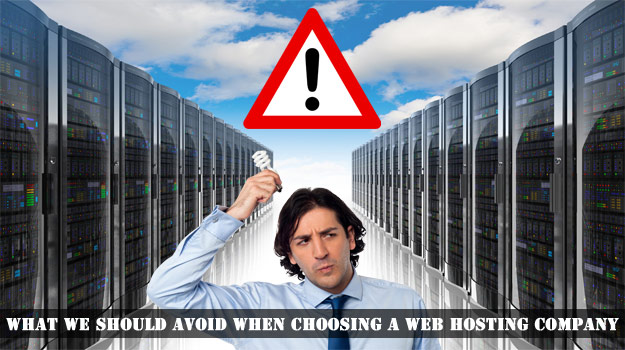 Fortunately, it is easy to differentiate the good from the bad despite the influx of web hosting companies – you only need to know which negative factors to avoid.
Here are five tips on what to avoid when choosing a web hosting company:
1. Avoid Restrictive Companies
Web hosting companies are required to outline in details the nature of the services provided to their clients – this is found in the terms and conditions section. While most companies make numerous promises on their homepages and in ads, some come with restrictions that may limit your sites performance or even your activities.
For instance, some companies have a set limit to the amount of bandwidth you can use, yet all seem to offer unlimited bandwidth. Should your site exceed the limit, your site may be shut for some time or even dropped. In other cases, one is not allowed to install external software that may be necessary for the site's operation.
As such, always check the terms and conditions section carefully before signing up.
2. Avoid New and Inexperienced Companies
In addition to skills and knowledge, web hosting companies also depend a lot on their experience in the market as well as their clientele base. In most cases, seasoned companies hold much of the market, offer reliability, and have more resources to meet their clients' quality needs.
New companies, on the other hand, have a lot of potential, and to this end promise a lot of great offers for their clients. However, the quality of their services begins deteriorating with time as they take in more sites and their resources are stretched out.
In this case, you may find yourself dealing with slow loading time, limited resources such as bandwidth and domains, and even unappealing designs and graphics for your site.
3. Avoid Unsafe Companies
While most online platforms are designed for reaching out to the people on diverse topics, others such as eCommerce websites facilitate financial transactions too. If you plan on transacting with clients on your website or exchanging confidential information then it is advisable that you choose a web hosting company that guarantees security.
Usually, secure hosting service providers display the Secure Socket Layer, which encrypts your site's data and protects from threats such as hacking. As such, check to see that the hosting company you wish to work with has this web hosting system and other security measures and software in place.
Leaving your site vulnerable to hackers and malware will not only pose a risk to your business but also to your customer relations, as they also will be affected.
4. Avoid Free Platforms
Free platforms always seem very attractive especially for newbies, what with the budget costs and numerous freebies promised by the hosting company. However, nothing is really free.
To start with, most of the freebies promised by the hosting company are never provided. Additionally, the hosting company utilizes the space on your site to put up ads and banners, effectively earning from your site – you may be paying more than a website owner dealing with paid hosting. Even worse, some of the ads and banners put up may be irrelevant to what your site stands for or even inappropriate, tainting your image.
5. Avoid Spending More Than Necessary
While some hosting companies offer their services "for free," others charge varying fees from a couple of dollars and even tens or hundreds of dollars. Of course, the quality of services varies depending on how much you pay but it is important to determine just what you need and what you can do without.
In most cases, security, good design and graphics, reliability, and freedom to control the site will do. You do not have to pay much for this as most reliable and good quality hosting providers will charge even less than $20, which is quite a good deal considering the performance of some of the sites they host.
Conclusion
Perform some analysis and research by going through honest customer reviews, as well as the terms and conditions of the different web hosting companies – avoid these costly mistakes when choosing a web hosting company.