If you are new to web hosting, there are a lot of things that you need to consider, one is thinking over which hosting is better especially if you are into WordPress. In this particular site, there are two options that you could choose from: the free WordPress.com or settle for the self-hosted WordPress.org. The one thing that differs between the two is actually who will be the one to host your website. So, among those two, which would be best one to pick? We will walk you through a comparison of WordPress.com vs WordPress.org for you to have an idea.
WordPress.com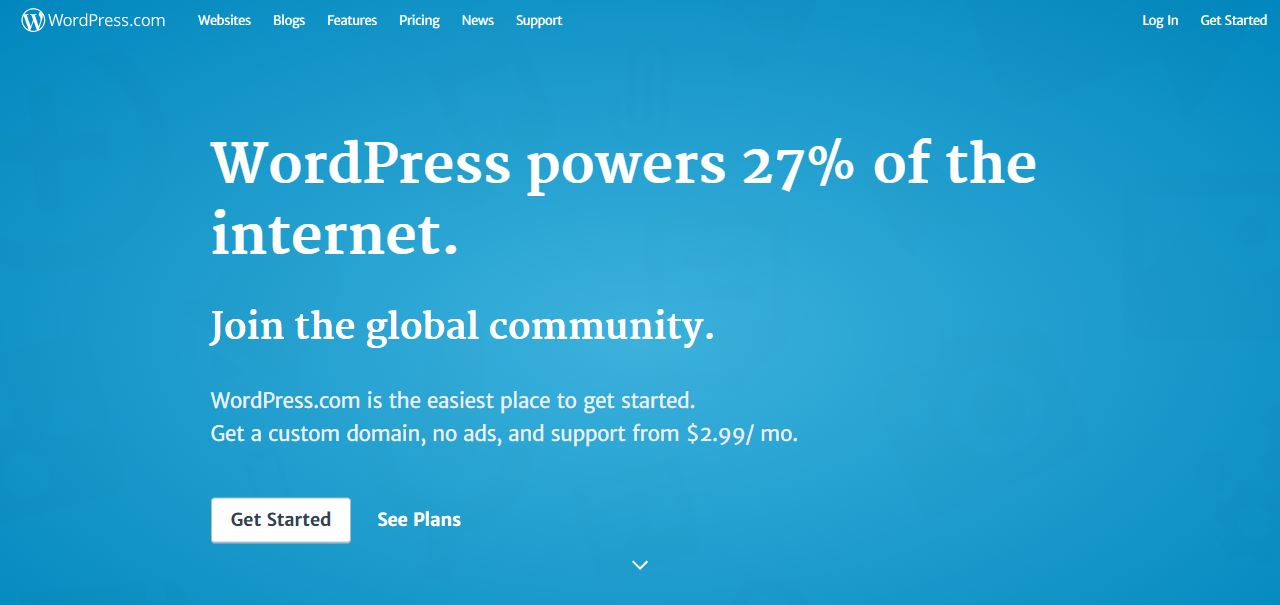 WordPress is one of the most popular blogging sites. When we say WordPress.com, it is a commercial site from where you can actually host your very own website for free. However, it does have its limitations. It is ran by an open source WordPress platform that was created by Matt Mullenweg's own company, Automattic.
In WordPress.com, you website will forever be shouldered for free, but you can also opt to have an upgrade with your website in order for you to achieve your specific needs.
It also means your site will be well looked after with top of the line spam-fighting power and automatic security updates.
All you need to do is sign up and choose your blog name, then design your site. You won't have to worry about installing the software since it's all managed for you instantly.
WordPress.com Benefits
It's free for upto 3GB of space. After that you will have to pay for space ($19.95 per year for 5GB) or ($289.97 per year for 100GB).
They make regular backups of your site.
WordPress.com Cons
They place ads on all free websites. Did you really think it was free without a catch? If you don't want your users to see ads, then you can pay them $29.97 per year to keep your site ad-free.
You are NOT allowed to sell ads on your site unless you receive 25,000 pageviews per month. In which case, you have to apply to try their feature called Ad control. The approval process doesn't cost you any money, but you have to split your revenues 50/50 with them.
You cannot use plugins. Yup WordPress is well known for it's flexibility due to the plugins. WordPress.com does not allow you to use plugins! If you want to use plugins, then you have to move to their VIP program which starts at $3750 per month. No joke.
You cannot use custom themes. Yup, you have to be stuck with their choice of themes which is being used on hundreds of millions of sites. They do offer a "design upgrade" which should really be called CSS upgrade for $30 per year. Meaning, you can change the color of your site. But if you want to add something really custom, you cannot.
You are restricted to their analytics. You cannot use custom analytics software because you cannot add custom codes.
They can delete your site at anytime if they think it violates their Terms of Service.
They will change your theme without your permission if the founder doesn't like the theme developer.
Even if you pay for their upgrades, you still have to tell others that your site is powered on WordPress.com
WordPress.org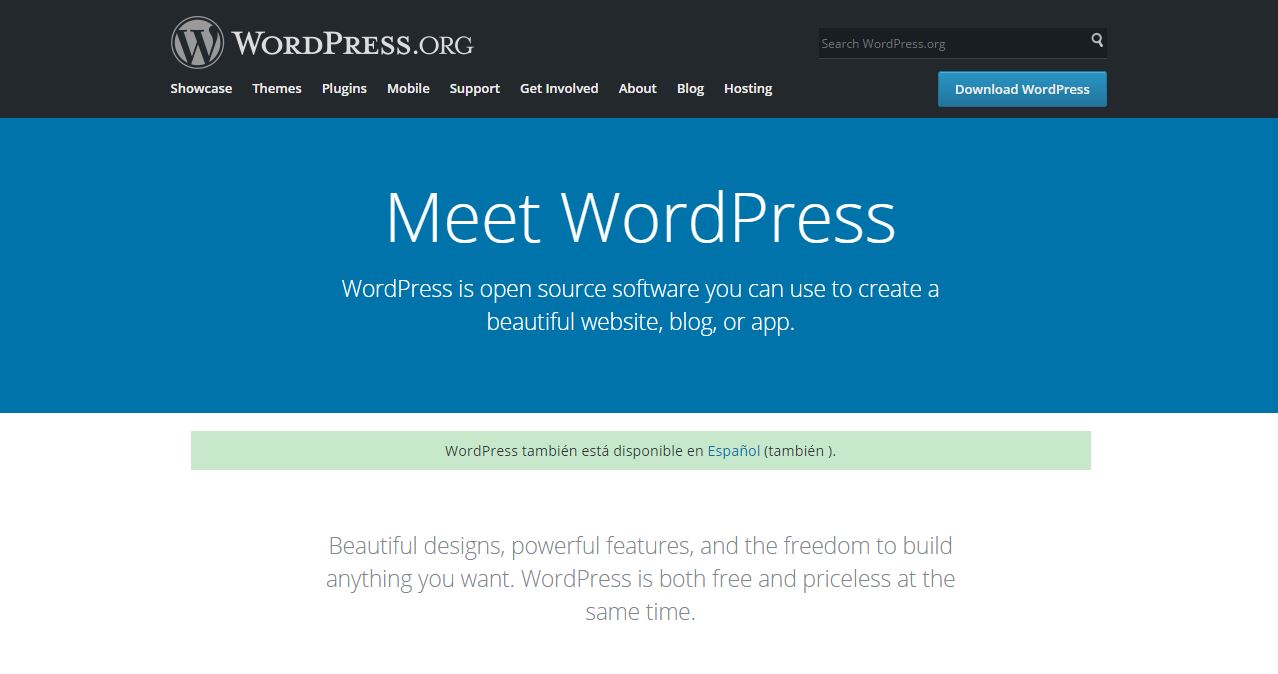 WordPress.org is where you can grab your own copy of the WordPress blogging/Content Management System (CMS) software for free. It currently powers 24% of the web, including WPMU DEV (of course!).
With the software comes the responsibility of finding your own hosting company to house your WordPress site along with your own domain name to point visitors to it.
You'll also have full control over the WordPress software and your site. The only limitation you might have could be the resources you're allotted in the hosting package you pick.
WordPress.org also includes extensive documentation and a community forum where you can ask questions if you get stuck or help someone else. It's also the site to go to if you would like to get involved and join many other volunteers in contributing to the WordPress core code, mobile apps, translations, and accessibility.
WordPress.org Benefits
It's free and super easy to use.
You own your data. You are in full control. Your site will NOT be turned off because someone decides that it is against their terms of service (as long as you are not doing something illegal). You are in control.
Able to upload and use plugins.
You can upload custom themes. Modify theme files (not just styles) if needed.
You can make money from it by using your own ads, and doing things your way.
Custom Analytics and Tracking
WordPress.org Cons
Like any other website, you need a good web hosting. This bits cost you money somewhere from around $3 – $7 per month (as your site grows, your hosting costs will too). But then you would be making enough money to cover the costs.
You are responsible for updates. WordPress upgrades require 1 click (Not too hard eh).
You are responsible for backups, but thankfully tons of amazing plugins are out there.
You are responsible to prevent SPAM, but if you enable Akismet (which comes built-in with WordPress.org), then you won't have to worry about it.
WordPress.com vs WordPress.org
With these two great options ready to power your site, it can be difficult to know which one's right for you. To remedy that, let's compare three of the most important considerations when deciding between WordPress.com vs WordPress.org: cost, freedoms and limitations, and maintenance and development.
Comparing Cost
When comparing the cost of WordPress.com vs WordPress.org, there are four areas to consider where there are different costs that are associated with each. They are: domain name, hosting, storage space, and ad removal.
A free, Basic WordPress.com plan is the least expensive option. Especially, if you don't want a custom domain name and don't mind using their free themes with no modifications.
If you want a fully-featured site with your own domain name, unlimited storage for your videos and images, and no advertising, WordPress.com can become quite expensive.
If cost is your most important consideration, then downloading WordPress from WordPress.org will be your most affordable option. So in line with cost, between WordPress.com vs WordPress.org, the latter is the best option.
Limitations and Freedoms
The type of site you want to build can greatly influence the choice you make for hosting your site. Depending on your goals, you may need a lot of freedom and wiggle room from a custom design to tweaking your site's files or database. So, we compare WordPress.com vs WordPress.org with regard to freedoms and limitations for further comparison.
WordPress.com offers free site hosting, but not without restrictions. If you need to run a membership or eCommerce site, for example, you won't be able to do this successfully unless you upgrade. On the flip side, WordPress.org has a lot of freedom. Aside from that, you could easily scale your server and hosting plan to make room for larger sites.
If having freedom and full control over your WordPress site is an important factor for you, consider setting up your own site with software from WordPress.org.
Development and Maintenance
With WordPress.com, you don't have to worry about maintenance since it's all handled for you. With self-hosted sites, you're on your own, though, there are managed hosting solutions available to help you out.
No matter which one you choose, you won't have to worry about developing WordPress to continually improve it to match the ever-changing standards for sites over the internet. The Automattic team and the WordPress community work hard to provide regular updates to the WordPress core to ensure your site has a solid foundation.
If you would rather not deal with anything technical and don't have the time to commit to ongoing maintenance and development, then, between WordPress.com vs WordPress.org, the latter would be the best option for you.
Choosing the Right One for You
Both are great options and the best one for you depends on the plans you have for your site, your skill level and how much time you can spend on maintaining and designing your site.
So, WordPress.com vs WordPress.org? If you are a personal blogger who do not care about making money from their sites, then go with WordPress.com. If you are a blogger trying to make blogging into a career, then you want to use self hosted WordPress.org. It may take more time and effort to set up a WordPress site. However, you will have full control over the look and feel of your site. You will be able to use custom themes and customize their look. Also, you can upload custom plugins to add more functionality to your site. Often people will say, self-hosted WordPress will cost you money. For a small enough site, it is actually cheaper.
Let's say you use WordPress.com, buy their custom domain ($17 per year), pay for ad-free option ($29.97 per year), and get custom design upgrade ($30 per year). That total is $76.97, and you are still not in full control.
For WordPress.org, you can use Bluehost which costs $3.95 per month so $47.4 per year. Aside from that it includes a free domain name and is officially recommended by WordPress. If you go with other web hosting companies, then you will pay a similar price, but you won't get a domain. However, you can get a domain name for $10 from Godaddy. Your total would come to $57.4 per year. You will have full control over everything.